Ready to get started with 7shifts Payroll? This guide will walk you through all the necessary steps needed to setup Payroll for the very first time. From then on, 7shifts Payroll is your fully integrated solution that makes running payroll as easy as pushing a button!
⚠️Prerequisites
⚠️ Payroll is available for:
Accounts located in the U.S. (except for California, Arizona, or Alaska at this time)
Accounts with 1 Location
⚠️ Currently, we do not support:
Automatic calculations for Tipped Minimum Wage.
Automatic calculations for PTO/STO
1099/Contractor support
Money transfers and tracking for IRA/401K/Workers Comp
Accounts using multiple bank accounts to pay employees
---
Enable Payroll
Our Implementation team is ready to walk you through the process to ensure everything is setup correctly for you.
Login to the web app as an Admin.


Head to Settings > Add-ons in the left navigation bar.




Click on Enable Payroll.
---
Setup Payroll
⚠️ Admins can set up, access and run Payroll.
⚠️ Admins can only access Payroll on the web app.

Login to the web app as an Admin.


Select Tips & Pay > Payroll in the left navigation bar.


Review and complete each step:



1. Setup your business

Enter your business details.


Add your Locations.


2. Setup your tax and banking details

Complete state and federal tax setup

Complete filing authorization.





Connect your bank account.




3. Add your team to payroll

Onboard all employees.




Employees that have incomplete Onboarding packages will have a red indicator (Blocked for Payroll) next to their names. Click on

Go to Onboarding

to review and update them.

Use these handy articles to help you complete them:

Onboarding for Admins & ManagersOnboarding for Employees Add all terminated employees.



Pro Tip!

To stay compliant, be sure to check in with your state's local labor laws to ensure that you're paying terminated employees within the required time period from the employee's last date.




4. Provide your historical payroll data

Upload your payroll data.

To get you started, we'll need your current payroll data from your existing payroll provider.

Why is this important?

We'll use this to determine when your pay period with 7shifts starts, and when it ends with your existing payroll provider. Additionally, it ensures that the taxes paid by you (on behalf of the employees) gets carried over to our system so we can accurately manage your quarterly/end-of-year taxes.

Follow the historical data extraction steps for your existing payroll, and send them our way! We'll take care of the rest.

Once each step has been completed , you'll be taken to your Payroll dashboard!





---
Payroll Overview & Settings
Moving forward, you'll be taken directly to your Payroll Overview and Settings when clicking on Tips & Pay > Payroll: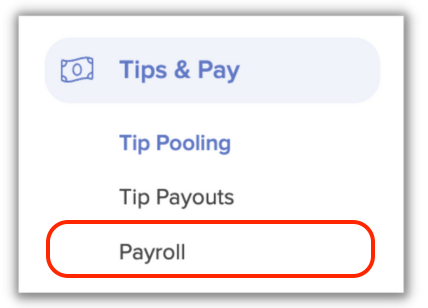 The Overview page will quick you quick access to running an on/off cycle payroll, payrolls in draft status, and payroll history. Use the More Options icon

to delete a payroll.
⚠️ Please note that deleting a payroll is a permanent action and cannot be undone.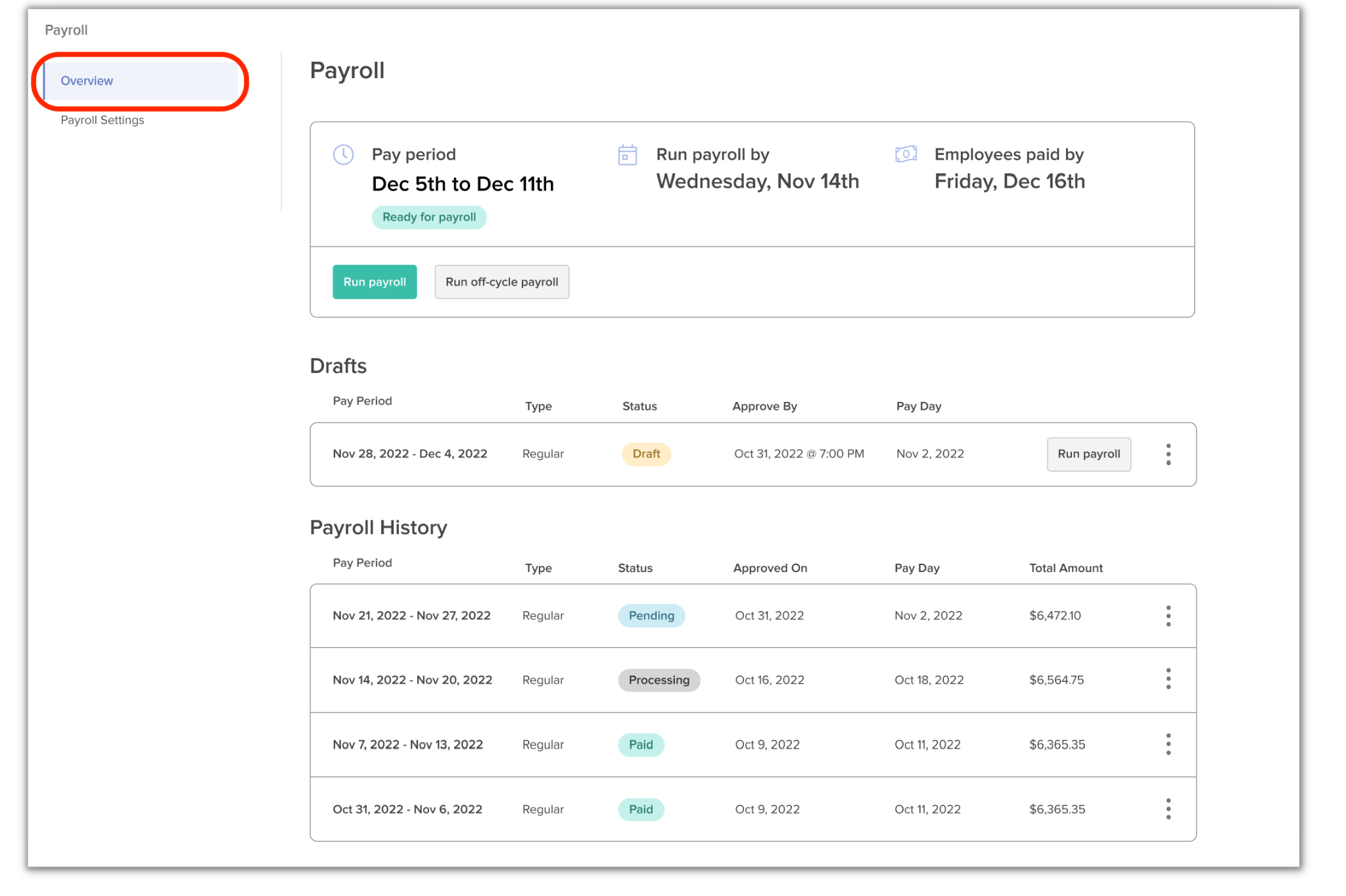 Manage all your payroll information from Payroll Settings. This includes General settings, Company Settings, Locations settings, and Employees.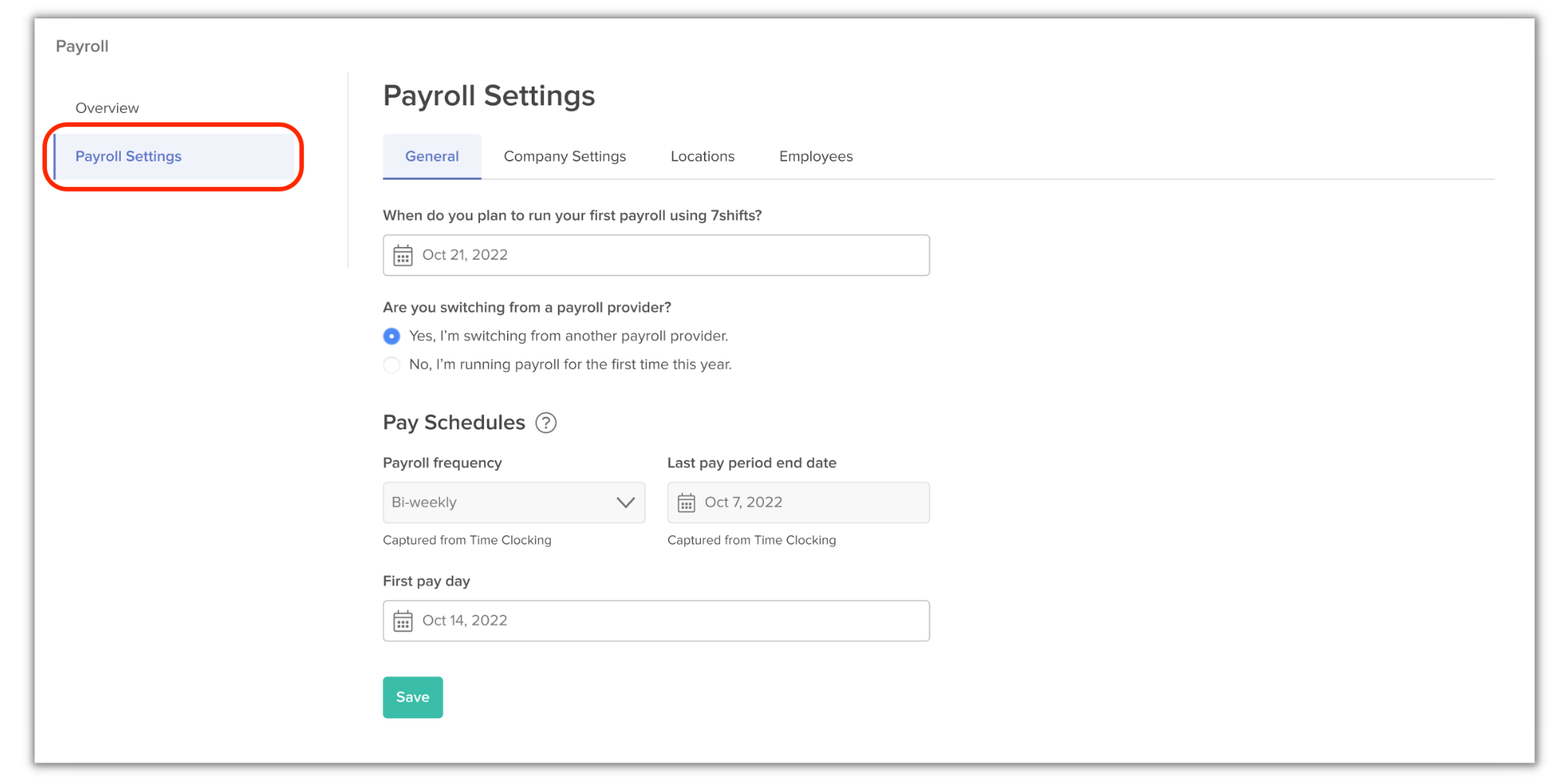 1. General
Review and set:
The date for which you would like to run your first payroll.
Your payroll frequency.



⚠️ Align your payroll frequency with your Time Clocking settings to ensure accurate reporting across 7shifts.

When selecting your payroll frequency, you'll want to check in with what is required by your state. The federal and state governments set rules around payroll taxes, and payment deadlines. If you have more questions about this, we suggest reaching out to a local lawyer or accountant who is familiar with your local labor laws.

Be sure to hit Save when making any new changes!



2. Company Settings
Review and make edits to:
Company Details
Signatory
Tax Documents
Banking Info
Be sure to hit Save when making any new changes!

p
3. Locations
Add, edit or remove Locations using the pencil icon.
Be sure to hit
Save
when making any new changes!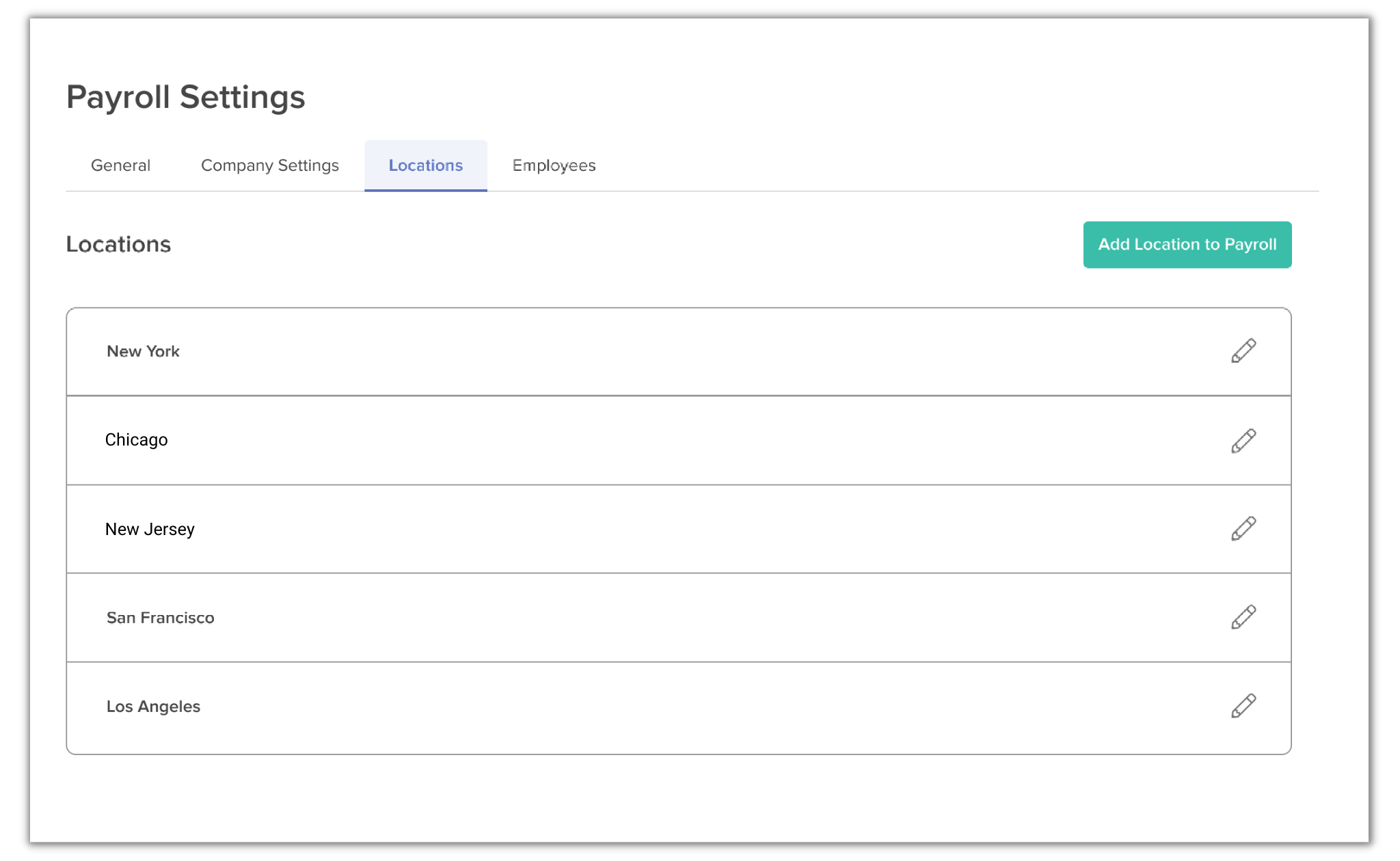 4. Employees
Check the current onboarding status for your employees. Use the filters to narrow down your list by employee name, location, or status.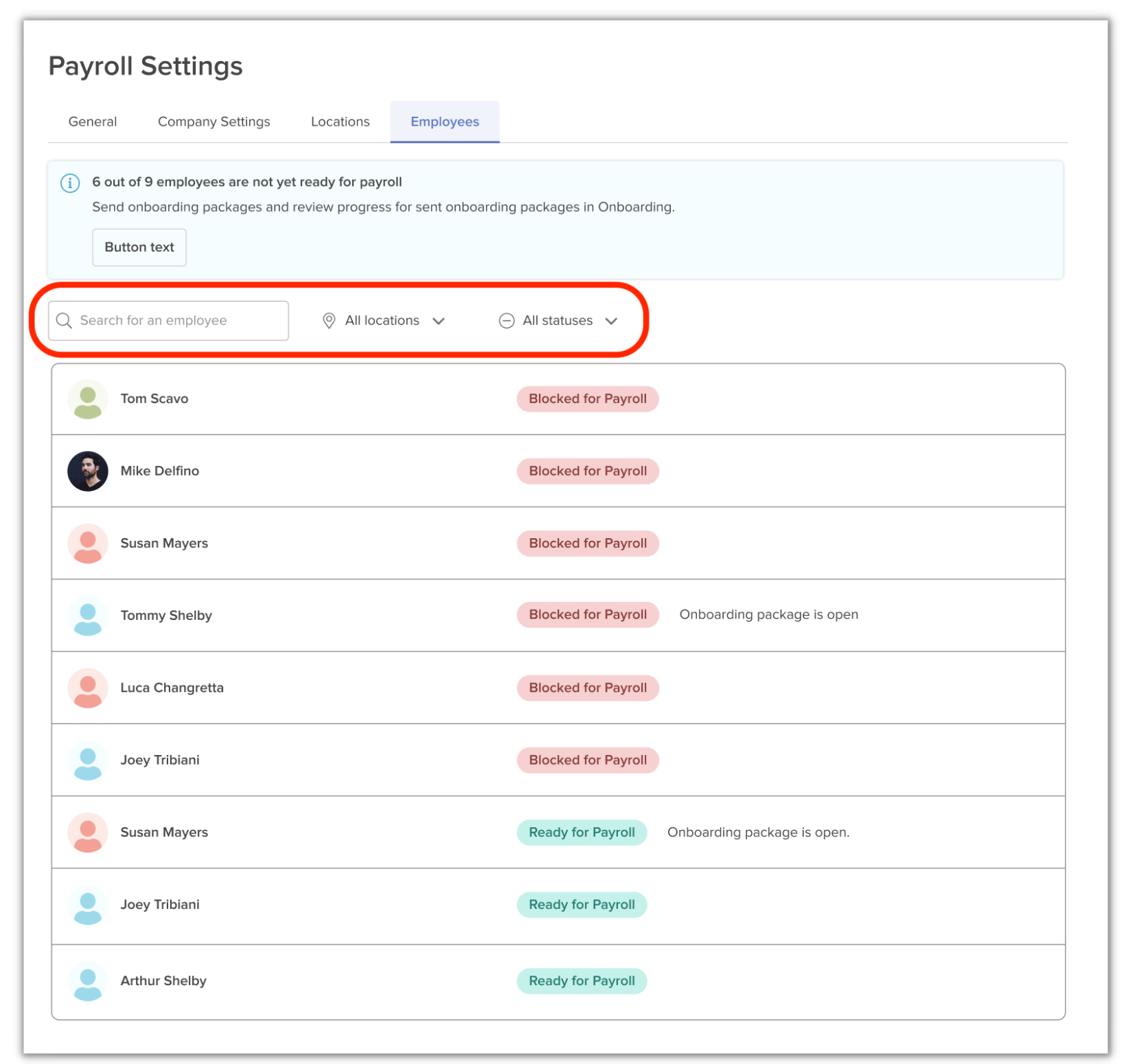 ---