Under the Locations / Departments / Roles page is where you'll set up the structure for the schedules in your 7shifts account. You can create Roles under specific Departments, and Departments under specific Locations. The Departments and Roles you create in 7shifts will help you quickly assign and organize your employees.
---
How to access your account structure:
⚠️ Only Admins can access Locations and Departments. If you are a Manager or Assistant Manager, you'll only be able to access the 'Roles' area and require the 'Can Manage Roles' Manager Permission.
1. Login as an Admin, and head to Settings > Locations/Departments/Roles: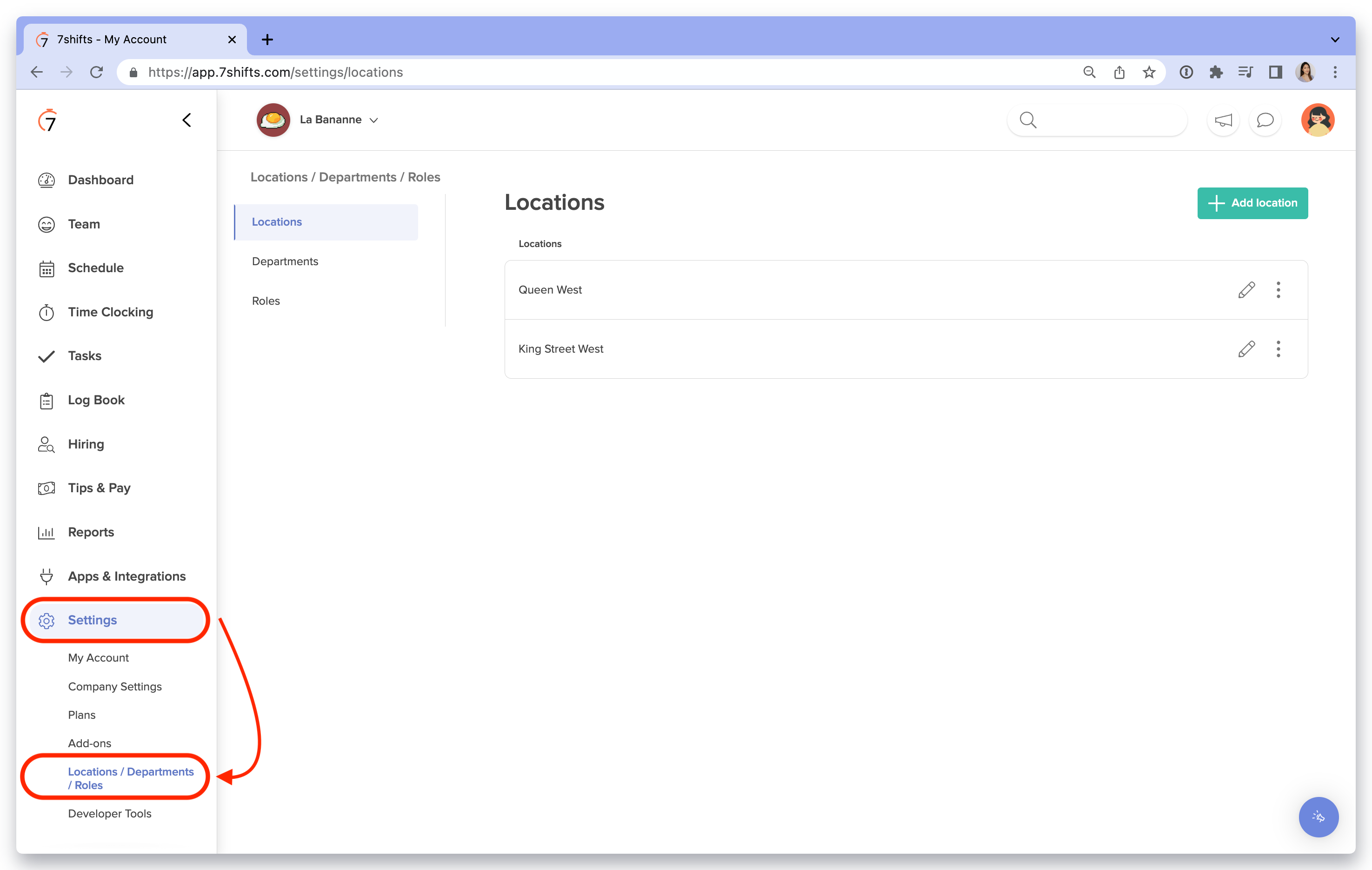 2. You'll be taken to the Locations/Department/Role page where you can make updates to your account's structure.
❗️Exercise caution when making changes to your Locations / Departments / Roles. Deleting any of these may result in the loss of important data. Learn more about Backing Up Your Data here.

If you are unsure, please contact our Support team before proceeding. Simply c

lick on the blue icon located at the bottom right corner of your screen to start a chat!
---
Locations
To add a Location:
1. Hover over your profile picture, and select 'Locations/Departments/Roles.'
2. Select 'Locations' from the tabs on the left.
3. Click the green '+Add Location' button.
4. Enter your Location name and click 'Submit.'
⚠️ Please note that billing is per Location, so you will be charged an additional fee when a new Location is added.
Select the new Location to update your Location's settings: 
General
Hours of Operation
Holidays 
Shift Feedback (Click here to find out more about Shift Feedback.)
⚠️ Be sure to hit 'Save' as you go through each tab and update these settings.
5. General
In the 'General' tab, enter your street address, Location name, and timezone.

6. Scheduling Hours
In the 'Scheduling Hours' tab, enter the earliest shift's start time and latest shift's end time for this Location. These times should reflect the working hours of the Location, not necessarily the Open and Close times for customers. At the same time, you'll be able to set up your Dayparts.
Check the 'Closed' box to indicate the days that your business is closed. 

7. Holidays
In the 'Holiday Pay Rates' tab, toggle the specific holidays that you would like to apply to the Location.
You will see a list of default holidays based on your country setting (verify this by going to  your profile picture > Company Settings > General > Country.
You can then select which holidays you want to enable, and decide whether to apply a wage multiplier.
⚠️ If have Holidays enabled, but you don't want a holiday to impact the scheduled wages, click the
pencil icon next to the holiday, and enter '1.0' as the wage multiplier. 
8. Custom Holidays / Events
To add your own holidays or events, simply click on 'Add custom holiday'. Click 'Save' when you are done.
9. Shift Feedback
Here you can access / enable Shift Feedback, which allows Employees to submit feedback on how their shift went via a push reminder.
⚠️ Access to this feature may require an upgrade from your current plan.
---
Departments
Each Department can have its own Schedule view in 7shifts. So your number of Departments will usually be determined by the number of schedules you create for each week. 
To add a Department:
1. Hover over your profile picture, and select 'Locations/Departments/Roles.'
2. Select the 'Departments' tab.
3. Click the green '+ Add Department' button.

4. Enter the name of your new Department, and be sure to select the proper Location before clicking 'Save.' 
⚠️ It can be helpful to create separate Departments for each Manager that builds their own schedule (eg: Back of house and Front of house). Multiple managers working on the same schedule can occasionally cause confusion. 
Tips For Full-Service Restaurants:
In a full-service environment, you may more likely have a number of different Roles and more than one manager on duty that employees report to. If these Managers oversee separate groups of Employees (such as FOH and BOH), these groups would be seen as separate Departments within 7shifts. This way, each Manager can manage and communicate with their teams separately or with more ease. 
Example:

Tips For Quick Service Restaurants:
If your employees work in a smaller space or work Roles on a more interchangeable basis, you may wish to create a single Department so that everyone on your team appears together on the same Schedule. 
Example: 
---
Roles
Roles are the specific job titles or positions that Employees will be assigned to. When creating a Schedule, you can assign an Employee to the Role they are expected to perform for that shift (eg:  Server, Bartender, and Dishwasher).
If using Wage Based Roles, you'll be able to more accurately predict and track your labor costs through each Employee's associated wage, based on the different Roles they are Scheduled for. 
⚠️ If activating a POS integration that provides Actual Labor data, you may wish to recreate Roles in 7shifts similar to the job codes already within your POS.
To add a Role:
1. Hover over your profile picture, and select 'Locations/Departments/Roles.'
2. Select the 'Roles' tab.
3. Click the green '+ Add Role' button.

4. Enter the name of your new Role, and be sure to select the proper Location and Department before clicking 'Save.'
Tip: You can change the order of how Roles will appear on the Schedule if using the 'List by Role' and 'Time Frames' layouts. Hover beside the Role, then drag and drop them in the desired sequence.
You can also customize the color for each Role. Simply click on the Role , and make a color selection from the dropdown menu next to the Role Name:


---
Copying Department & Roles from a Location
Set up a new Location in a few simple clicks! Admins can copy all the existing Departments and Roles from an existing Location, to a new Location.
⚠️ A Prerequisite
In order to copy Departments and Roles with success, the existing Location must have a proper structure in place. That is, the following three components: 
For example: if the Location you wish to copy only contains Roles (and no Departments), the option to copy the Location will not appear.
⚠️ No existing employee Assignments, schedule Templates, or other settings are transferred over with copied Roles - just the Department and Role titles.
Login as the Admin.


In the top navigation bar, hover over the 7shifts logo and select Locations/Departments/Roles. 


Once on the Locations page, select 'Add Location':



Fill out your Location details:

Click 'Copy departments and roles from another location':

Select the Location you would like to copy from, in the dropdown menu:



Click 'Add Location', to complete these changes:



Select 'Done' to complete setup, and you have successfully set up your new Location!