Mobile Time Clocking makes it easy for Admins, Managers, and Assistant Managers who use 7punches to manage their employee time punches in real time right from their mobile device.
Clients with an active POS labor integration will also be able to view employee time clocking in real time. 
⚠️ Managers and Assistant Managers will need to have the 'Can manage time punches' permission enabled to view Time Clocking or edit Employees' punches. Read more about Manager Permissions here.

⚠️By default, Admins/Managers/Assistant Managers user types have full access to the 7punches Punch Pad. This includes launching the 7punches app, and punching in/out to manage their own time
⚠️ Depending on your POS integration, some of the below features may not be accessible.

This feature is not supported with Heartland Restaurant, Lightspeed, and Upserve POS at this time.
---
Time Clocking Dashboard Overview
The Time Clocking Dashboard section appears on the Mobile Manager Dashboard, just below the Sales vs Labor graph (if enabled).
Users will be brought to this page when they first sign into the 7shifts mobile app, or by tapping on the 7shifts logo on the bottom left.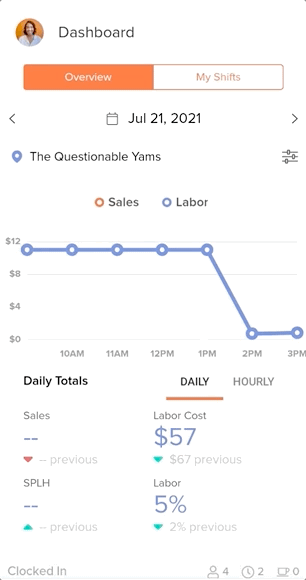 Under the 'Overview' tab you can see:
1. Employees that are currently punched in along with the time they punched in.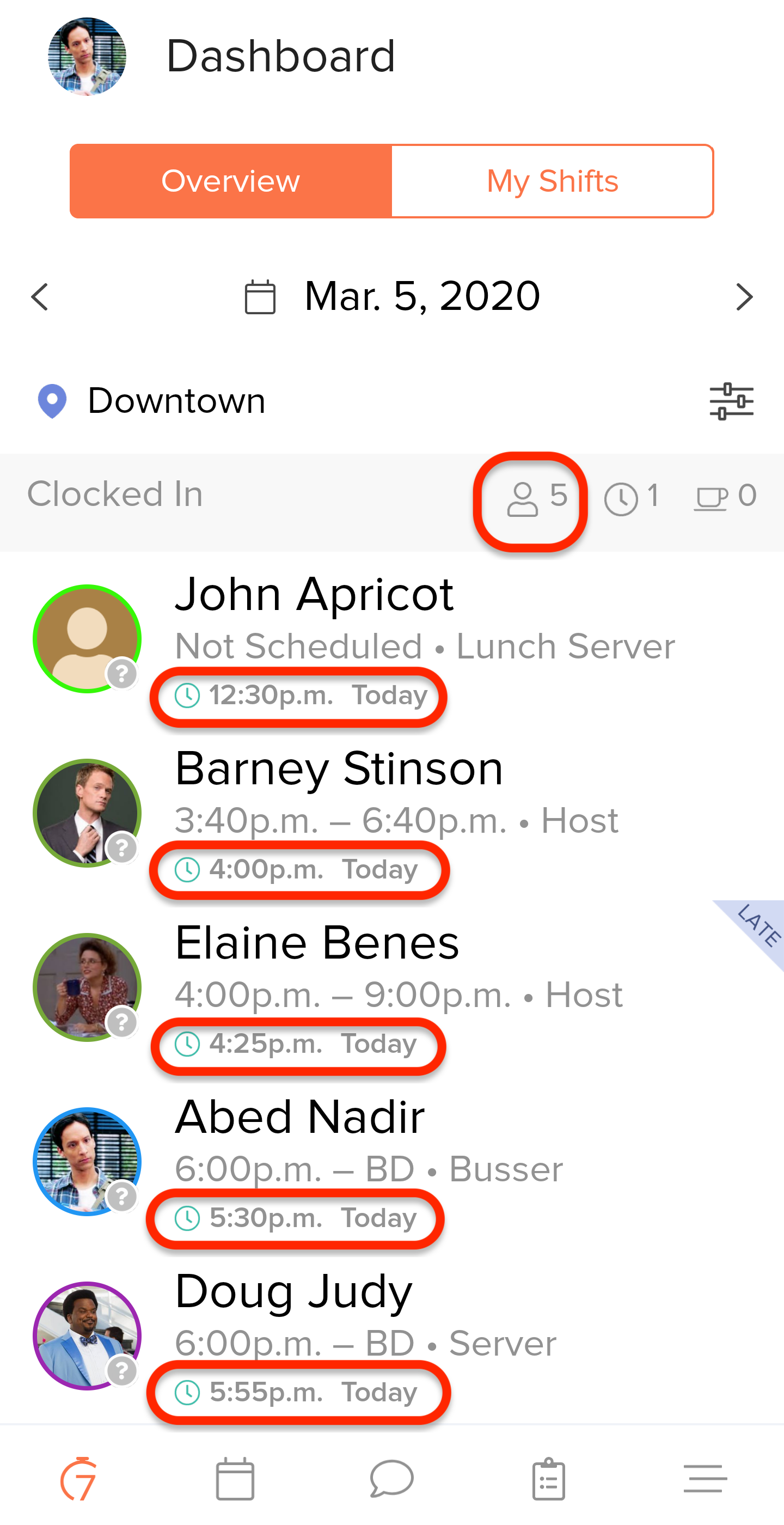 ⚠️Please note: A shift will be tagged as 'No Scheduled Shift' if the employee had punched in more than 30 minutes before/after their shift was scheduled to start.

If you would like an employee to punch in more than 30 minutes before their scheduled shift, an Admin or Manager should manually clock the Employee in through the Time Clocking section to avoid the 'No Scheduled Shift' flag.
2. Active late punch ins.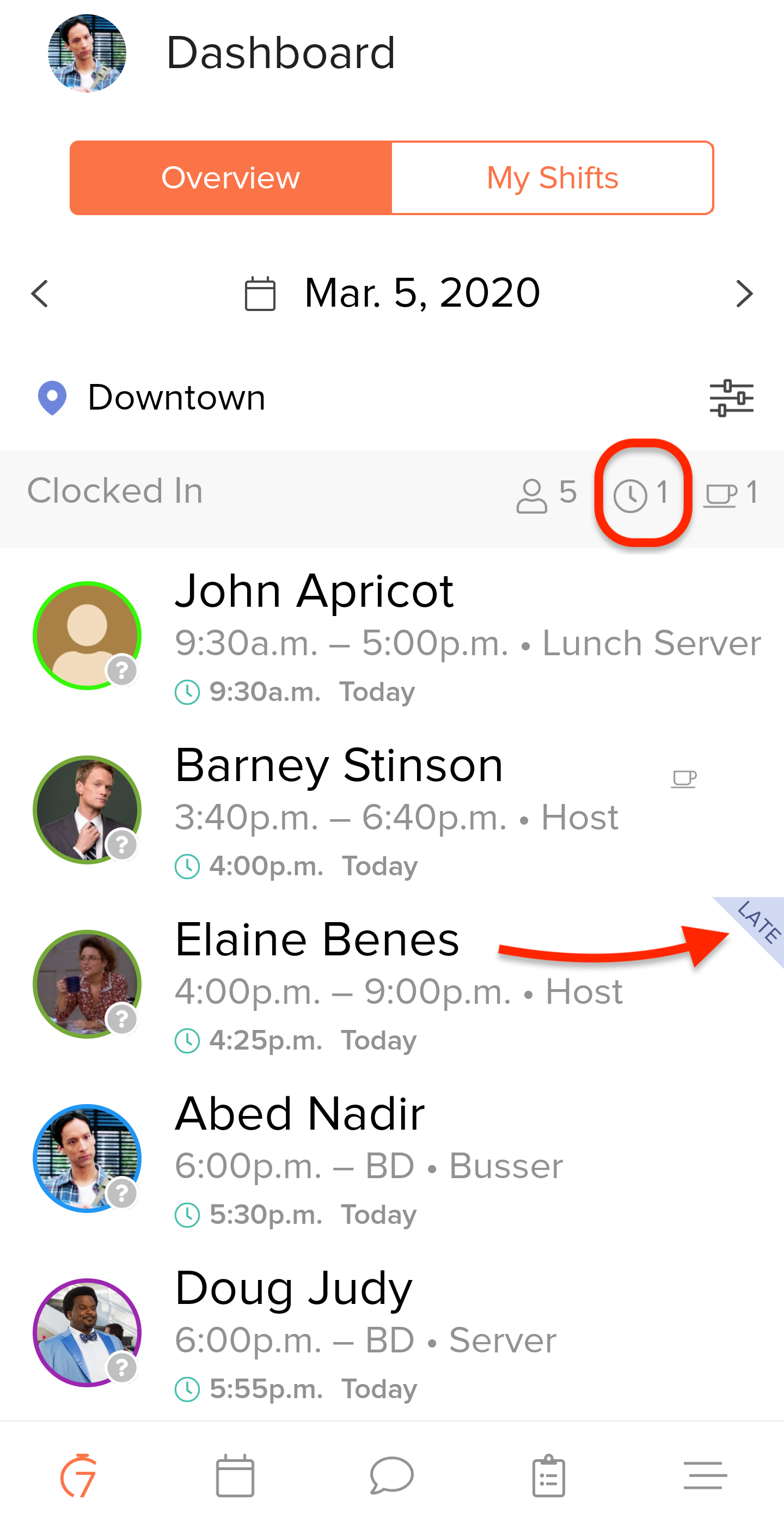 Click here to learn more about setting up your Late tolerance. 
3. The number of employees who are currently on break.

Along with all active punches with active breaks.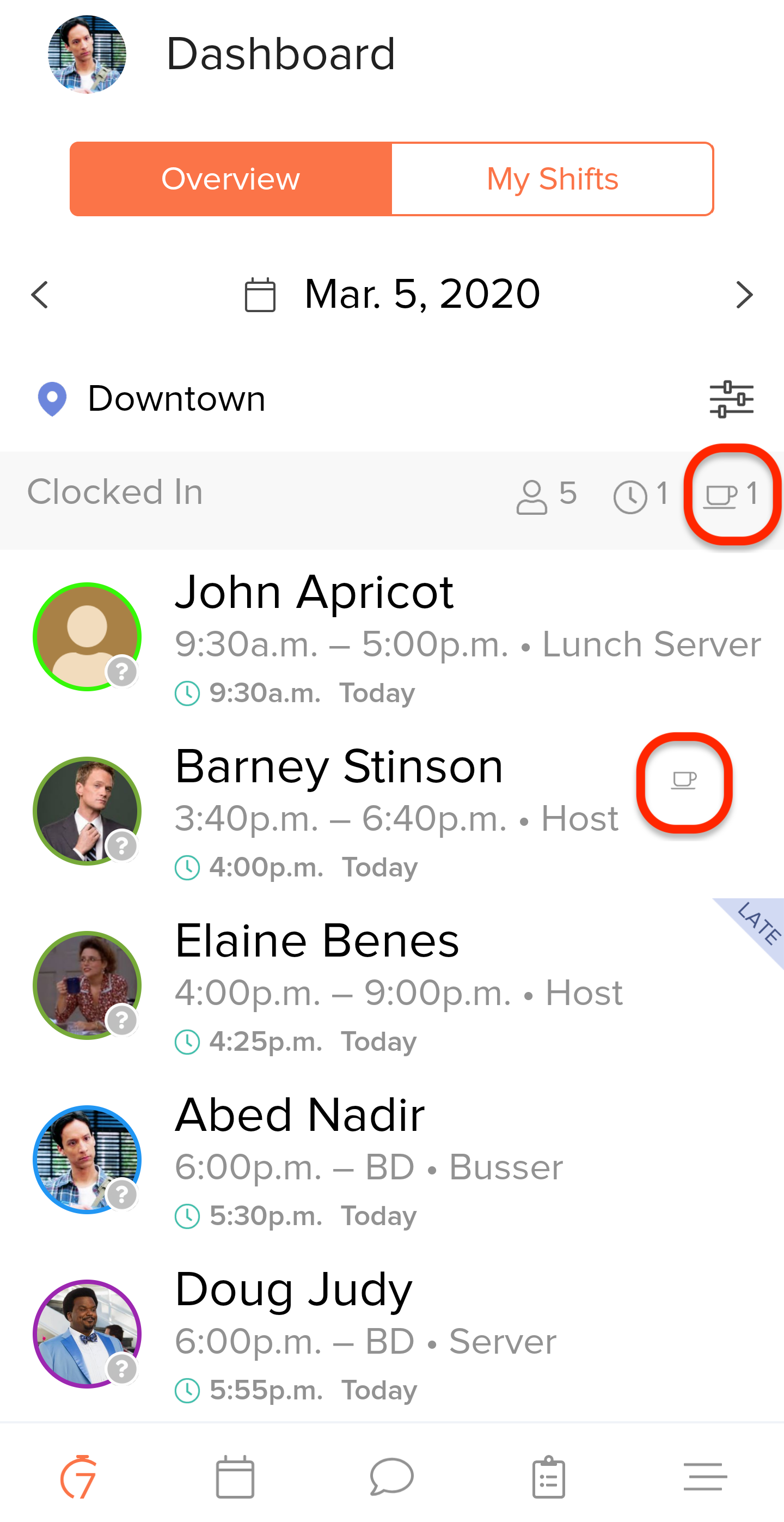 4. Tapping on an Employee's punch will take you directly to that Employee's Time Card.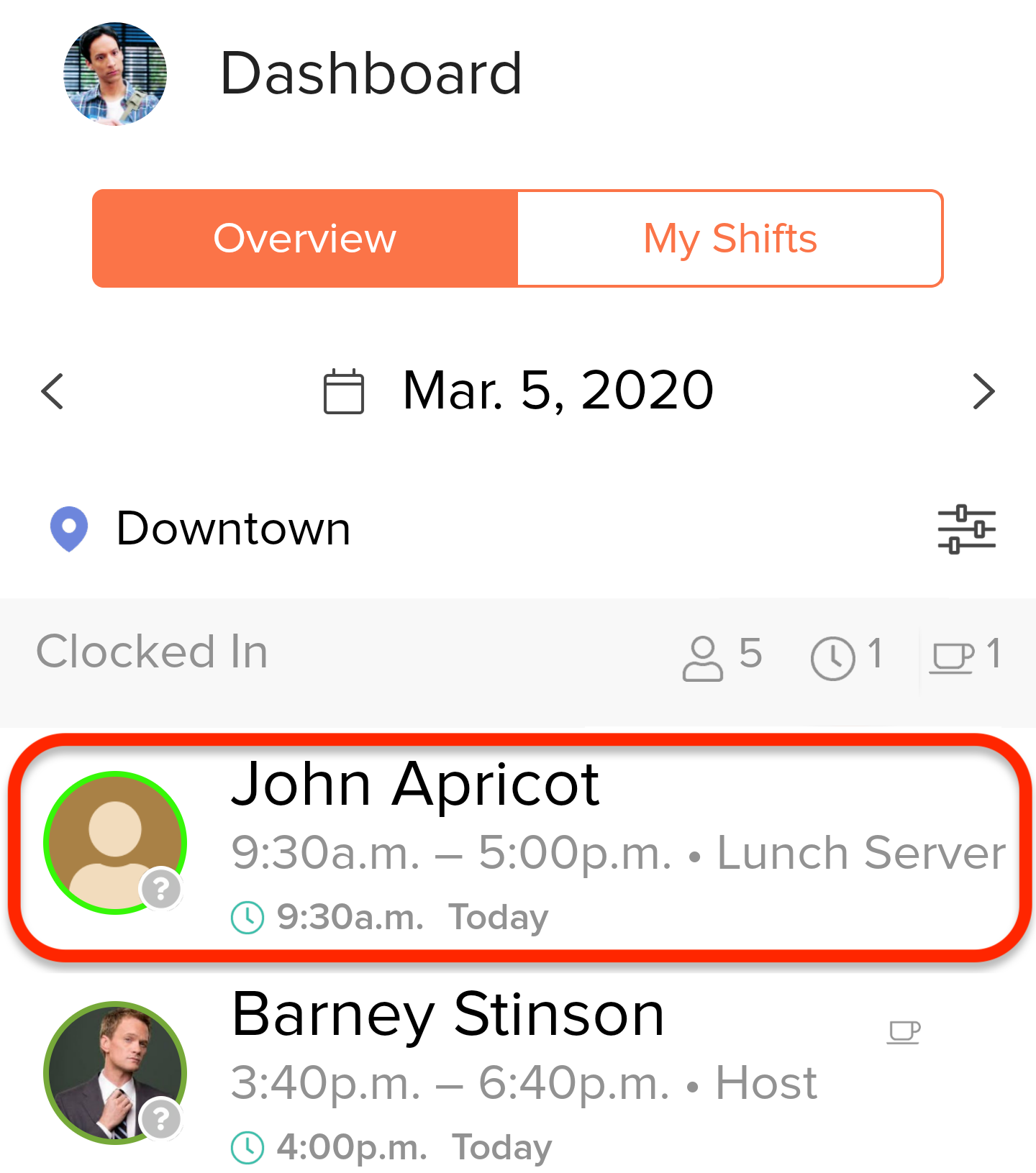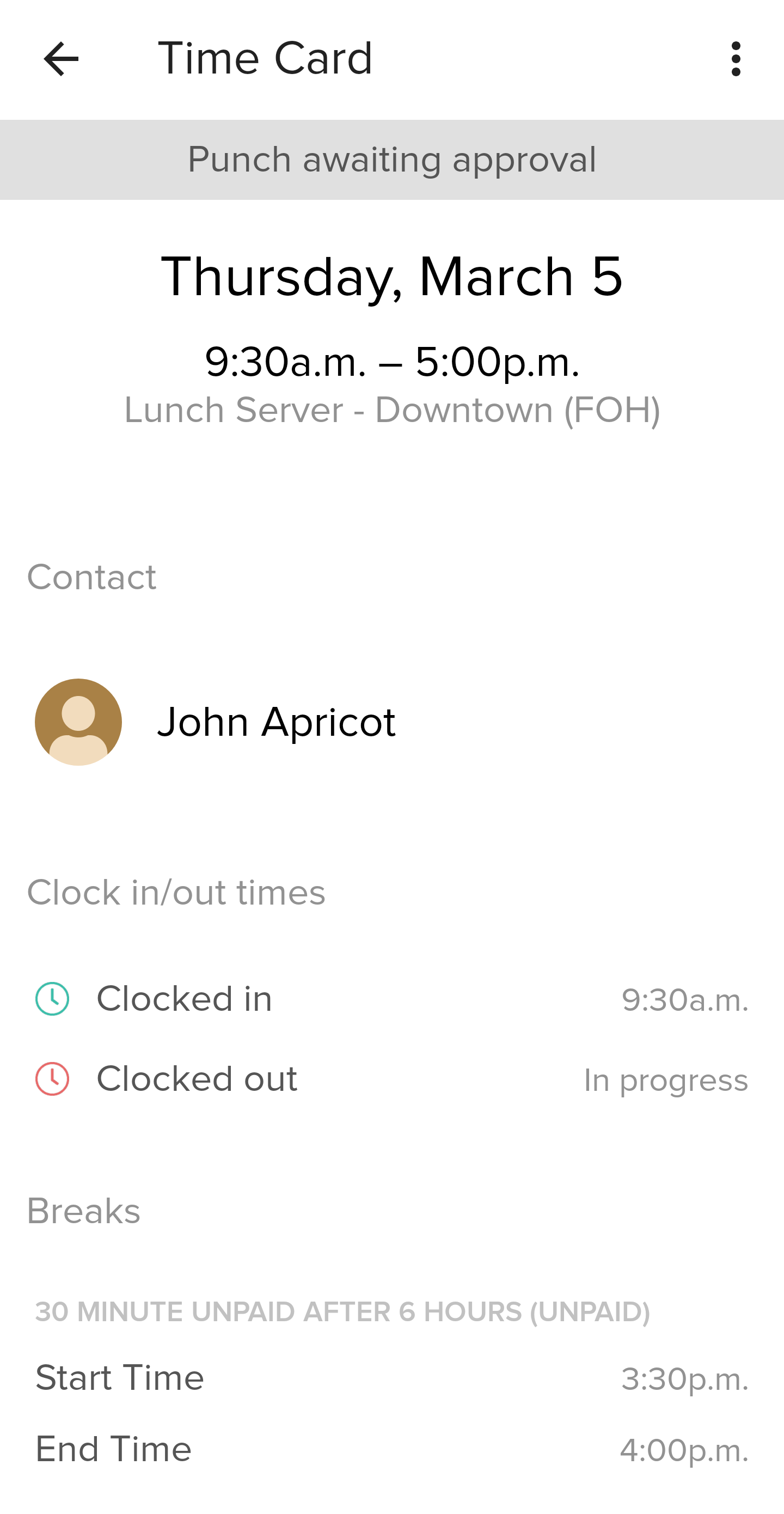 ---
Managing Time Punches (7punches only)
In the Time Clocking section, 7punches users can view, edit, and approve time punches directly from the 7shifts mobile app, similar to how they can manage timesheets on the 7shifts web app. 
⚠️ The Time Clocking page will only be visible to users with 7punches enabled.
⚠️ Managers and Assistant Managers will need the Manager permission 'Can manage time punches' enabled.
1. Select 'Time Clocking' in the 'More' menu to view employee punches.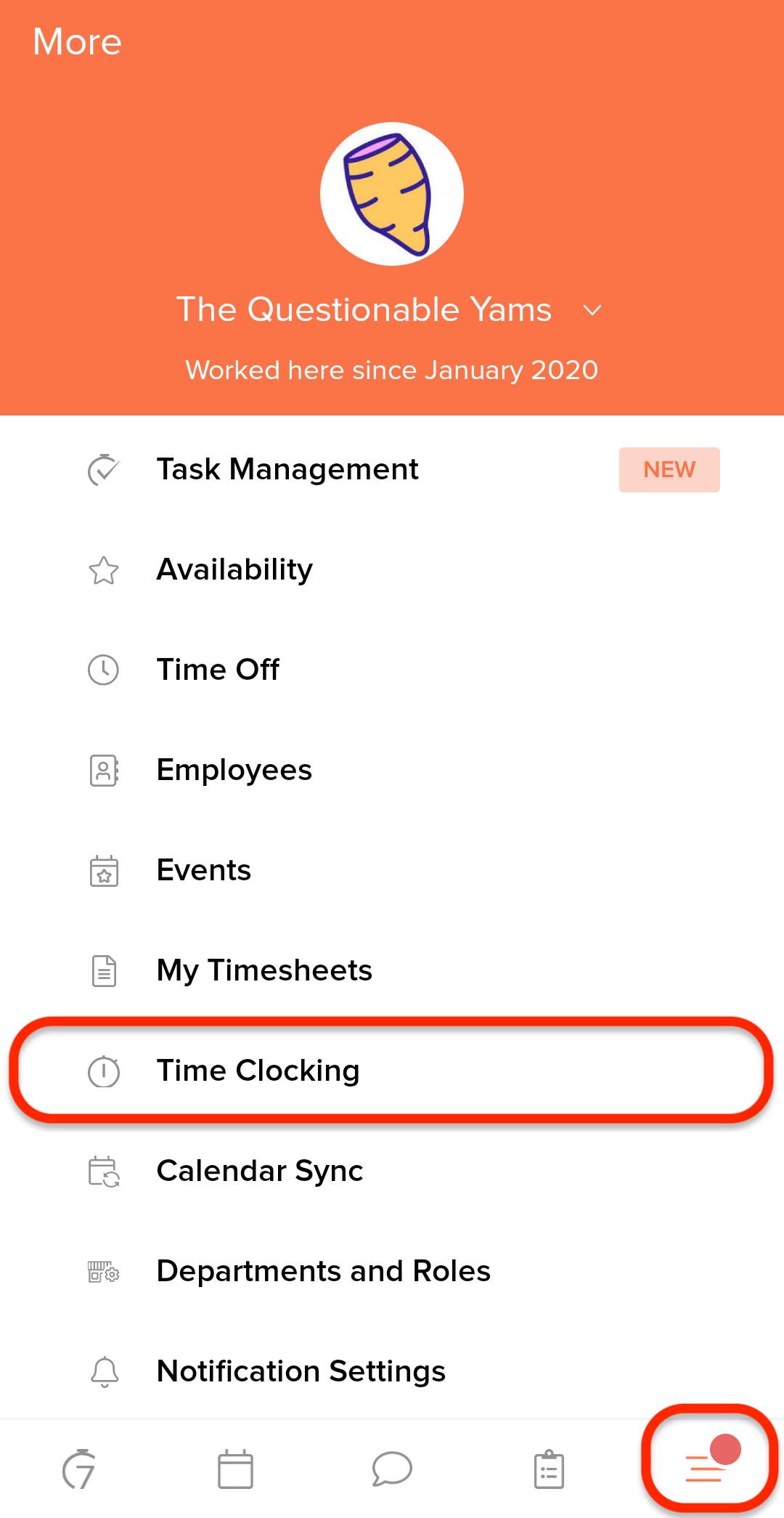 2. Choose to view either 'Unapproved' or 'Approved' punches.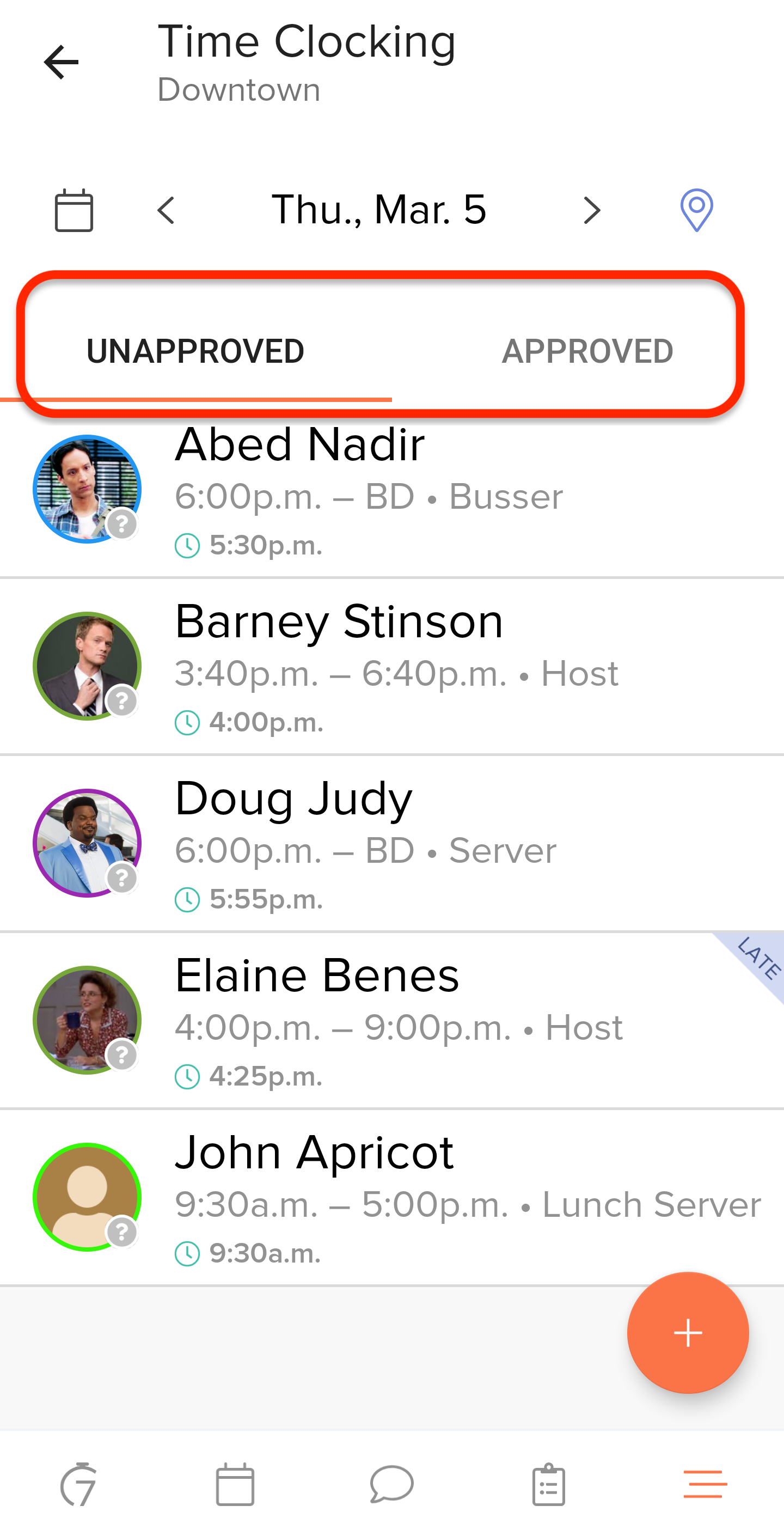 3. You can tap on the 'Location pin' icon to change Locations and tap the '+' icon to add a new punch.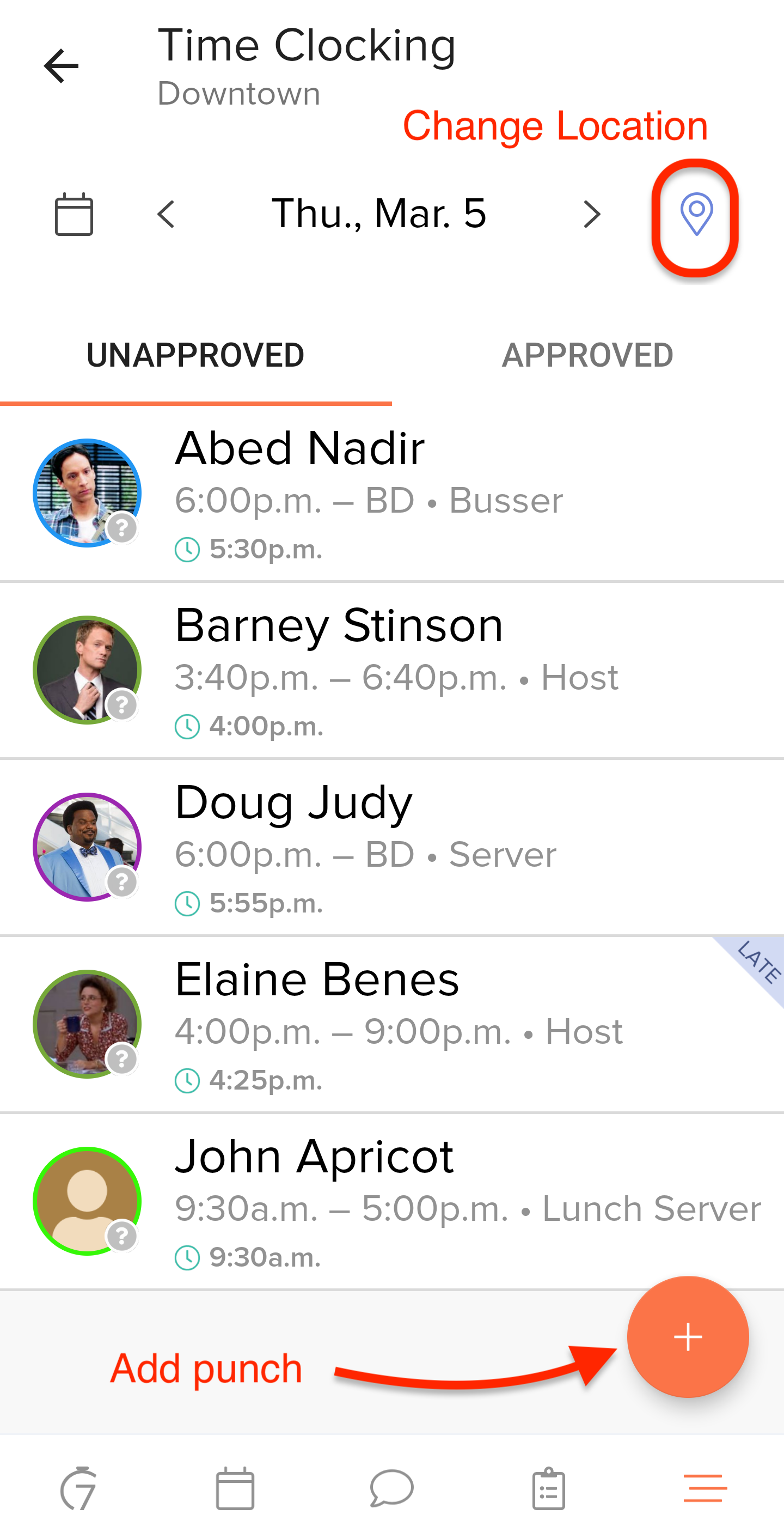 4. Tap on a punch to view the employee's Timecard in more detail.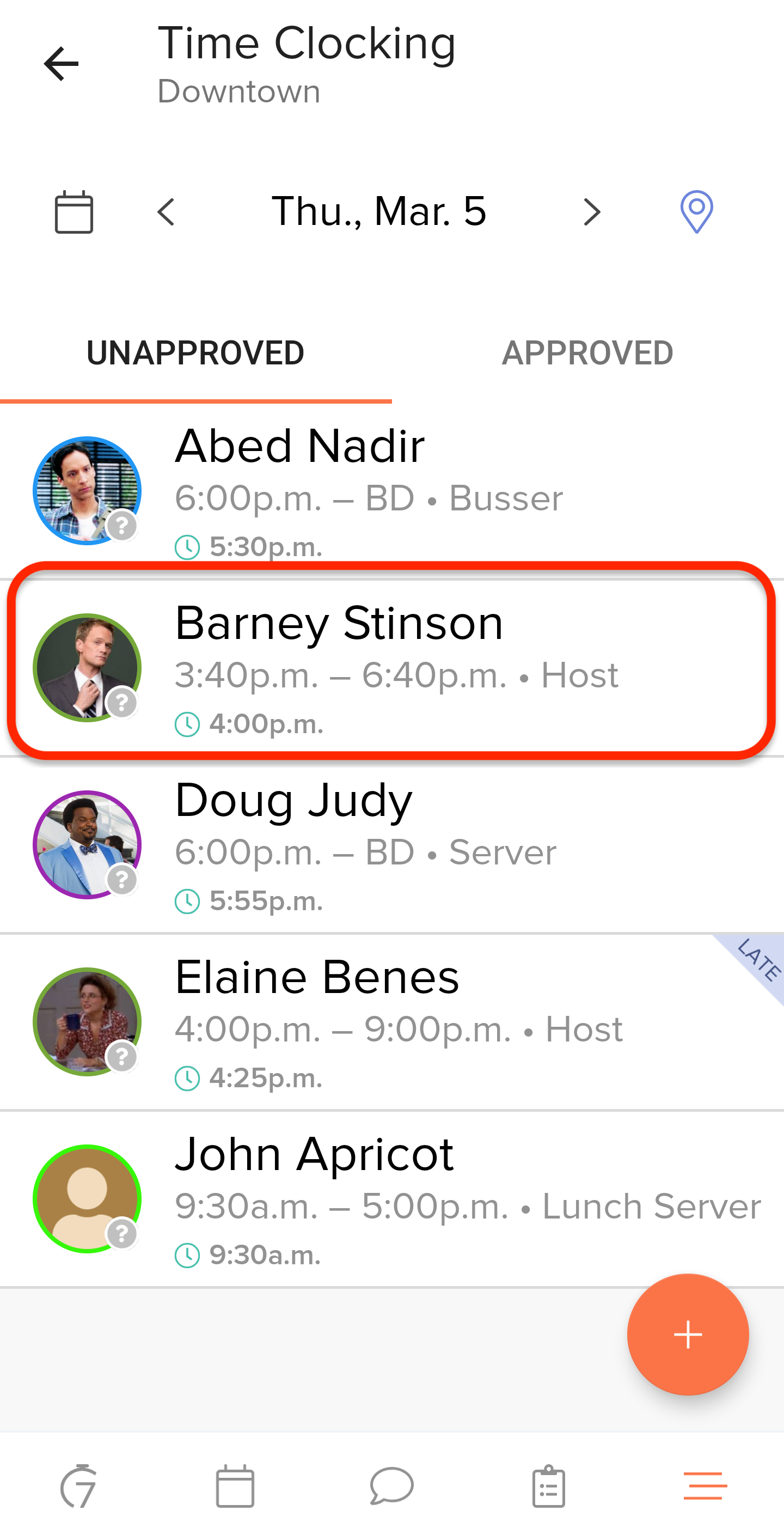 You can view the full details of the punch, including:
The Location, Department, and Role
In and out times
Breaks taken (if applicable)
Tips (if applicable)
Manager Notes
5. Tap the '3 dots' in the top right corner to edit, delete the punch, or approve if it's an unapproved punch.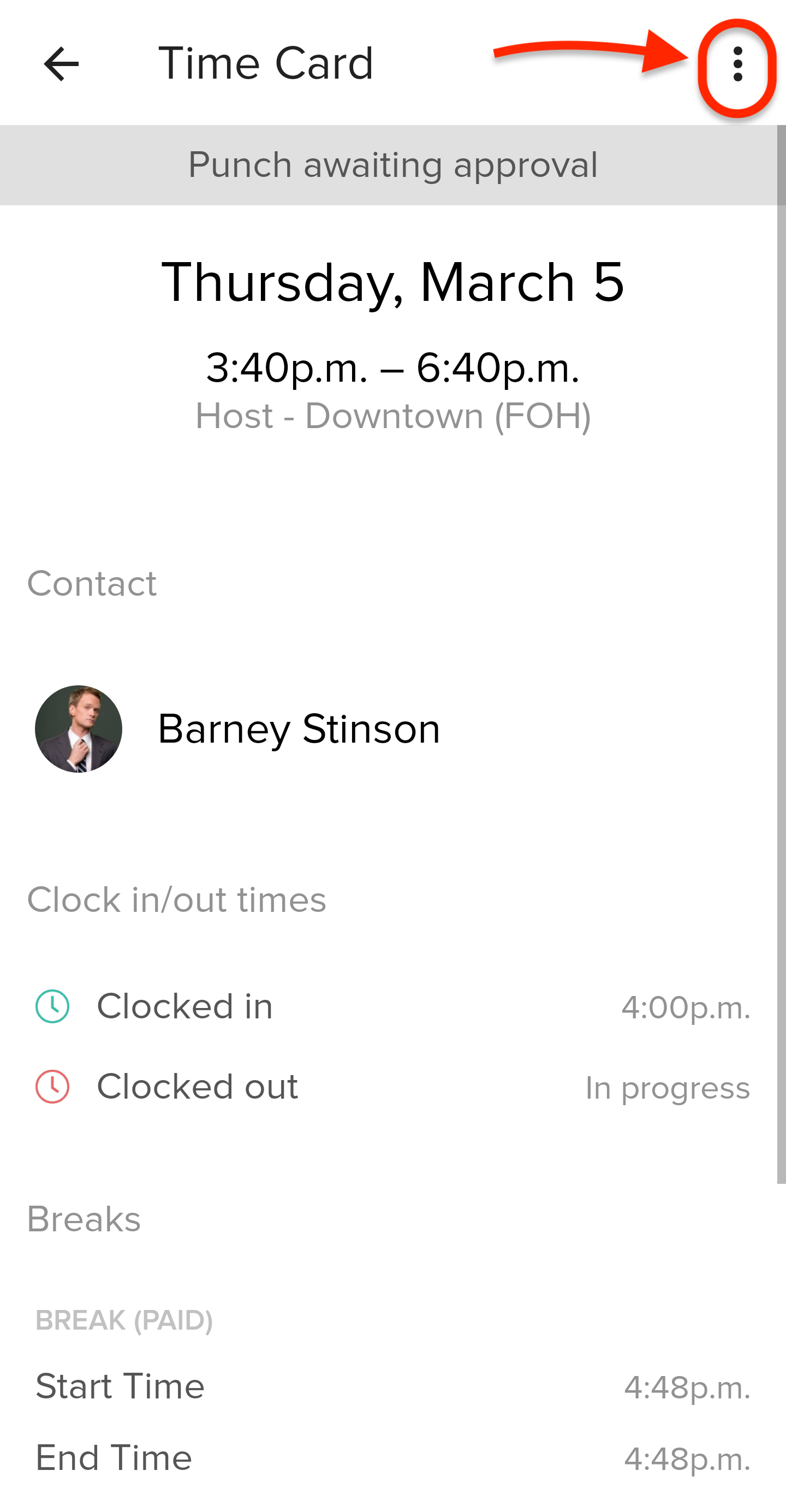 6. While editing a punch, you can update the following information:
Department
Role
Date
Clock in and out times
Tips
Breaks 
Manager Notes
⚠️ Be sure to tap 'SAVE' at the top when you're finished making changes to a punch