Notifications can either be sent by email, SMS, or push notification.
If you choose SMS notifications as your preference, you will receive a text message on your personal mobile device. For example, here is an SMS notification that informs the user about an available shift in the Shift Pool: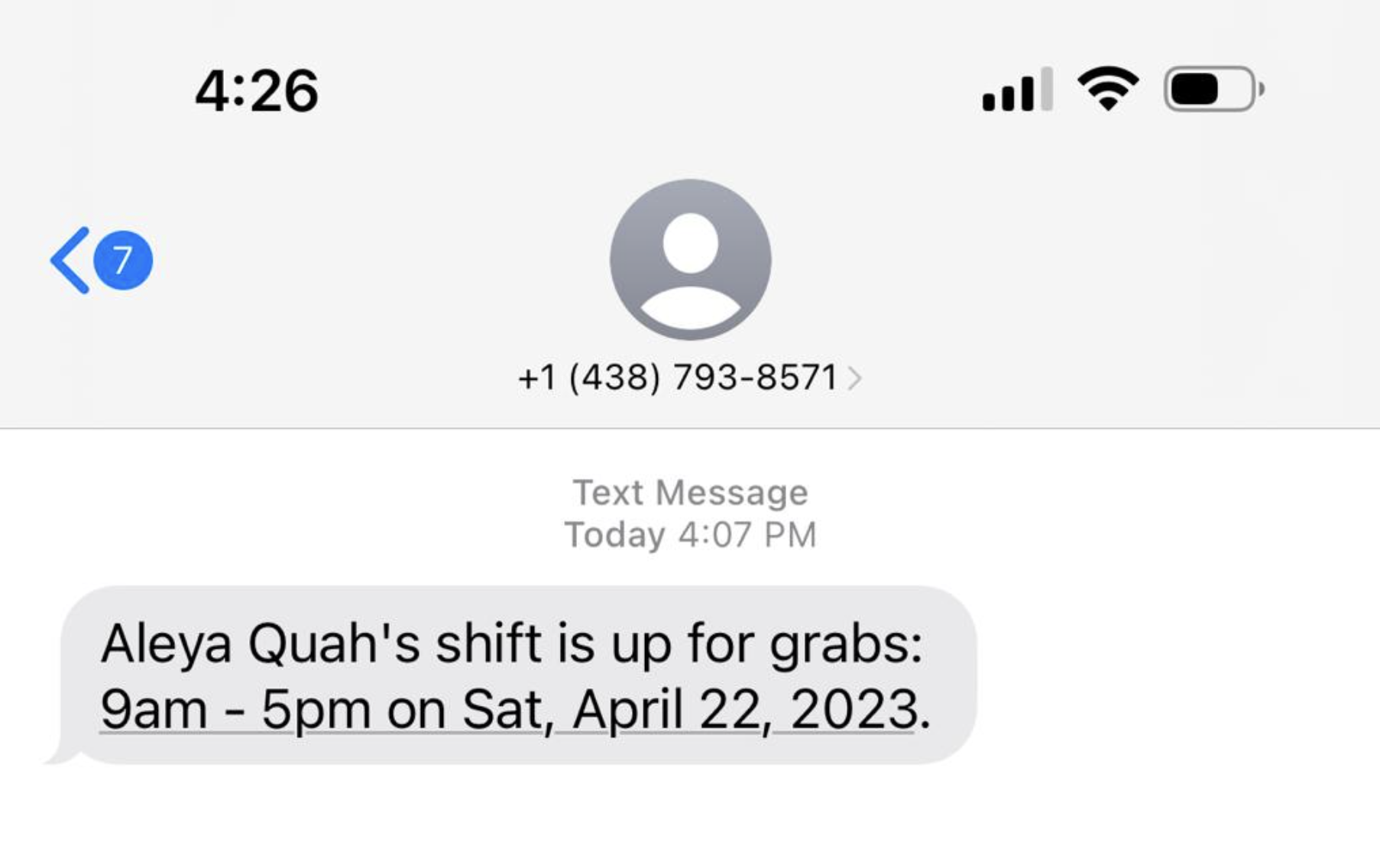 ---
Setup SMS Notifications
Requirements
To successfully receive SMS notifications, please ensure that you have
(1)
entered your mobile number into your account settings, and
(2)
be situated in one of the following countries: 
Click here for a list of supported countries
Qatar
Saudi Arabia
Bahrain
Kuwait
Bermuda
USA
Canada
Cyprus
UK
Hong Kong (not mainland China)
Luxembourg
Latvia
Austria
Poland
Norway
Malta
Indonesia
Finland
France
Spain
New Zealand
Singapore
South Africa
Jamaica
Iceland
However, if you reside outside the mentioned countries, you can choose to set up push or email Notifications instead.
Log in to the mobile app.


Tap on the More menu ' ☰ ' in the bottom right corner of your screen.


Scroll down and tap on Notification Settings.


Toggle off on Push Notifications: 




Tap on the Mobile or Email icons to enable the type of notifications you would like to receive (if they appear in orange, it means they are enabled):


 
You can also manage your notification preferences on the web app > Settings > Notifications.

---
Troubleshooting
Here's what you can do if you suddenly stop receiving SMS notifications:
Review your My Account settings to ensure that your phone number is valid.


Reset your mobile number on file by re-entering it and clicking Save.



Review your Notification preferences on the mobile/web app to see which notifications are enabled or disabled.
Otherwise, you're welcome to reach out to our Support team for further assistance. To get in touch, click on the blue icon at the bottom right of your screen. 
To expedite the resolution process, please provide our team with the following information (screenshots are most welcome too!):
The device (iPhone or Android).

The device's Operating System (Software Version). Typically found in device settings > General > About.
The mobile app version. This can be found in the app by tapping on the 3 horizontal lines

☰

and scrolling to the bottom.
---
FAQs
Q: Are SMS notifications sent to users for Messages or Announcements?
A: SMS notifications are sent out for Announcements.

SMS notifications are intentionally not sent out for messages because users cannot directly reply to SMS notifications. This is by design. Instead, users are required to log in to the app to respond to messages.