The Dashboard is the first thing you'll see when you first log into your 7shifts account. This is where you'll see high-level information about your restaurant, allowing you to get a sense of how things are going today, and what requires your attention. You can also print your daily roster of the schedule from here.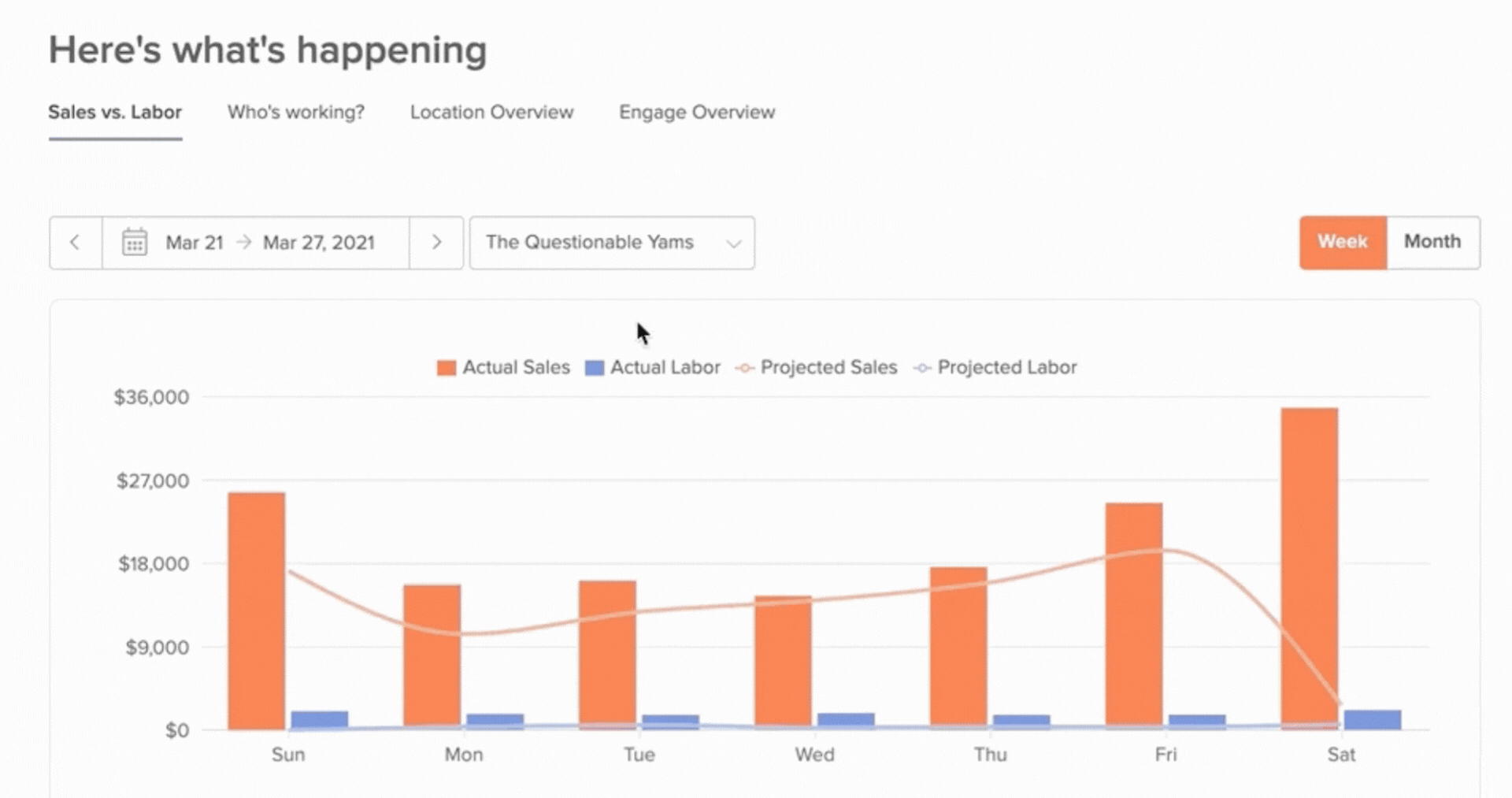 ---
Sales vs. Labor Graph

When you log into 7shifts or head to the 'Dashboard' tab, you will see a graph of your projected and actual sales & labor pulled in from your schedule and POS. This gives you a snapshot of your operating costs and can help you make schedule adjustments to keep labor costs under control.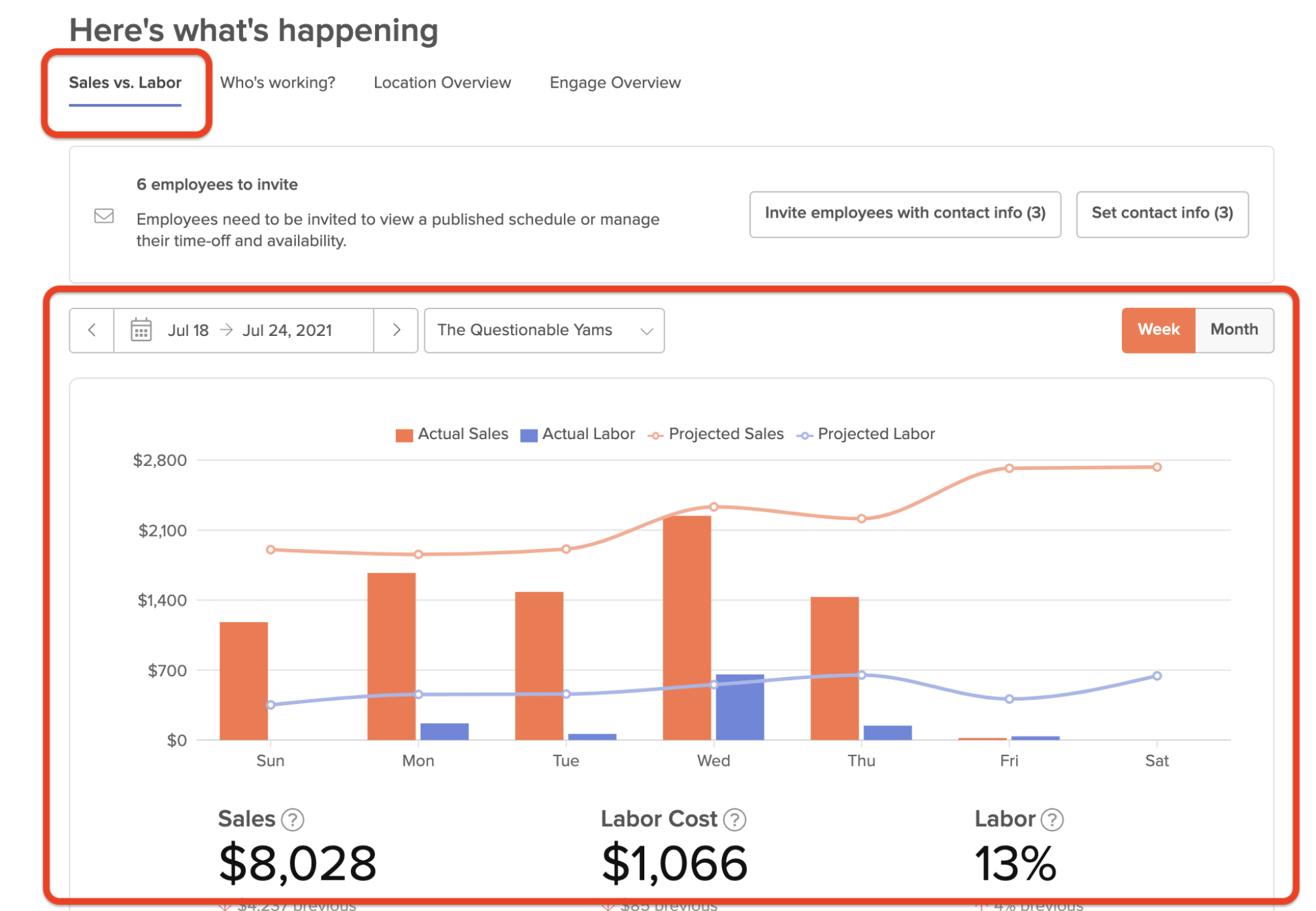 Select any Location in the dropdown, view the chart on a weekly or monthly basis, and can see the data for any previous week with the date selector. You can turn each graph column on or off to suit your needs.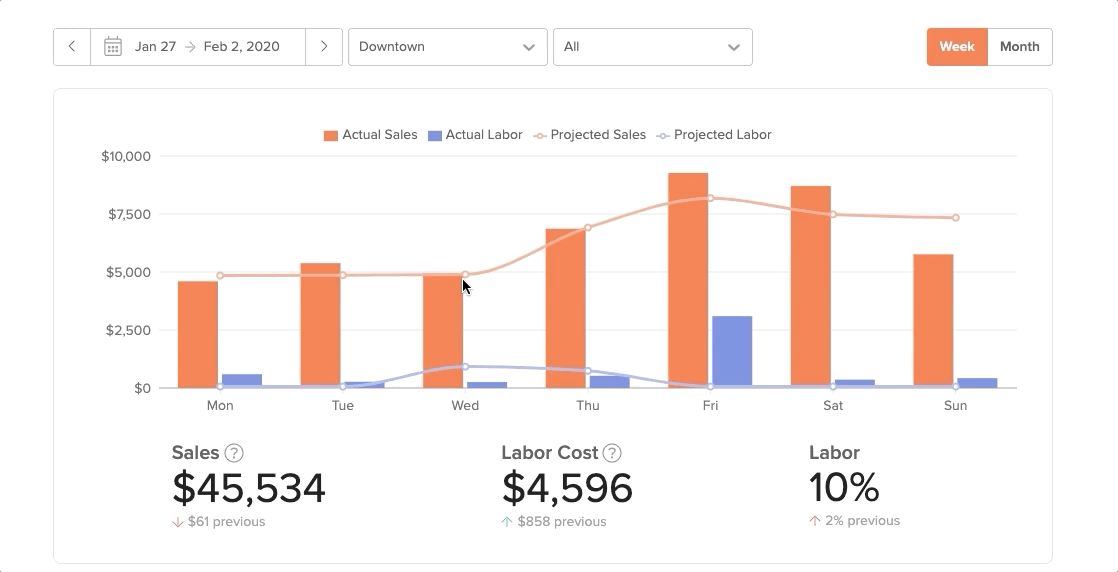 Hover over any point on the graph to see the details for that day, including:
Projected sales
Actual sales
Projected (scheduled) labor costs
Actual labor costs
Sales Per Labor Hour (SPLH)
⚠️ If you don't see any of this information populated, we provide steps on the dashboard itself to show you how to get it set up. 
---
Pending Requests
Below the Sales vs. Labor graph, you can see all pending requests for Time Off, Availability, and shift changes from the Shift Pool.
Quickly approve or deny staff requests and sort them by type. If you want more details on a specific request, click on it to see the full details.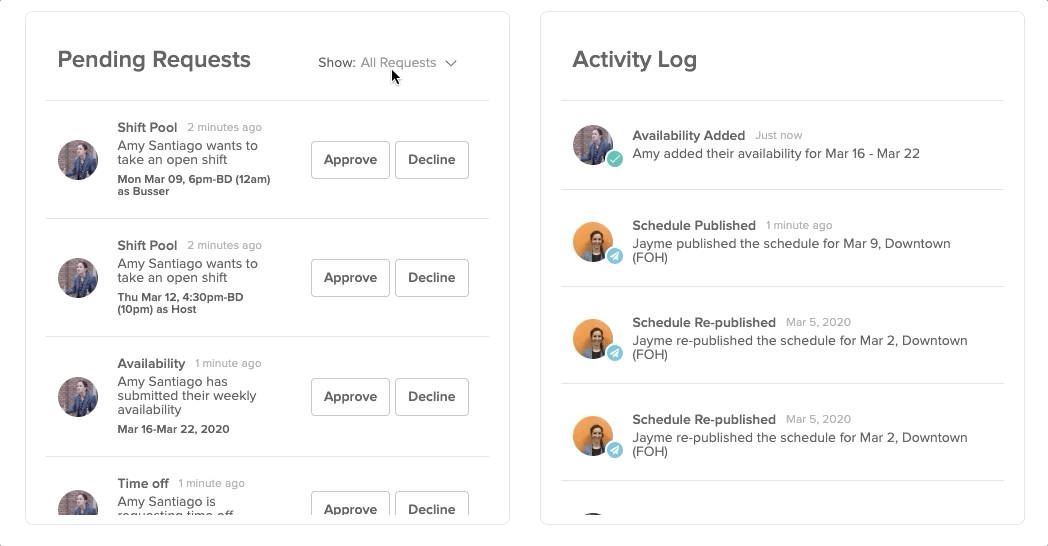 ---
Activity Log
The Activity Log can also be found just below the Sales vs. Labor graph. This allows you to audit some of the key actions occurring within the account, so you always have a handle on what's happening in your business.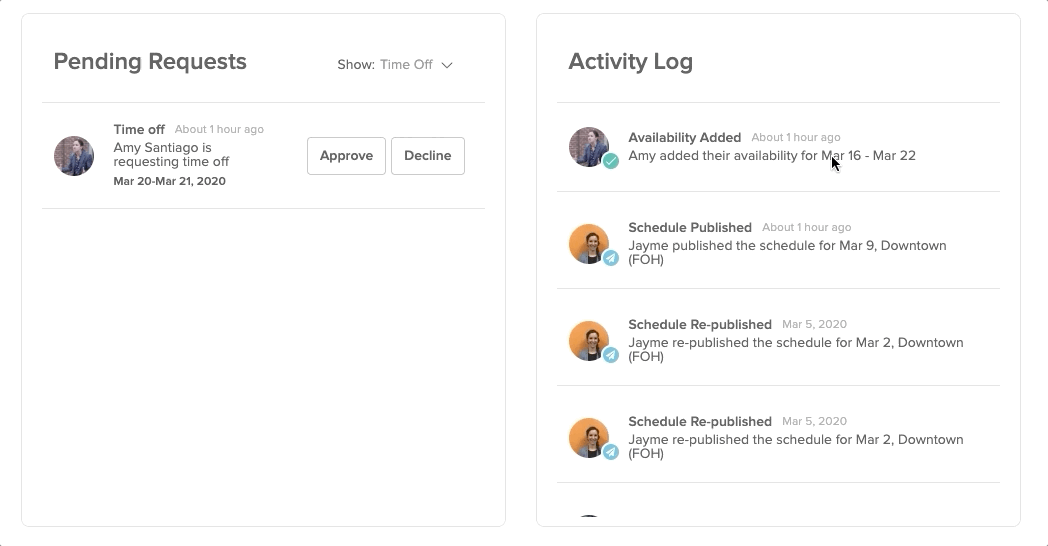 The Activity Log pulls in notifications for:
Schedule publishes, clears, and re-publishes
Availability approvals, deletions, and edits
Announcements
Shift Pool approvals or rejections
---
Who's Working? (Daily Roster)
This tab gives you a view of who is working today and can be found by going to Dashboard > Who's working.
In the dropdown options, select to view a specific Department schedule only or to see all of the Department schedules, under the same Location, at once.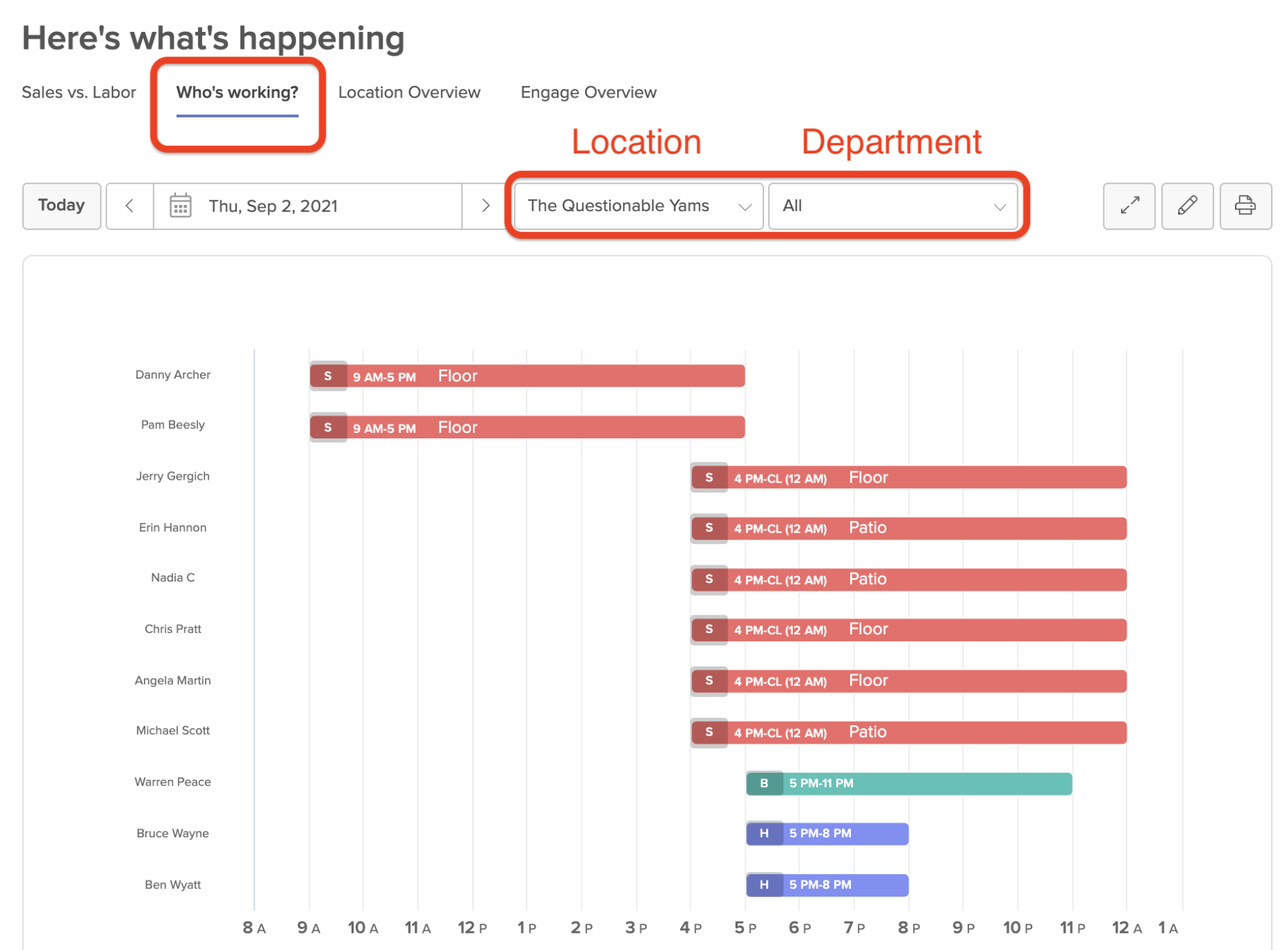 Click on the 'Today' button to instantly view the current day or select a specific date to view. Clicking on the Pencil icon will take you directly to the Schedules page if you need to make any changes.

Hover over any shift to find out details for that shift, including:
Employee name
Start and end time of the shift
Shift notes
Employee's phone number
Role for this shift 
Station the Employee is assigned to (if Stations are enabled for this Role)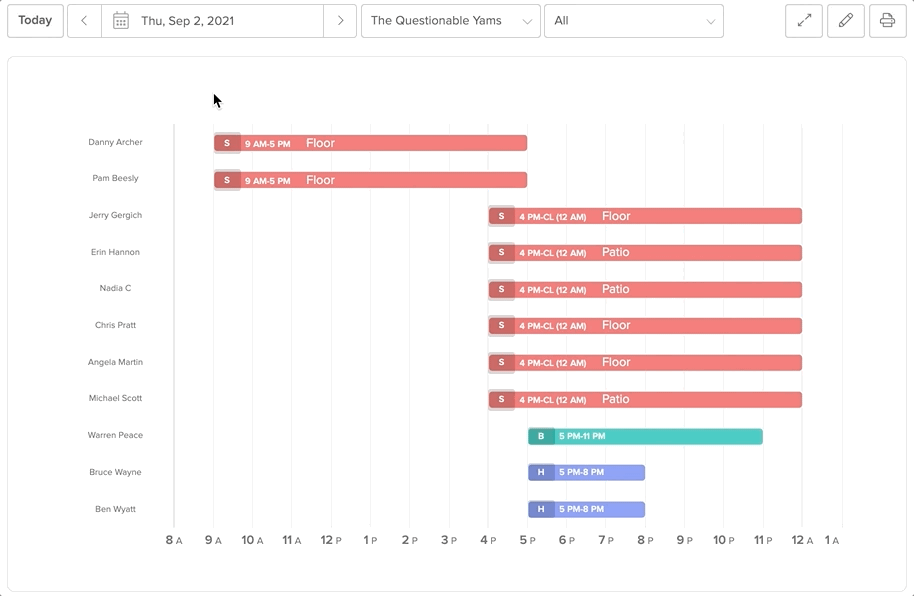 Click on the Printer icon to print off your daily roster at the start of each day.

Click here to see these printing steps in more detail.