With 7tasks, check completion progress on the fly, who's completed which tasks, and who's tagged in a task. View what still needs to be done and what task lists are overdue. Hold your employees accountable for their tasks with a centralized management system.
Click here for instructions on accessing the 7tasks mobile app.
⚠️ This feature is offered as paid add-on. Please see our Pricing Page for more information.
⚠️ For accounts that are subscribed to 7shifts through the Clover Marketplace, access to this feature may require an upgrade from your current plan.
---
Creating a Task List
⚠️ Admins and Managers / Assistant Managers with the permission 'Can manage tasks,' are able to create/edit task lists.
---
Adding Tasks
---
Assigning Tasks to Specific Employees
You can assign certain tasks within a list to a specific employee instead of an entire group. Tagging your employees can increase your task completion rate by 135%!
Click here to see how to assign an entire list of tasks to an individual employee. 
---
Assigning Tasks to an Employee in Bulk
---
Overview Lists & Progress Tracking
---
Duplicating / Copying Task Lists
---
Setting up the 7tasks Terminal
7tasks can be used from a mobile device, a tablet, iPad, or iPod touch. Here are the links to download the iOS and Android apps:
After downloading and launching the 7tasks app, an Admin, or Manager / Assistant Manager with the permission 'Can manage tasks,' can login using their 7shifts login information. You won't be logged out of 7tasks, so you will not have to keep re-entering your login information to launch the app each day.
From there, Employees will be able to punch in (using their punch ID) and record their completed tasks.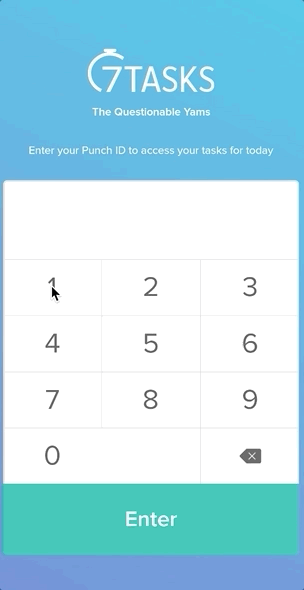 ⚠️ To help reduce the risk in using shared devices, 7tasks users can now allow their employees to access task lists from their personal devices.

Click here to learn more.