If you need to set up a member of your team as a Manager in 7shifts, here are a few steps that you can take to update their user profile in the account.
You can also choose to make them a 'Manager' or 'Assistant Manager' user type. The only difference between the two is in terms of hierarchy since a Manager is more senior than an Assistant Manager.
Click here to learn more about different user types and levels of hierarchy in 7shifts
⚠️ The Assistant Manager user type is only available on the Entrée plan or higher.
⚠️ Please note:


Only Admins can add Managers.
Admins and Managers can both add Assistant Managers or Employees.
Assistant Managers are only able to add Employees.
---
To make someone a Manager or Assistant Manager in 7shifts:
1. First, you must create them as an Employee in the account. Click here to see these steps in more detail.
2. Next, go to Team:

3. Search for their profile or use the filter options to view Employees of different categories. When you find them, click on their profile to edit it.

4. Under the 'Permissions' tab, change their 'Employee Type' to 'Manager' or 'Assistant Manager.'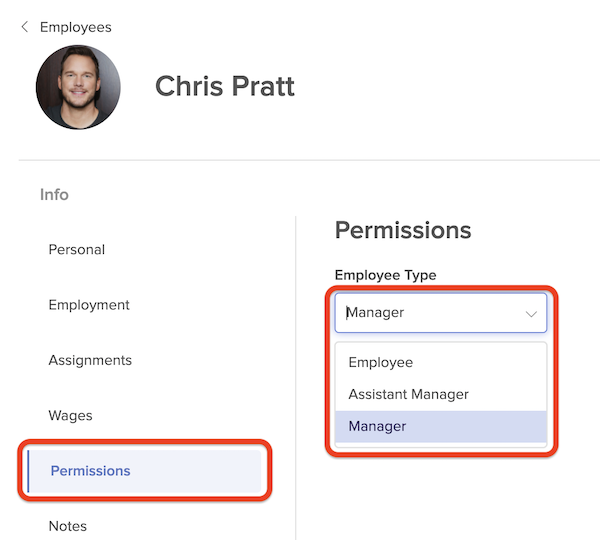 5. Below, you should see a list of their Manager Permissions. Check all that apply and be sure to click on 'Save' at the bottom of the page to confirm these changes.

Click here to learn more about Manager Permissions.
⚠️ Please note:

Managers and Assistant Managers will be restricted to the Locations and Departments they're assigned to, so be sure to assign them to all of their respective Departments. This way they can create Schedules for their Employees and manage any relevant requests/notifications within the account.

Click here to learn more about updating a user's profile to grant them access to multiple Departments and Schedules.
⚠️ Tip:

You can grant a Manager or Assistant Manager access to multiple Department Schedules without having their name appear under all of them. If they only need to appear on the Schedules page for certain Departments, you can enable/disable the 'Appear on schedule' option under their user profile.

Click here to learn how.