If you are using 7punches for time-clocking, or have a POS integration that includes labor, you can import your approved punches directly into Wagepoint.
⚠️ To use this integration you must be using 7punches or have a POS integration that includes Actual Labor data.
⚠️ This feature is only available on The Works plan or higher.
---
Adding the integration to your account
To enable the integration, you'll need to do the following:
1. Retrieve your API Key from 7shifts by heading to the 7shifts logo > Company Settings > API.
2. Sign in to your Wagepoint account and enter the API Key by heading to Add-ons > 7Shifts and clicking on 'Log In.'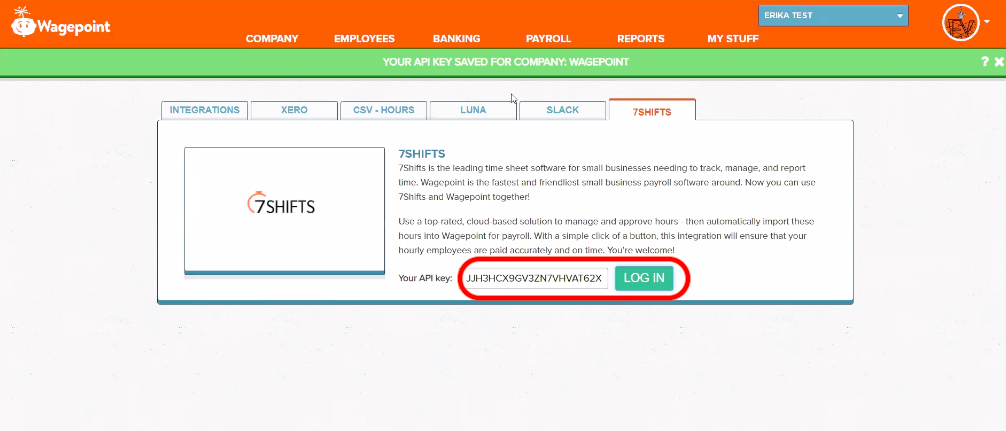 ⚠️ After connecting the 7shifts add-on, you will need to map your employees and jobs roles between 7shifts and Wagepoint within your Wagepoint account.

For more information on mapping employees and job roles in Wagepoint, click here.
---
Importing punches for payroll
Before you can import your punches to Wagepoint, you will need to ensure that these timesheets are approved within 7shifts.


❗️Please note:
Only approved time punches will be imported.
Users with a salary in 7shifts (instead of an hourly wage) will NOT be able to have their hours included when importing your time clocking data into Wagepoint.
1. In 7shifts, head to 'Time Clocking' at the top of the screen, then select the appropriate pay period.

2. From there, review and 'Approve', 'Modify', or 'Delete' any and all punches, or choose to 'Approve All.'
3. Head to your Wagepoint account, select the pay period, and click 'Import 7shift Hours.'