If you have already set up your 7shifts account, here's how to add a new Location or update your Location Settings.
⚠️ Please note that billing is per Location, so you will be charged an additional fee when the Location is added.
---
To add a Location
Whether you want to use the same credit card for all Locations or use different cards for different Locations, the steps to add a new location will be the following:
1. As an Admin, head to Settings > Locations/Departments/Roles.
2. Select Locations from the tabs on the far left.
3. Click on the green + Add Location' button:
4. Enter your Location name, address, and timezone > click Create Location.



If you select Copy departments and roles from another location, select a Location from the drop-down menu. Only Locations with complete account structures will be available for you to choose from:


5. Next you will be prompted to update your subscription.
You can select to use an existing credit card linked to the account, select 'New payment method' to use a different card, or set up ACH billing as your payment method (please note that this option is only available to Accounts located in the US).


6. Once you click on Confirm & Pay, your new Location will be immediately added.
Next, you will need to review and update your new Location's settings.
---
Location Settings
After you add a new Location to your account, you will be prompted to review or update the Location's settings. You can also find these settings later by going to Settings > Locations/Departments/Roles and selecting the Location from your list of Locations.




From there, you will need to review the following tabs:
1. General
In the 'General' tab, enter your street address, Location name, and timezone.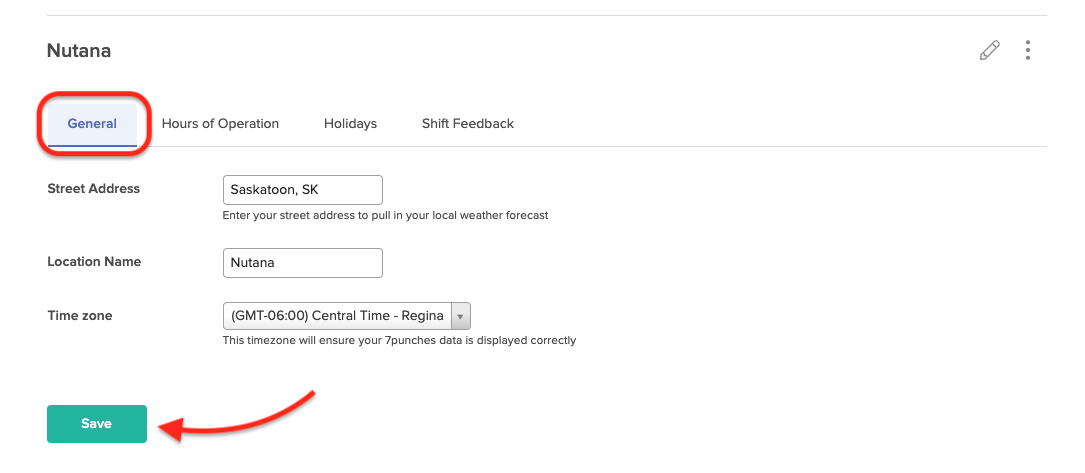 2. Scheduling Hours
These times should reflect the working hours of the Location, not necessarily the Open and Close times for customers. In the 'Scheduling Hours' tab:
Select the days that you are open/closed, and enter the earliest shift's start time and the latest shift's end time for this Location.
Setup your Dayparts.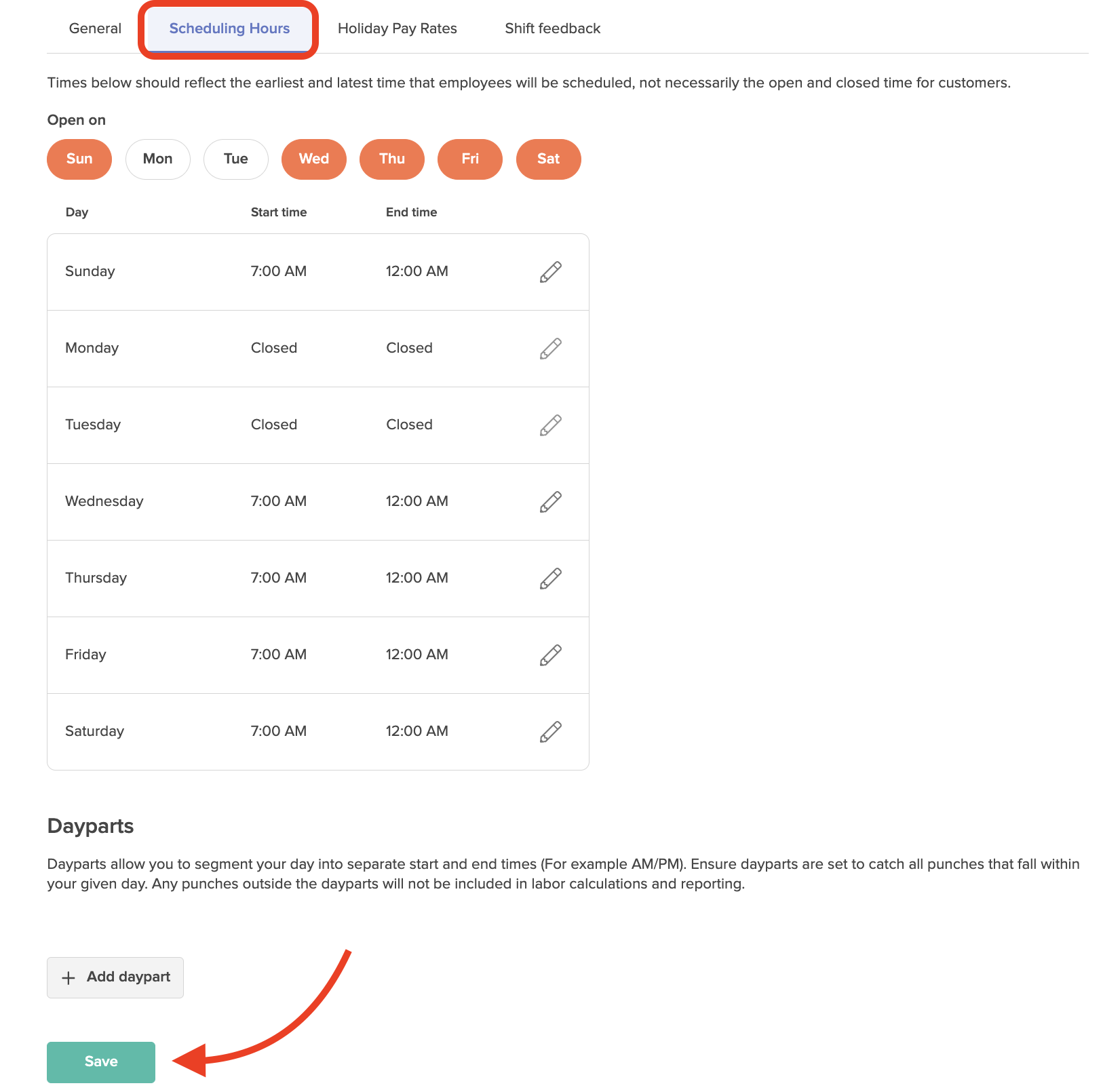 3. Holiday Pay Rates
Choose to enable holidays, then select the specific holidays you would like to apply to the Location.
Once you enable holidays, you will see a list of default holidays based on your country setting (verify this by going to your profile picture > Company Settings > General > Country).
You can then select which holidays you want to enable, and decide whether to apply a wage multiplier.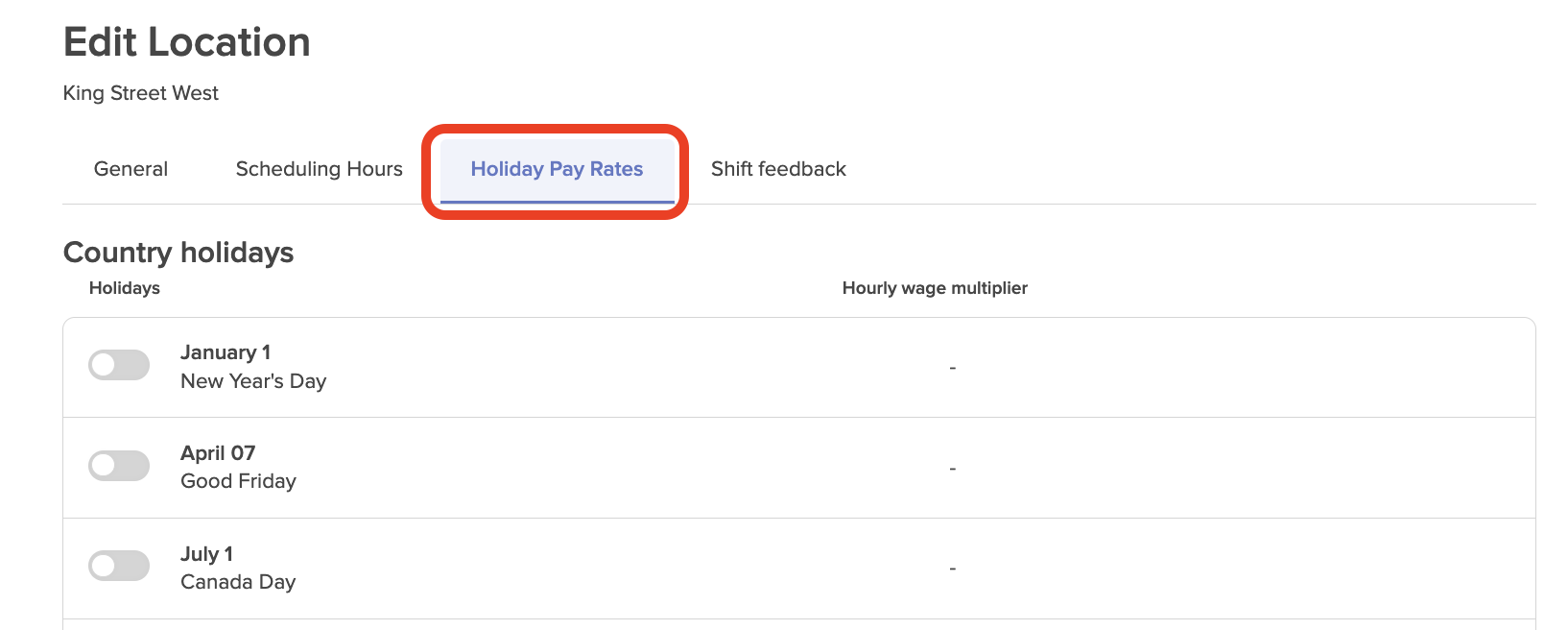 ⚠️ If have Holidays enabled, but you don't want a holiday to impact the scheduled wages, enter '1.0' as the wage multiplier.

4. Custom Holidays/Events
To add your own holidays or events:
Simply click on 'Add custom holiday'.
Click 'Save' when you are done.

5. Shift Feedback
Here you can access/enable Shift Feedback, which allows Employees to submit feedback on how their shift went via a push reminder.
⚠️ To access the Shift Feedback feature, you must be on The Works plan or higher.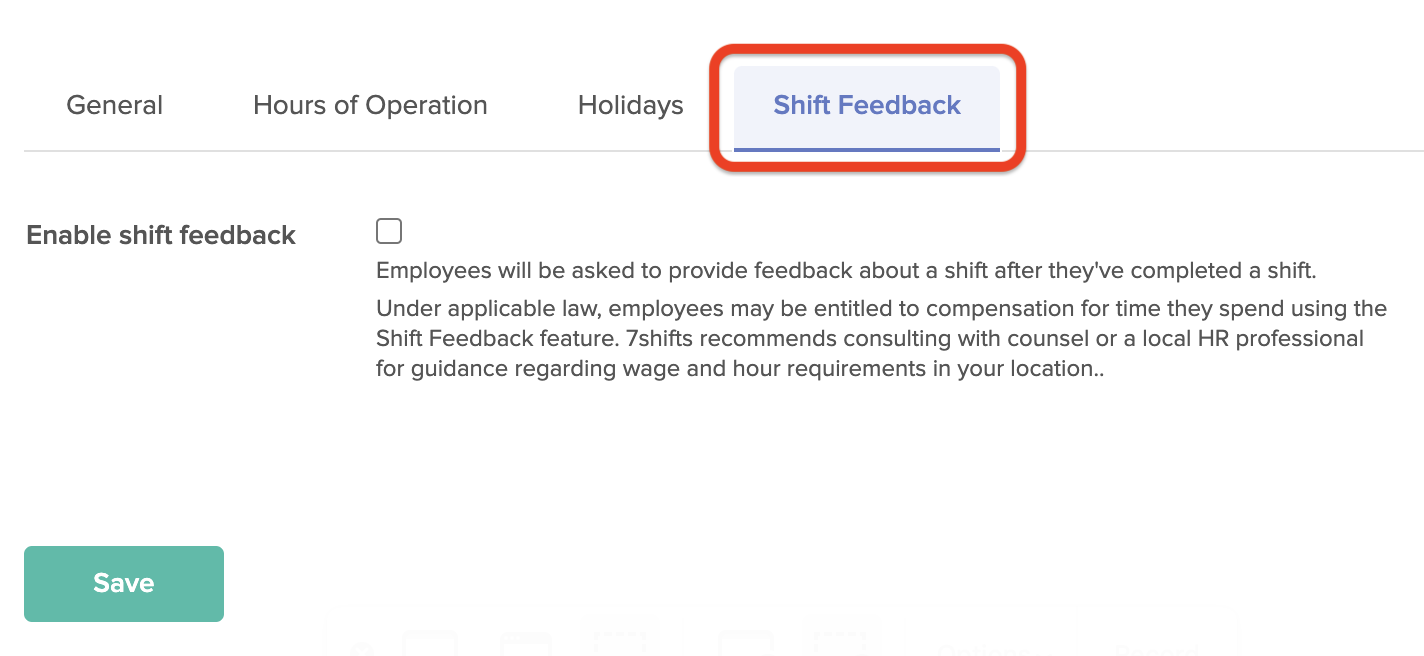 ---
What's next...?
To begin Scheduling for each Location, you will first need to create your Departments and Roles within them. The Departments and Roles you create in 7shifts will help you quickly assign and organize your employees.
Click here to learn more about setting up your Departments and Roles.
---
Delete a Location
⚠️ Please note: deleting a Location is a permanent action that will delete all information that is associated with the Location such as Departments, Roles, Shifts, Punches, and Tasks Lists.
Be sure to back up your data, as this action will result in a loss of important information.

Once you are ready to delete your location, you can do so by hovering over the 7shifts logo > select Locations/Departments/Roles > click on the More Options icon
> and click on Delete:



This will immediately delete your Location and all the data related to it. The payments for this Location will also immediately stop.