Below are some steps that you can take as an Admin or Manager when an employee can't make it for their shift unexpectedly due to an illness or any other reason.
By using the 'Find who's available' function on the mobile app, you can quickly create a cover shift to ensure you still have enough staff. Alternatively, you can make changes on the Schedule or in the Shift Pool, if you're accessing 7shifts from the web app.
With these tools, you can find the last-minute coverage you need and keep business running smoothly.
---
Finding a Replacement - Mobile
To quickly search for a last-minute replacement, you can use the 'Find who's available' option on the mobile app.
1. First, head to the Schedule by tapping on the calendar icon, then tap on the shift of the absent employee.
2. Next, tap on 'Find cover' and 'Find who's available.'

⚠️Please note, the 'Find who's available' option is only available 24 hours before the shift's start time, and until the shift ends.

If the shift is for a date further into the future, select the 'Offer Up' button instead. The 'Offer Up' button will allow you to post this as an Open Shift in the Shift Pool and notify eligible employees that it's available.
3. After selecting 'Find who's available,' you can quickly add a Shift Flag to the original employee's shift to track their attendance.
Simply tap on the appropriate Shift Flag option, then tap on 'Save and continue.'
⚠️If you choose an incorrect option, you can always manually update the Shift Flag later on the mobile app. Click here to learn how.
4. Next, you'll see a list of available employees who are eligible to work a cover shift of the same time and Role. Tap on the employee you'd like to cover this shift.
You can also tap on the phone or message icons to get in touch with a particular employee.
⚠️Employees that may cause an overtime or labor issue are listed further down and labeled with any relevant warnings.
5. After you have selected an employee, you'll see if there are any applicable labor exceptions or warnings that may occur by making this change to their Schedule.
Tap 'Schedule Employee' to proceed with scheduling them for the cover shift.
6. Before you assign the cover shift to the selected employee, you'll have the opportunity to add any shifts notes for the employee to view in regards to this shift.
When you're ready, tap 'Publish new shift' to create the cover shift and notify the employee.
After this, you'll see the new shift on the Schedule.
If you added a Shift Flag to the absent employee's shift, this will be visible as well.
---
Finding a Replacement - Web
To quickly find a last-minute replacement from the web app, you have 2 options available on the Schedules page:
Option 1: Create a cover shift
To simply create a similar shift to someone else, press and hold down on your 'shift' key. While holding, click and drag the shift to another employee on the Schedule.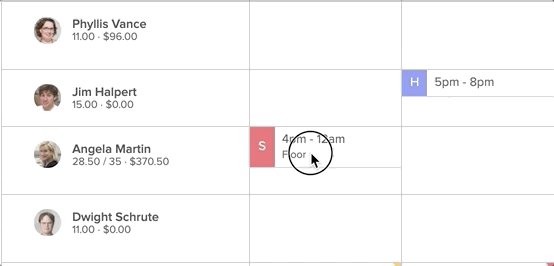 Once you re-publish the Schedule, the changes will be posted and the employee will be immediately notified of their shift by email or SMS/push on mobile.
Option 2: Offer up an open shift to employees in the Shift Pool
To offer a similar shift to multiple people, press and hold your 'shift' key. While holding, click and drag the shift to the 'Open Shifts' area.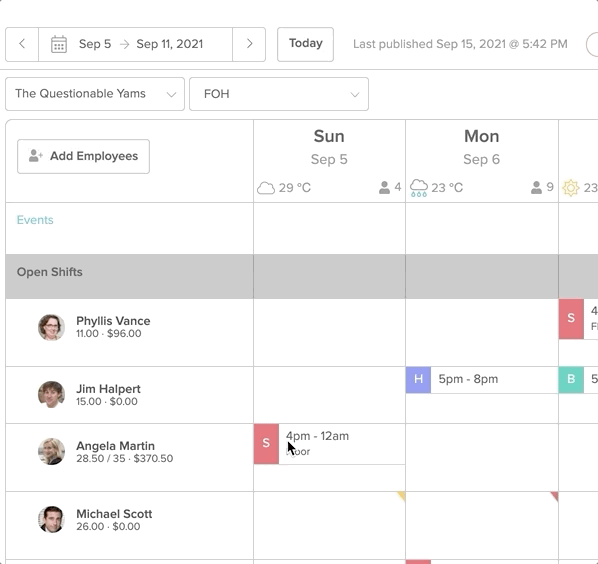 Once you hit 'Publish', all Employees that can perform that Role will get notified that a shift is available. Alternatively, you can offer the shift to Employees outside the Role or Employees from other Locations using Account-Wide Shift Pool.
⚠️Whether you decide to go with Option 1 or Option 2, ensure that the employee who is absent still has their original shift assigned to them for attendance purposes.

To document the original employee's absence, you can flag their scheduled shift to indicate that they were sick or simply did not show up. These Shift Flags will help you keep track of employee's attendance records over time.
To update the Shift Flag on web:
1. Go to the Schedule page and click on the shift that the employee has missed. You'll see a flag at the bottom left of the shift window.
2. Click on it to select whether the employee was Sick, Late, or No-Show.
3. After you click 'Save,' the Shift Flag will be updated and you'll be able to see your employee's attendance over time by reviewing their Attendance Report.