With 7tasks, check completion progress on the fly, who's completed which tasks, and who's tagged in a task. View what still needs to be done and what task lists are overdue.
⚠️ Please note that tasks and task lists can only be created / edited from the 7shifts web app. Click here to learn more.
---
Launching the 7tasks Punch Pad on your Device
7tasks can be used from a mobile device, tablet, iPad, or iPod touch. Here are the links to download the iOS and Android apps:

1. After downloading the 7tasks app, an Admin, or Manager/Assistant Manager with the permission 'Can manage tasks,' can log in using their 7shifts login information to and launch the punch pad.
⚠️ You won't be logged out of 7tasks, so you will not have to keep re-entering your login information to launch the app each day.
2. Sign in to the app using your 7shifts email and password. If you have more than one account or Location, you will be prompted to choose when you sign in.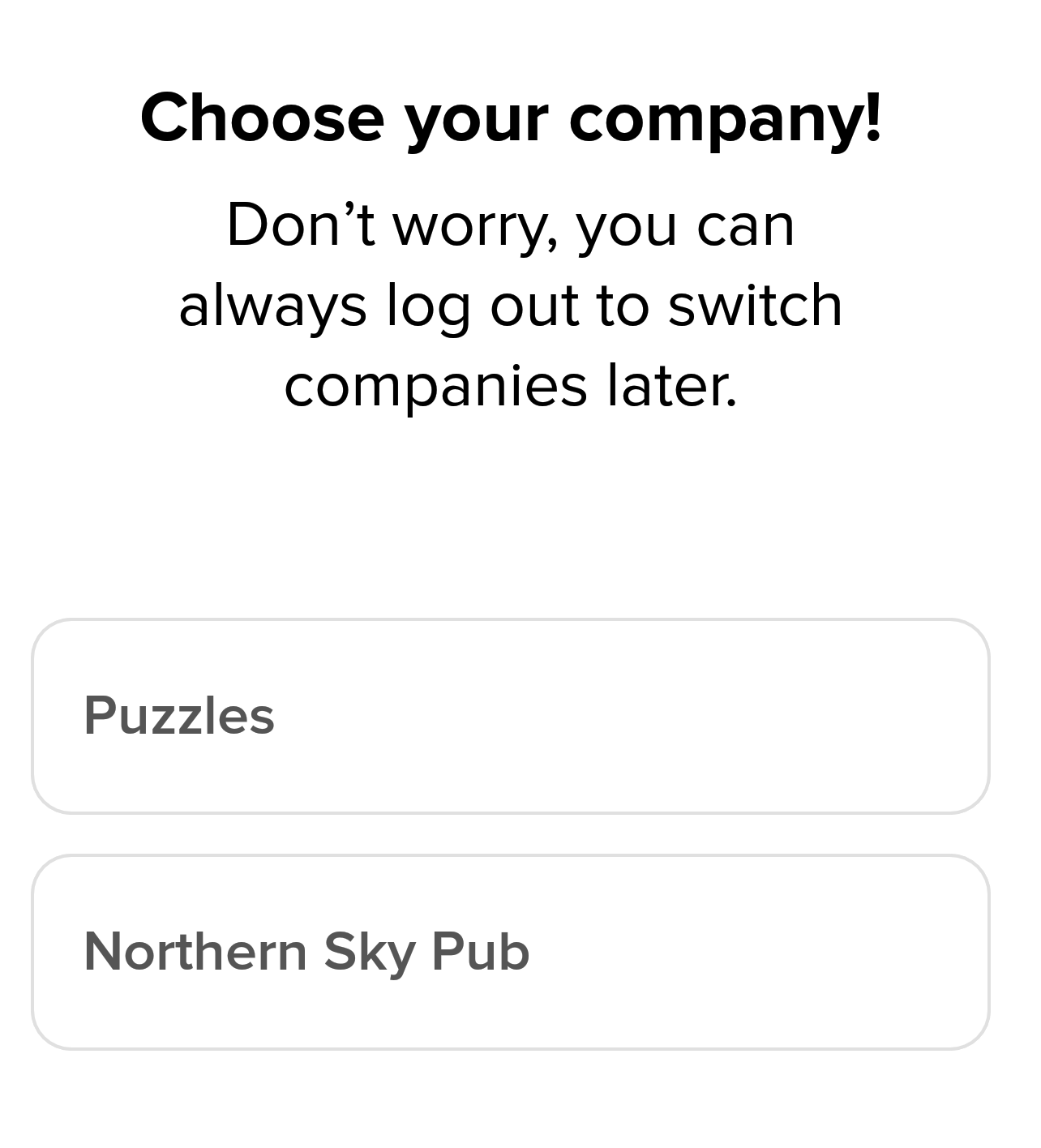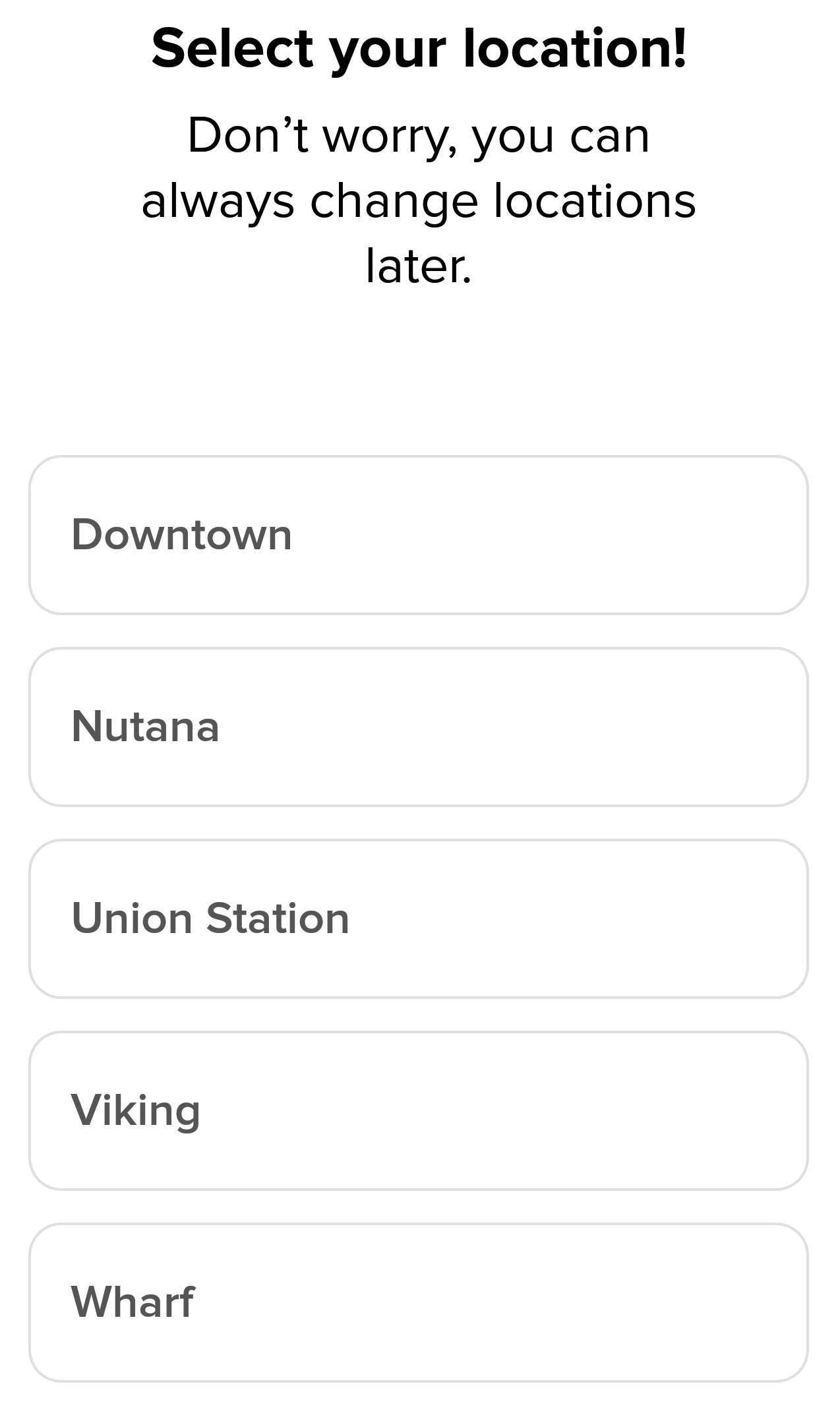 From there you'll see the 7tasks punch pad, where you and your employees can sign in using your own punch IDs.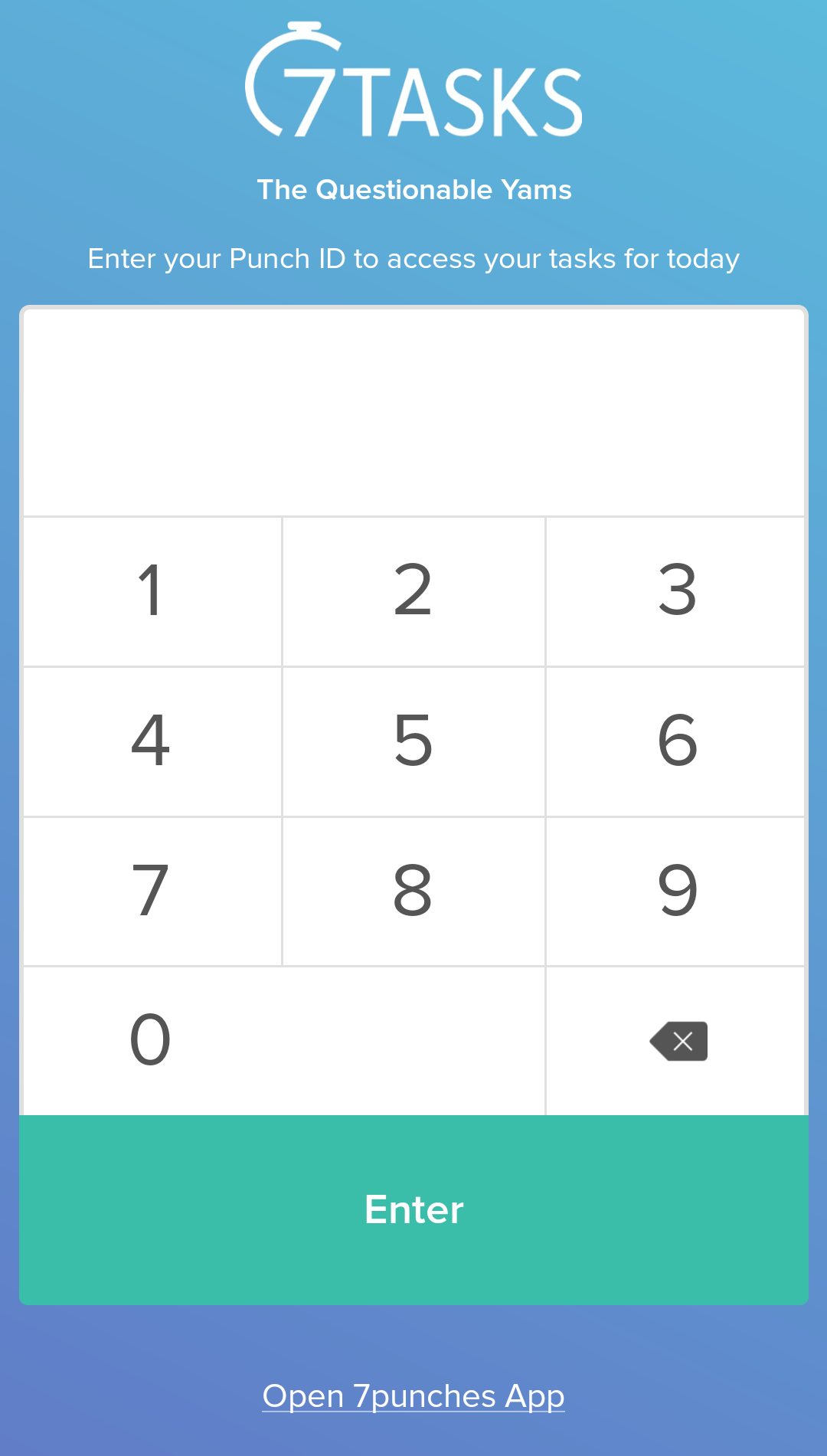 ⚠️ To help reduce the risk in using shared devices, 7tasks users can allow their employees to access task lists from their personal devices.

Click here to learn more.
---
Viewing Tasks and Task Lists
1. Enter your punch ID to access your task lists.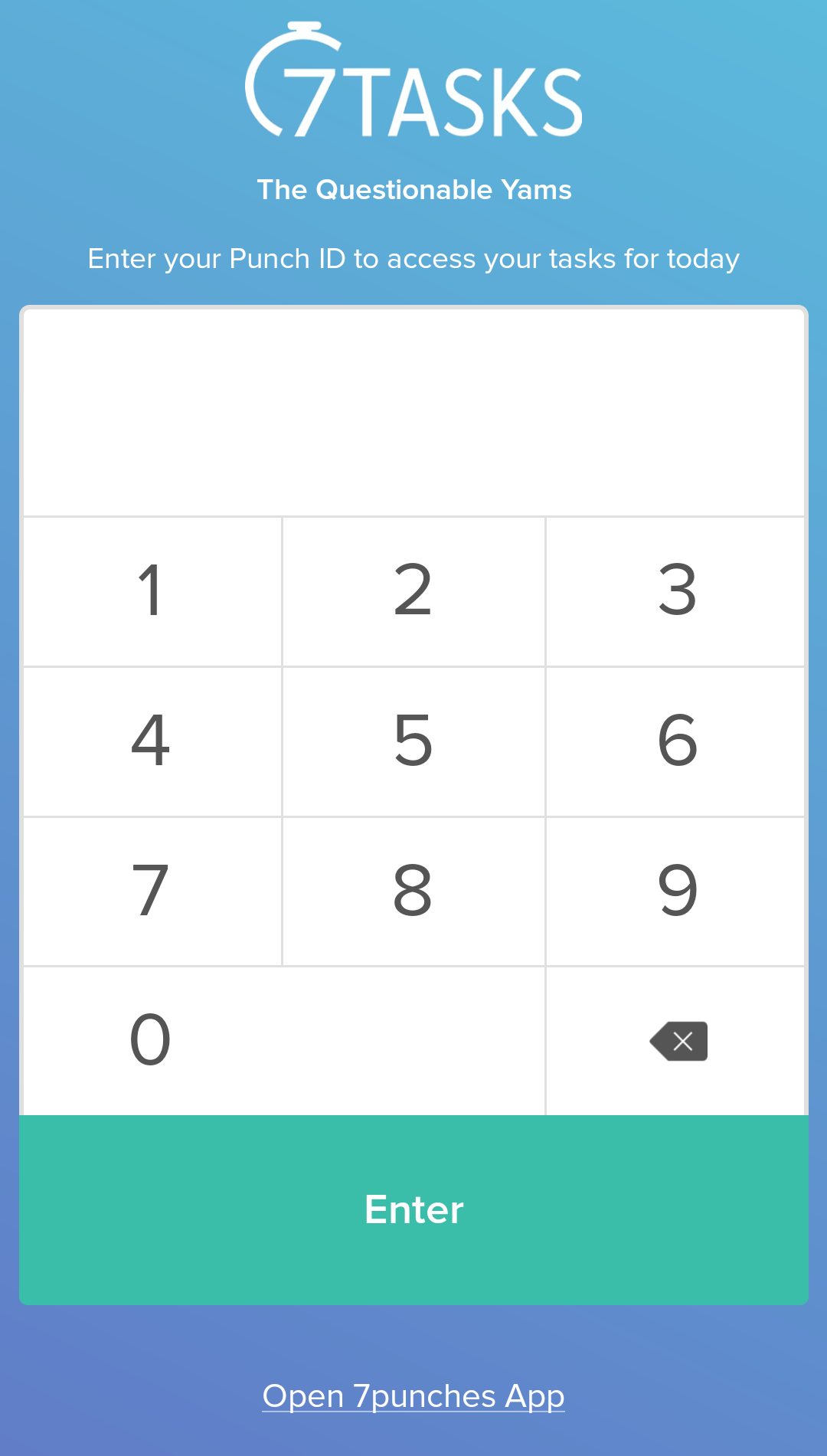 2. Tap on one of your available task lists to view it.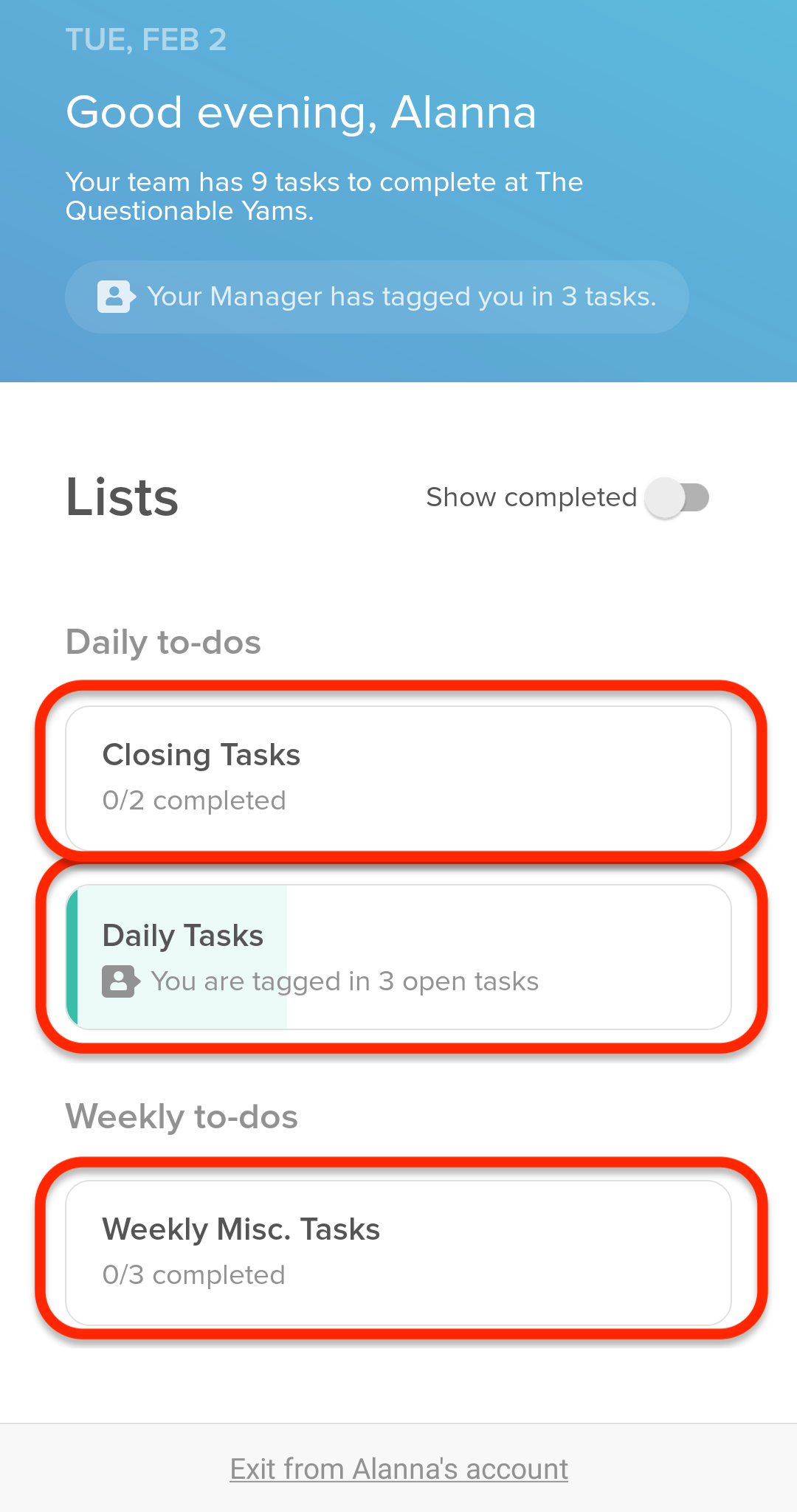 3. Task lists will be labelled if you are specifically tagged to complete them.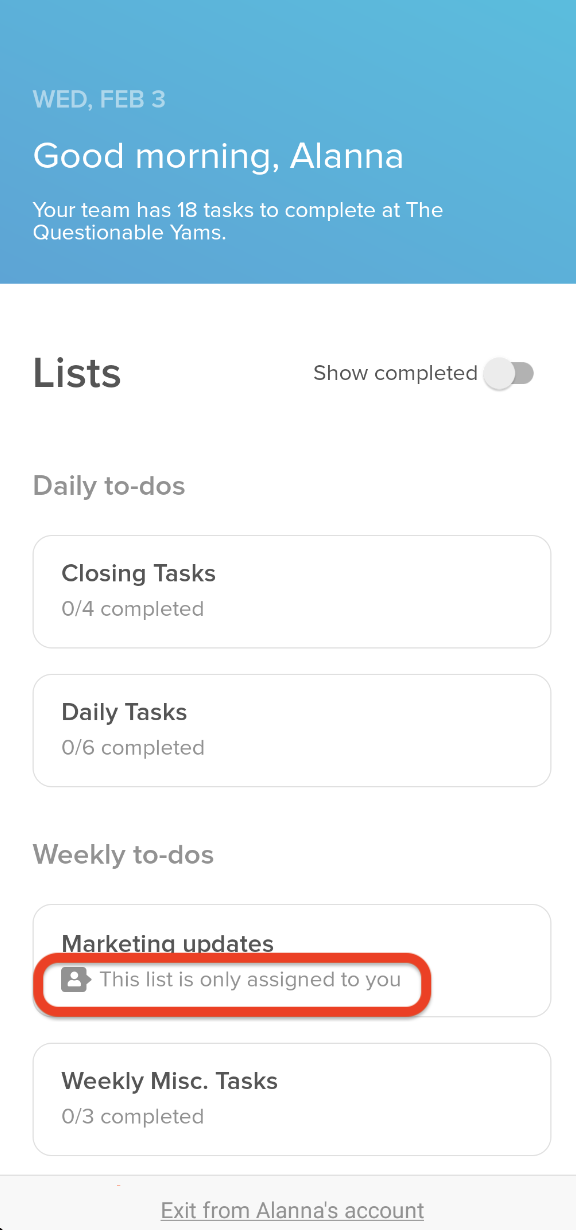 4. Tasks with a set time frame will display the due time beside the list.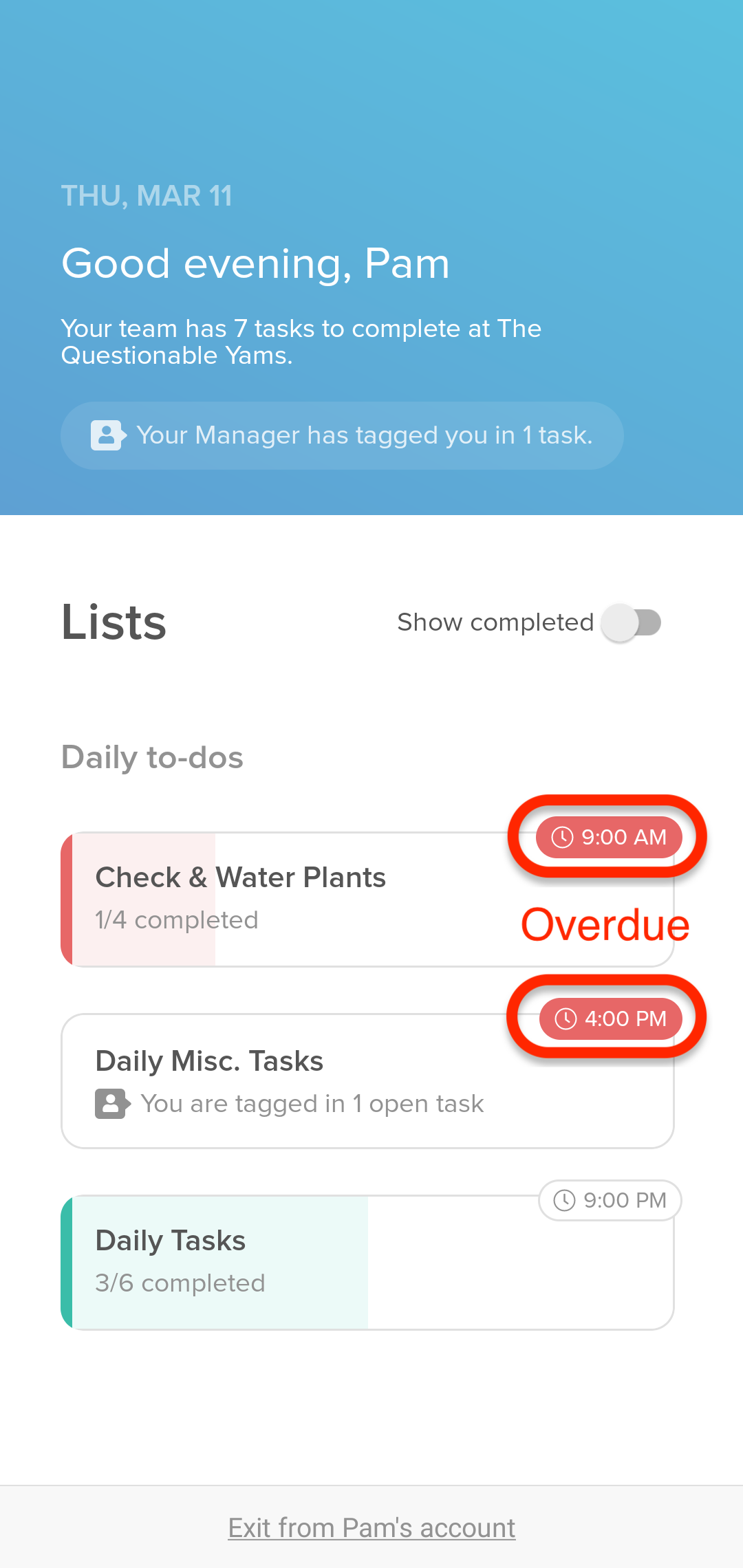 Overdue Tasks
Any task lists that are overdue will be indicated in red. However, you can still access an overdue task list to complete any of these outstanding tasks.

⚠️ Please note, any tasks that are overdue past a 2-hour time frame will no longer be visible.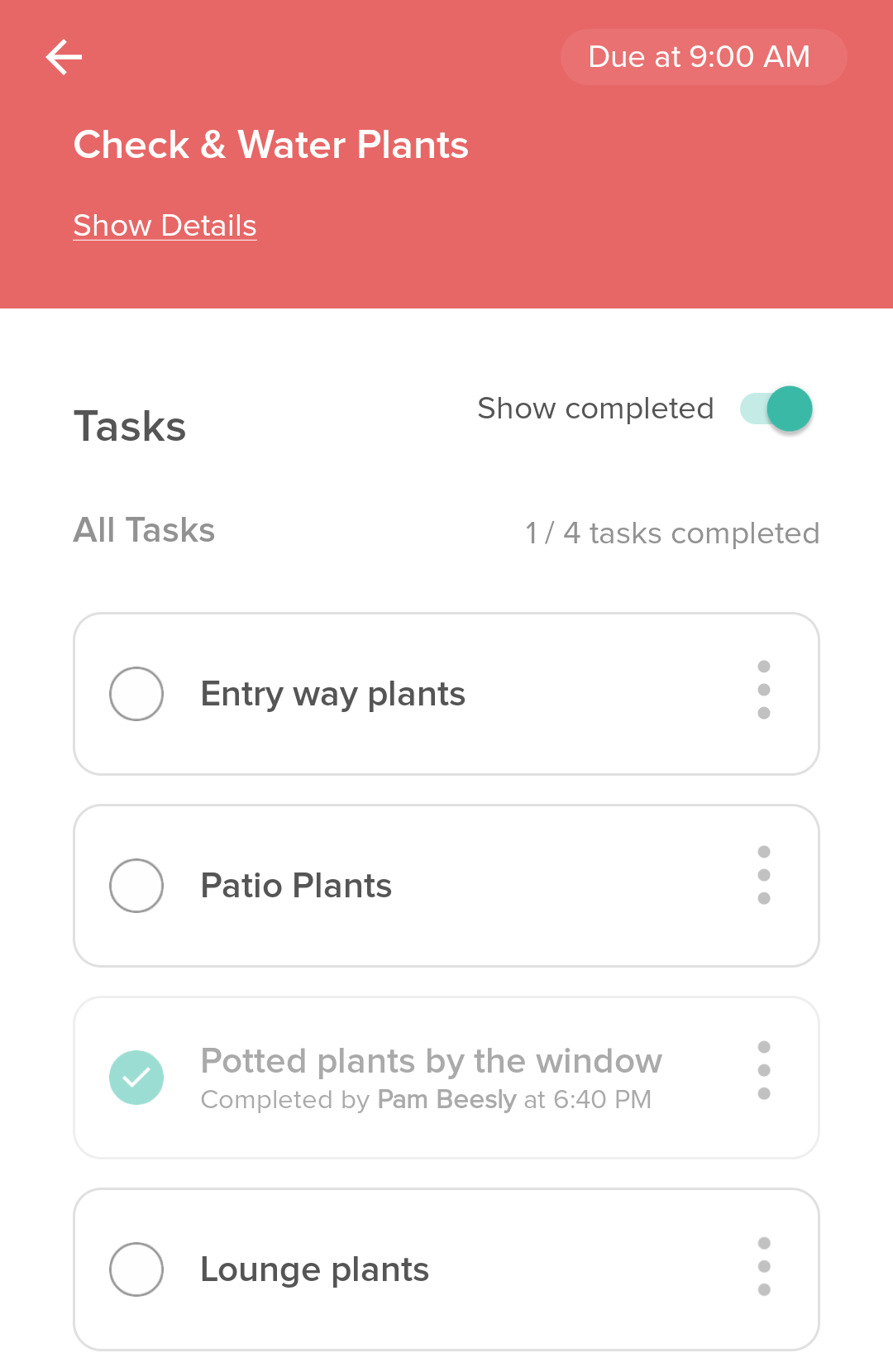 5. Tap on 'Show Details' to view the description of the task list. If there is a set time that this task list is due, it will be visible in the top right corner as well.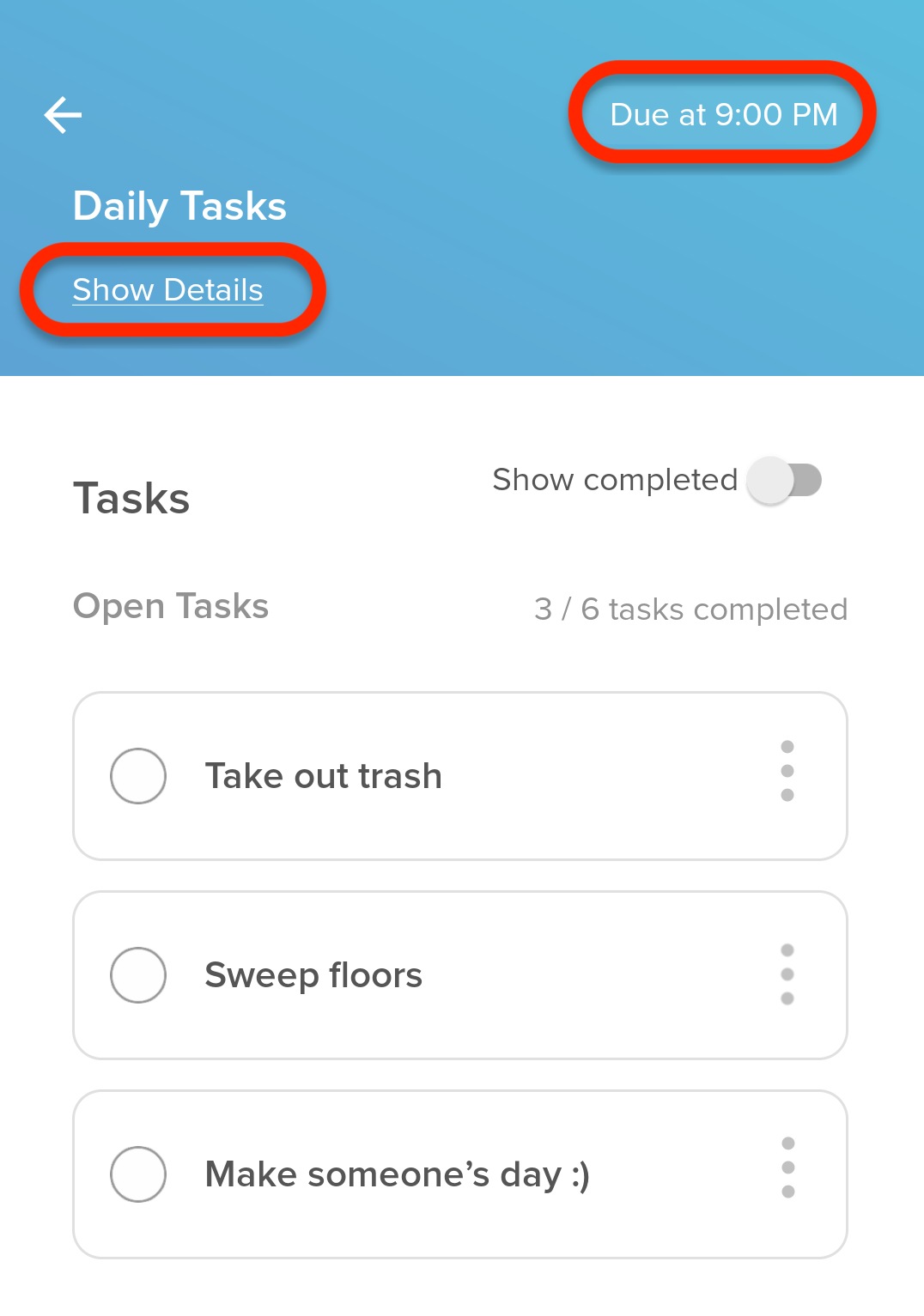 6. To view the details for a specific task, tap on the three-dotted icon next to your task, then tap 'Open task details.'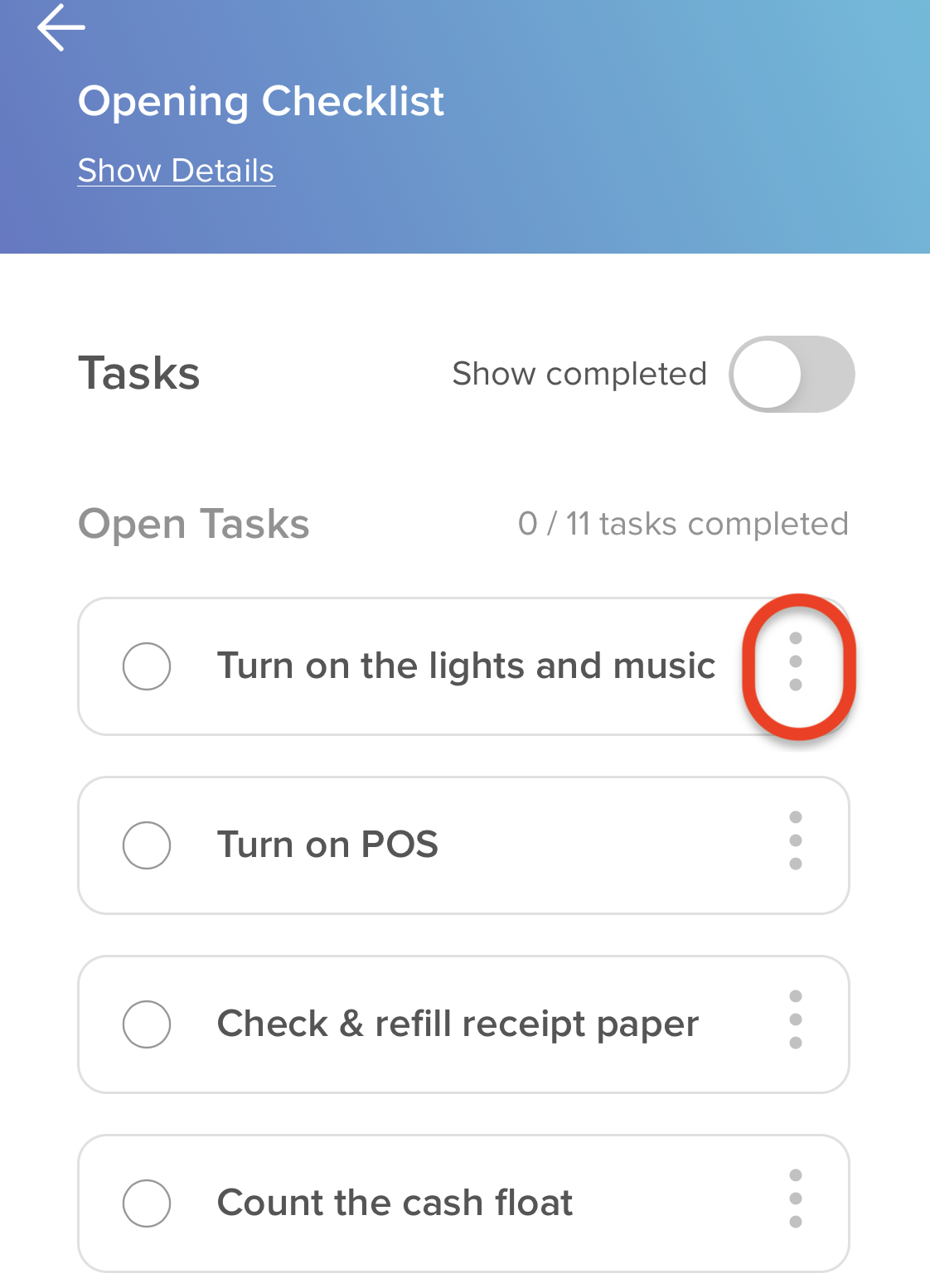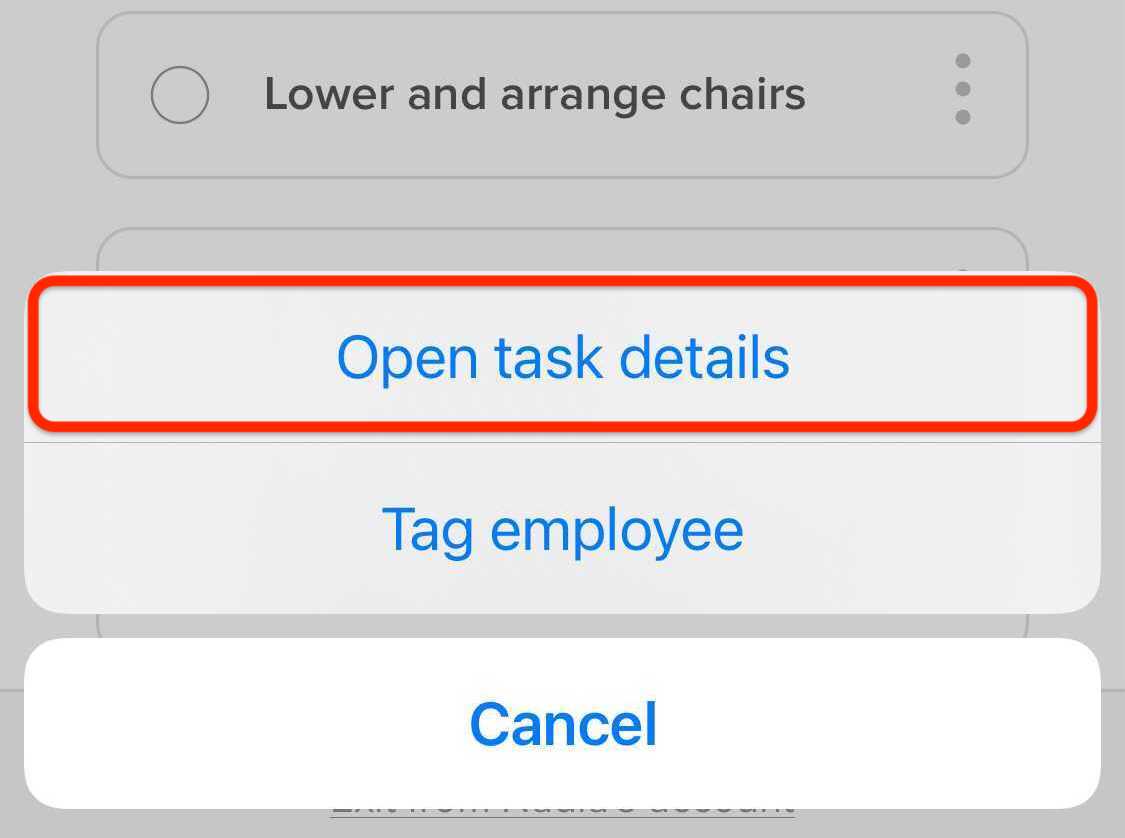 7. Any individual tasks you are tagged to complete will be highlighted.
Other employees, who can view this list, can also see or complete tasks that are tagged to someone else.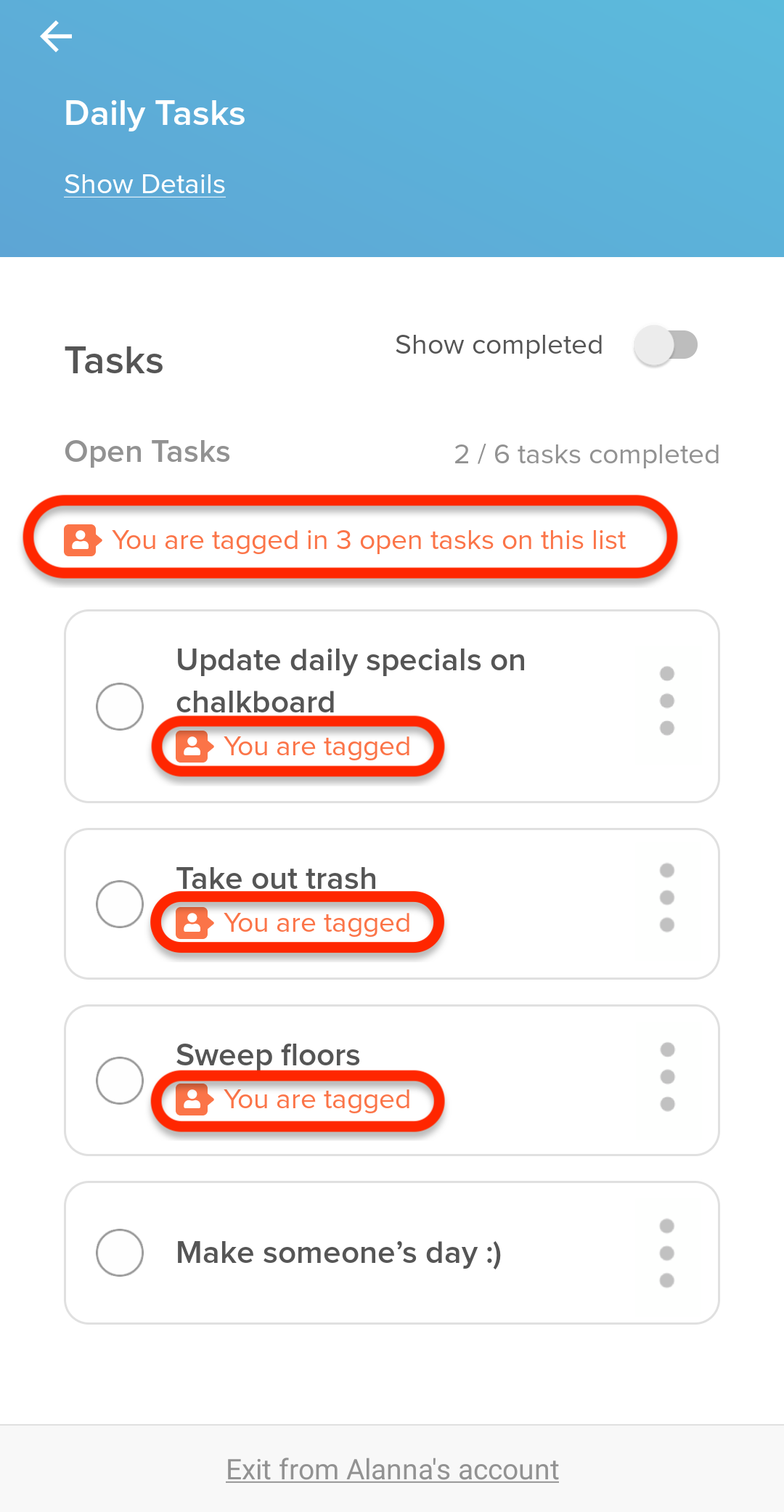 8. Toggle 'Show completed' to see your team's progress.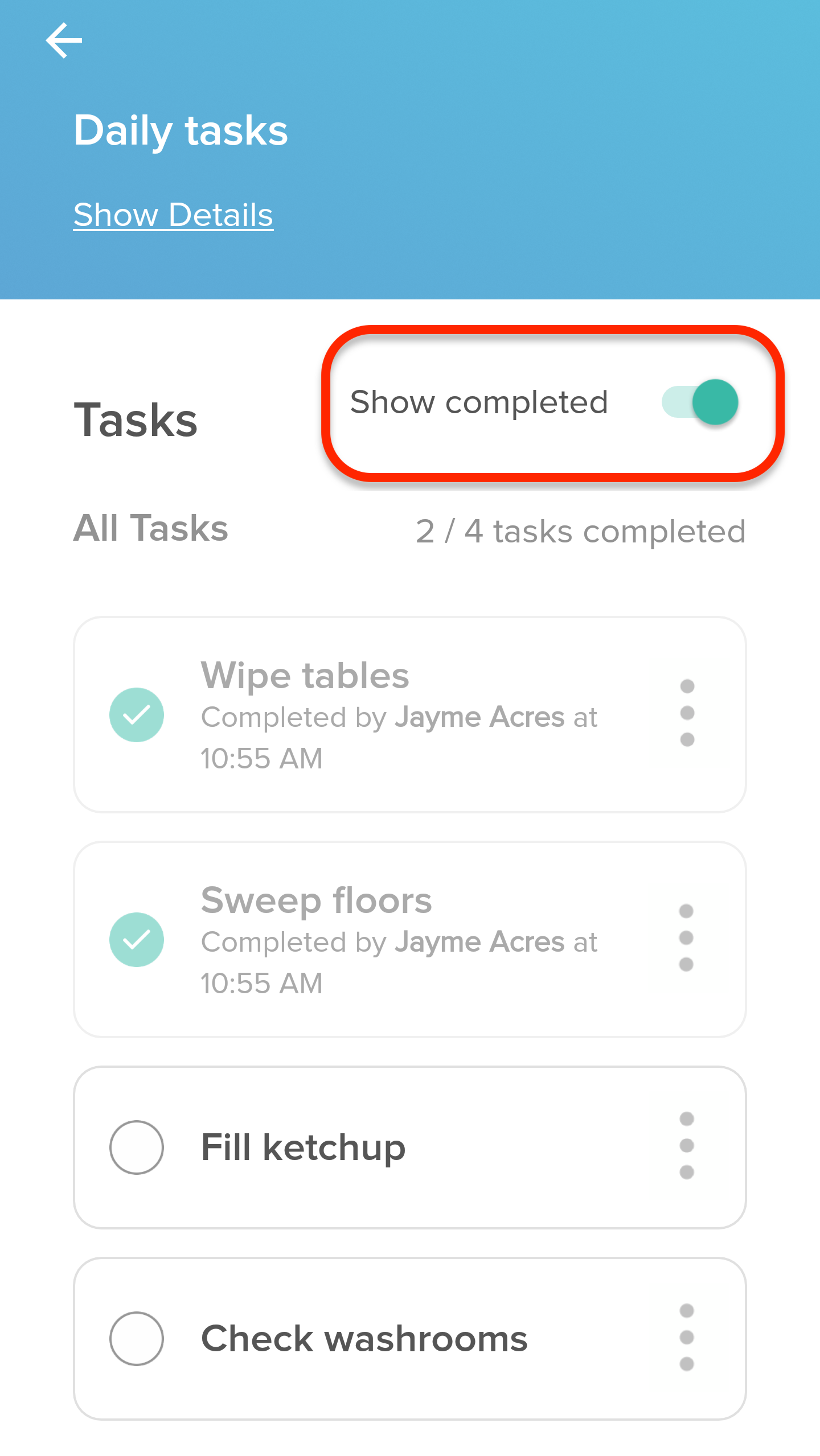 ---
Completing Tasks
1. Check off your tasks as they are completed by tapping on them.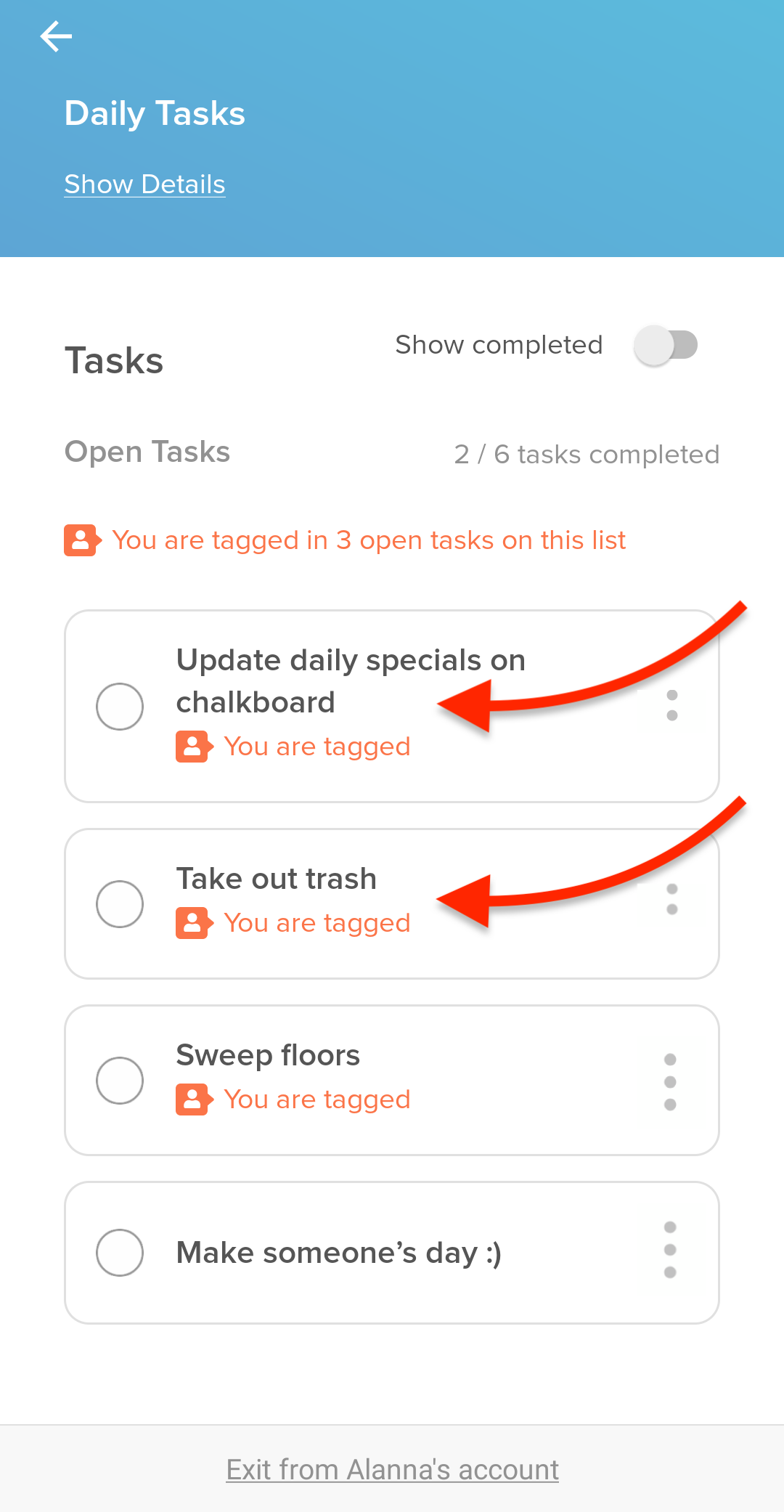 2. Temperature or Number tasks:
Some tasks will require that you enter a temperature or number value.

Simply tap on the task, or within the task details tap on the field in the top right corner, to make an entry.
After entering your value, hit 'COMPLETE TASK' to mark it as complete.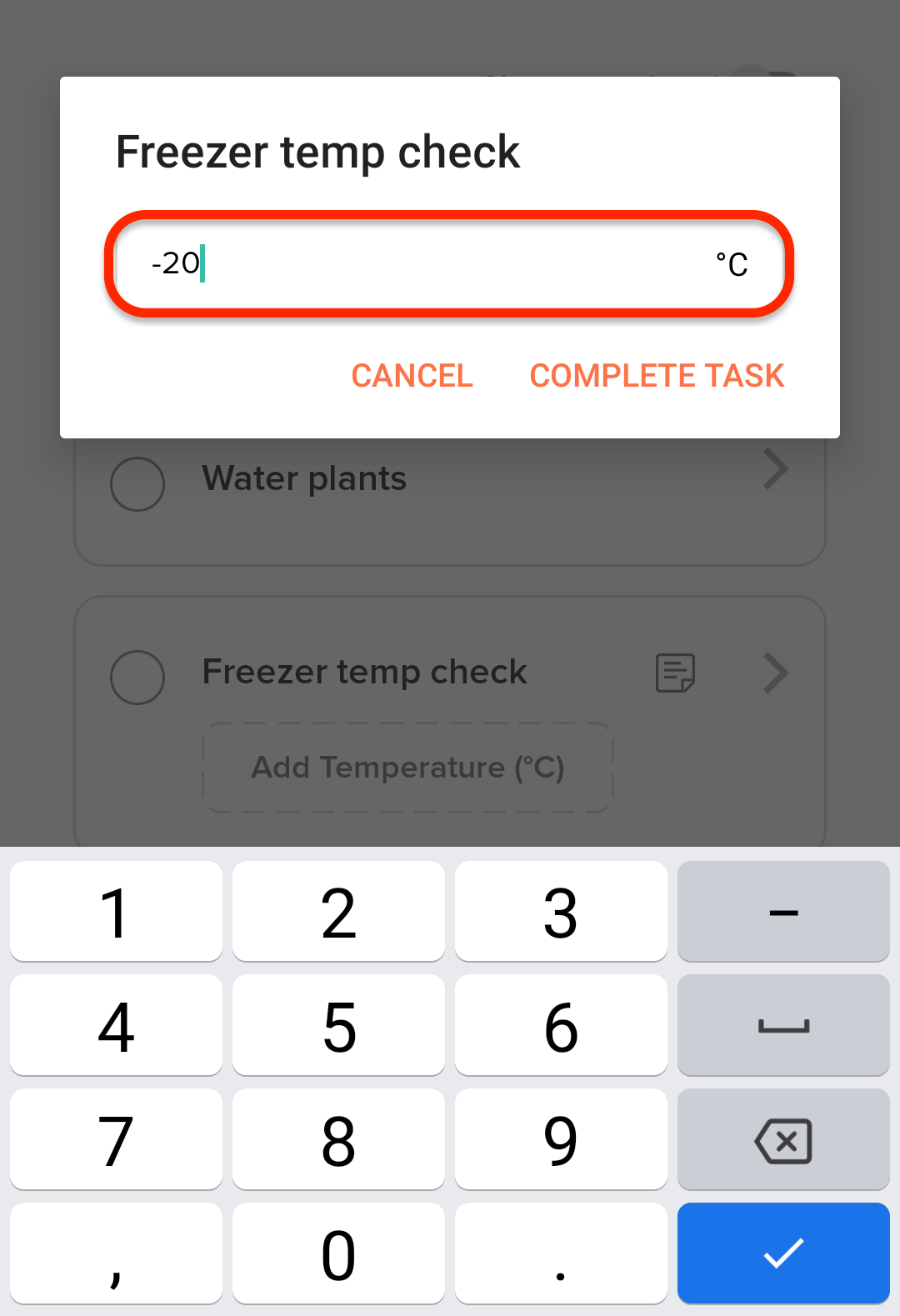 3. Photo Tasks:
Some tasks will require that a photo be taken to show how well the task was completed.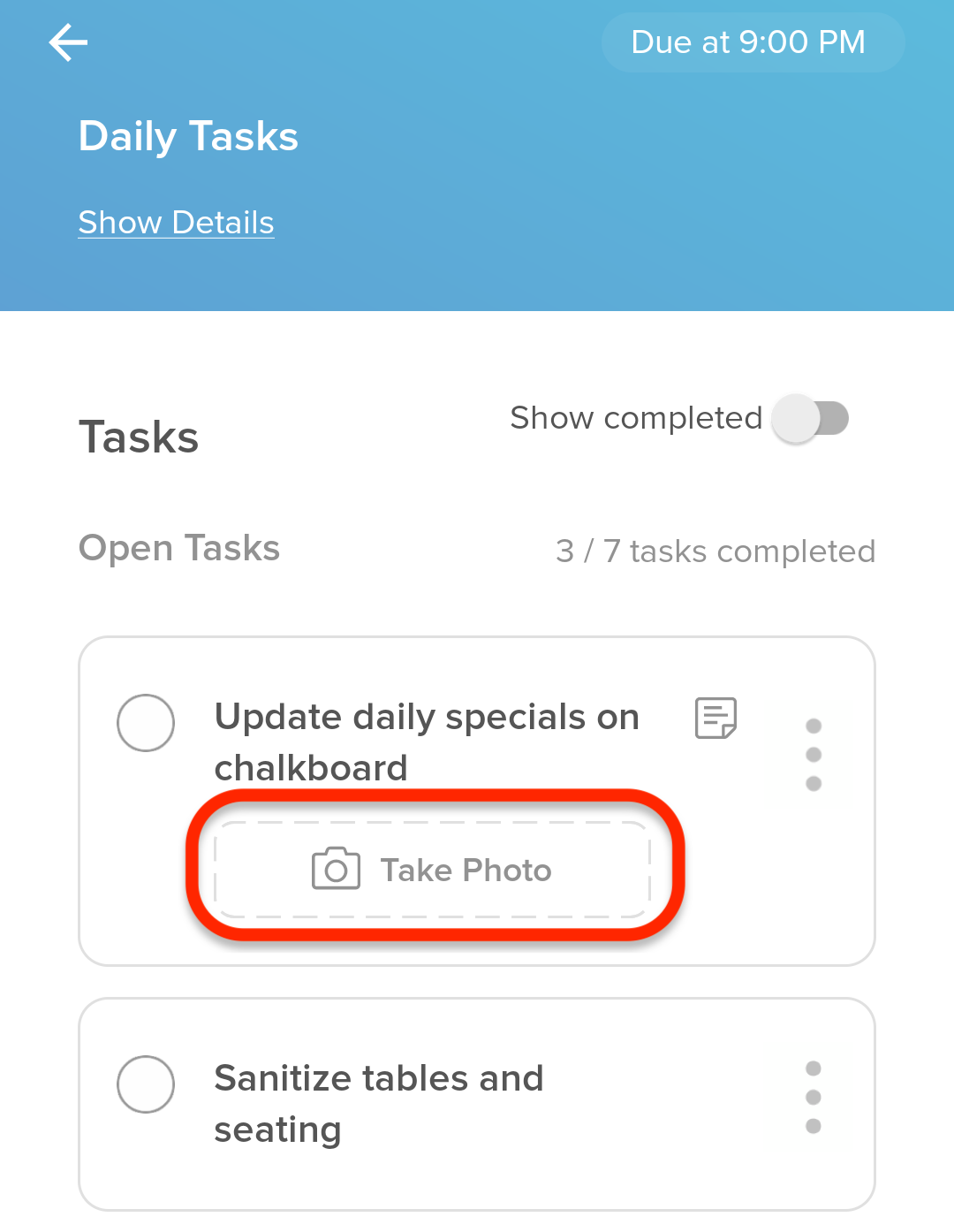 Simply tap on the task, or within the task details tap on the field in the top right corner, to open the camera.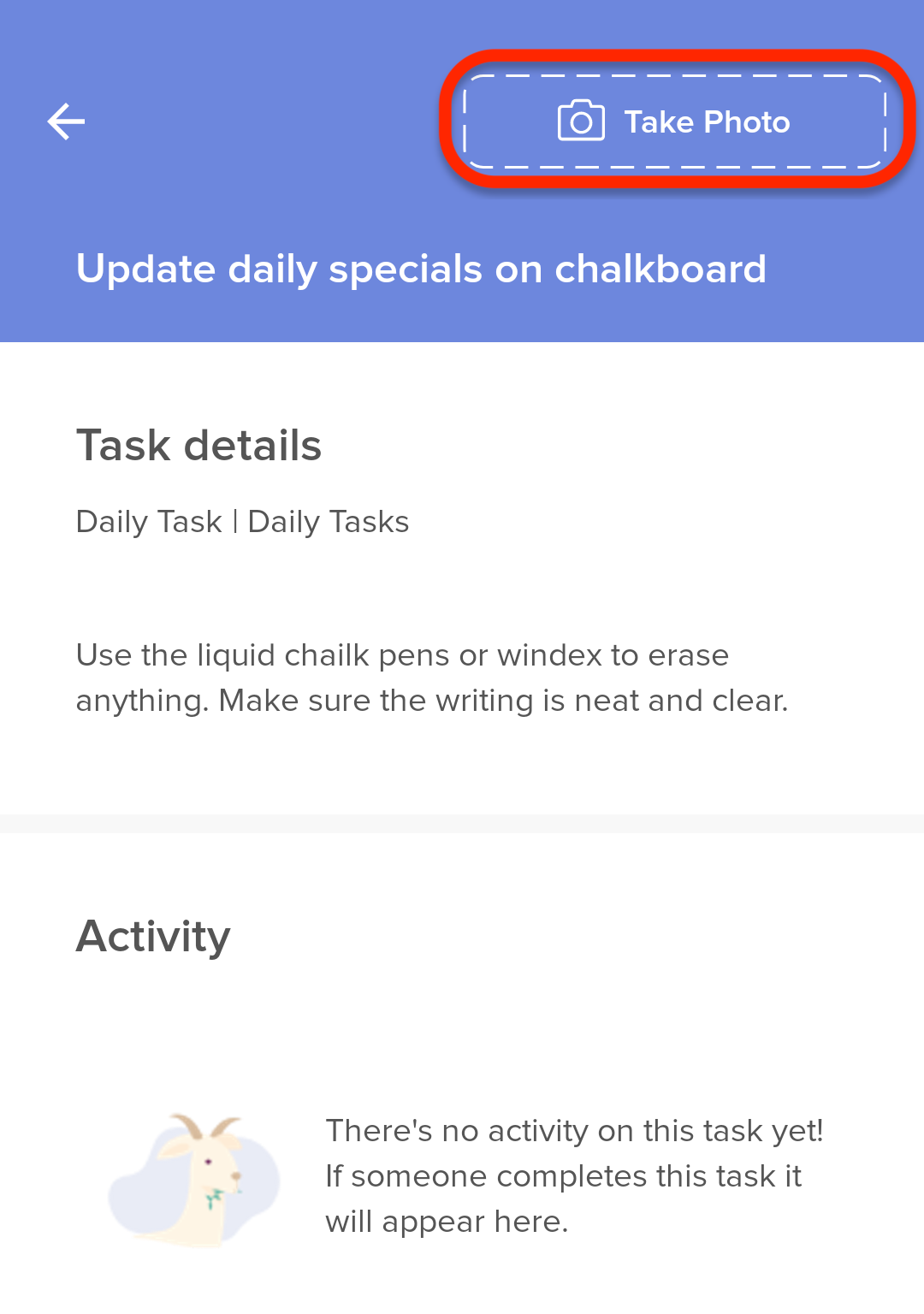 ⚠️ For photo entries, the device that is set up as your 7tasks terminal will require a built-in camera. Employees will be unable to upload any photos or files to complete the task, as they will be prompted to take a photo using the device's camera. They will also need to grant the 7tasks app access to the device's camera.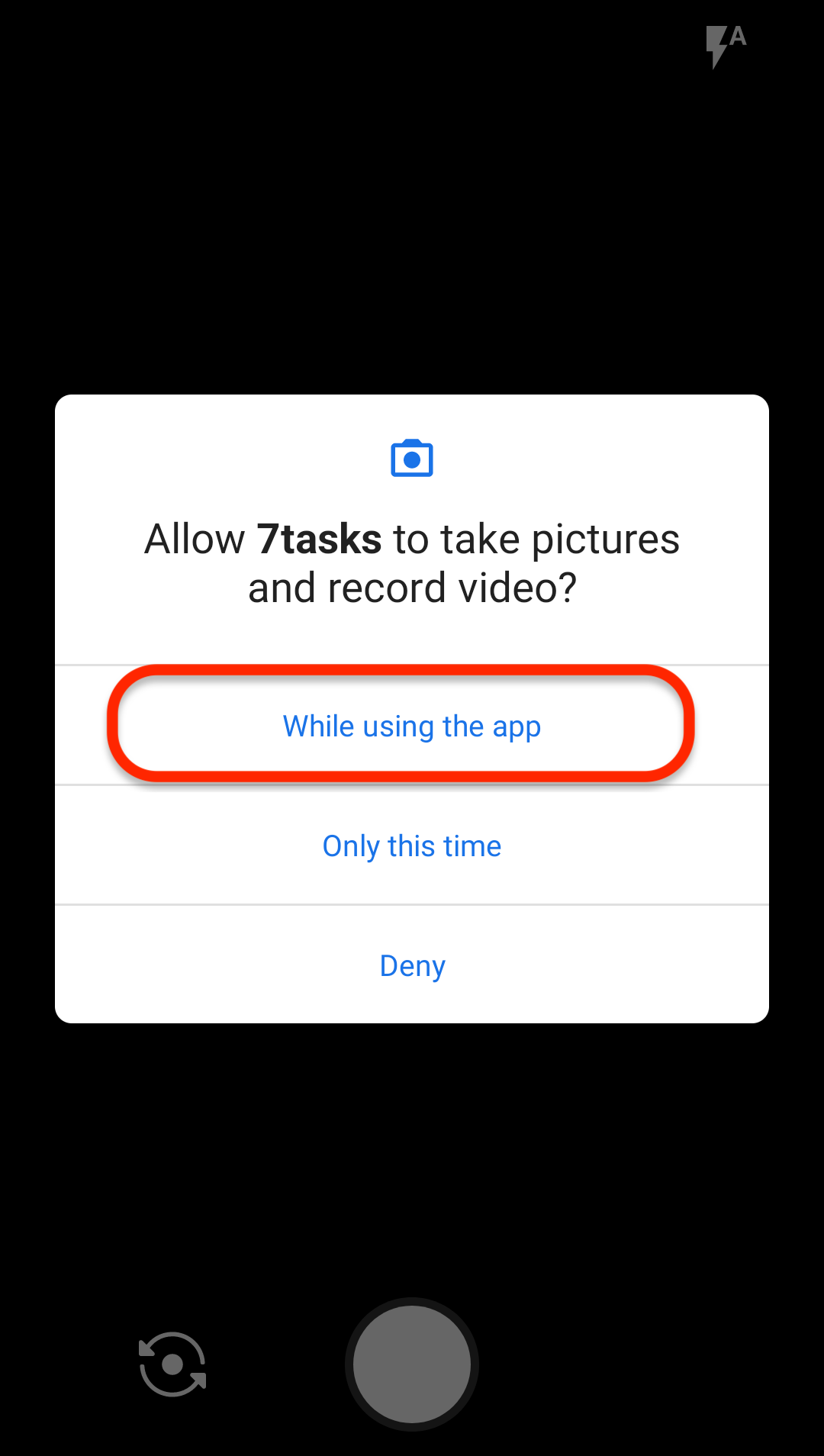 Next, take a photo and tap 'Complete Task' to submit it or 'Retake' to try taking another photo.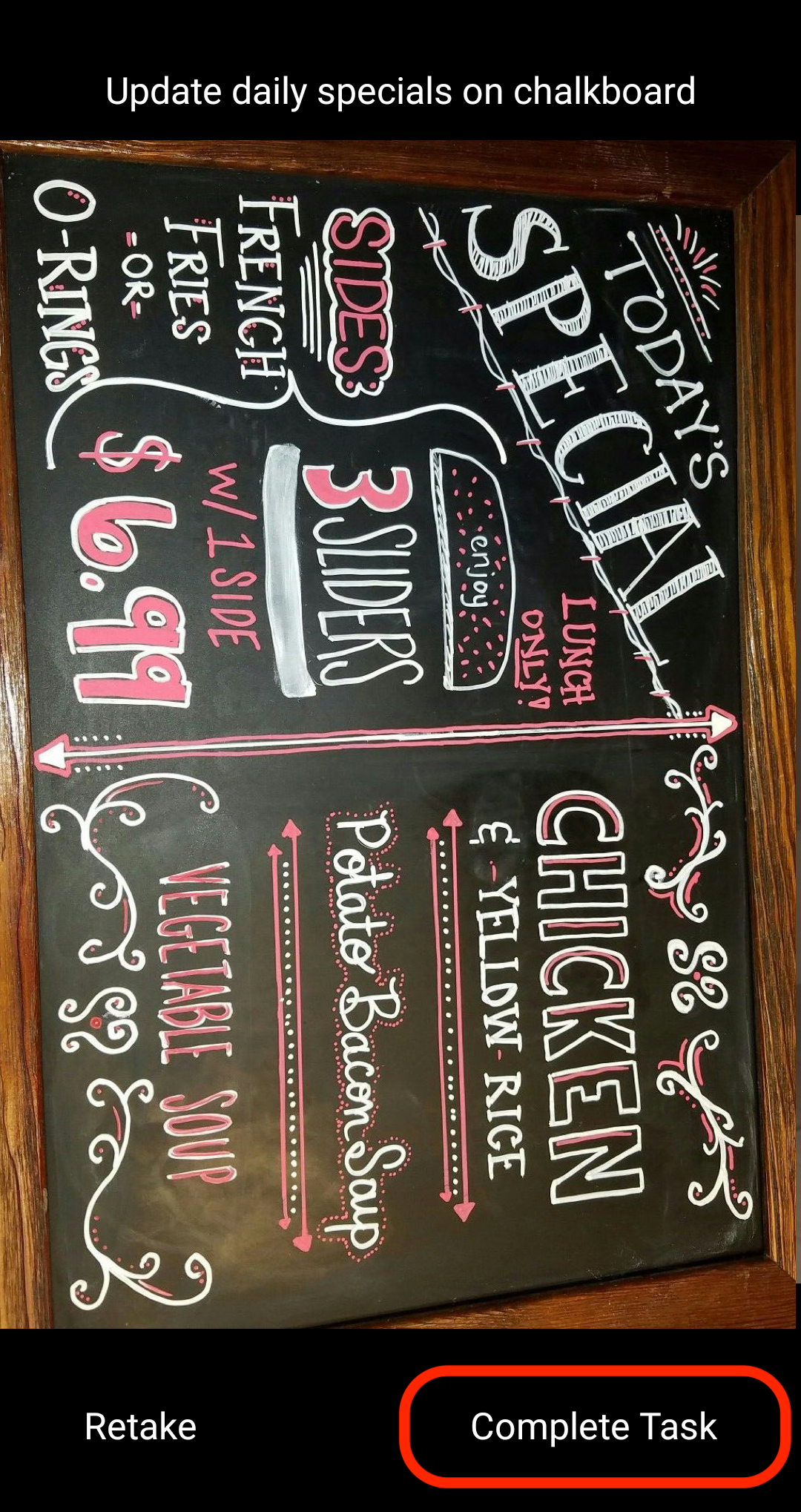 ⚠️ Only a single photo can be submitted for the task.
4. Tap on a task to re-open it and mark it as incomplete.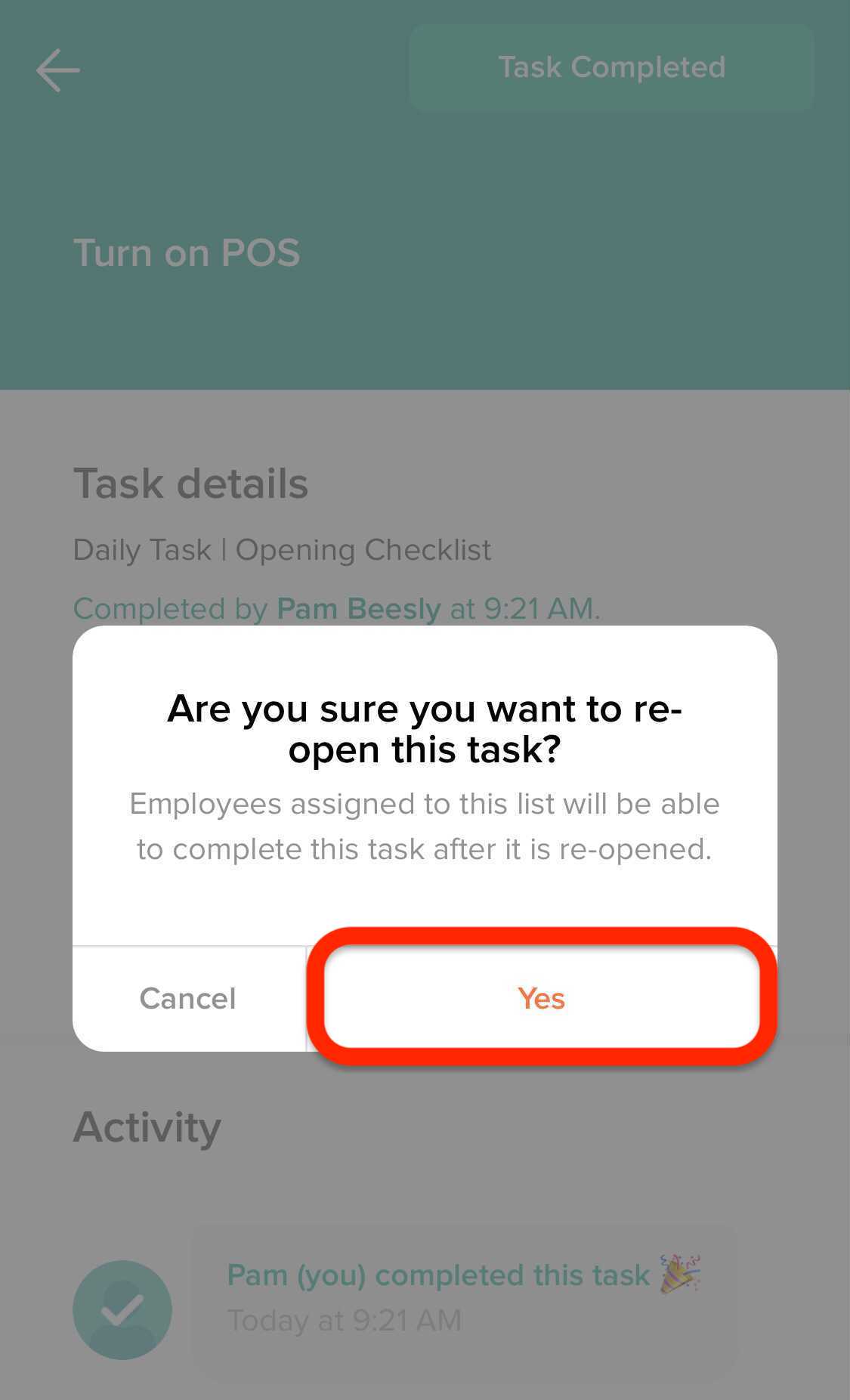 5. Tap the bottom Exit panel to sign out of your tasks.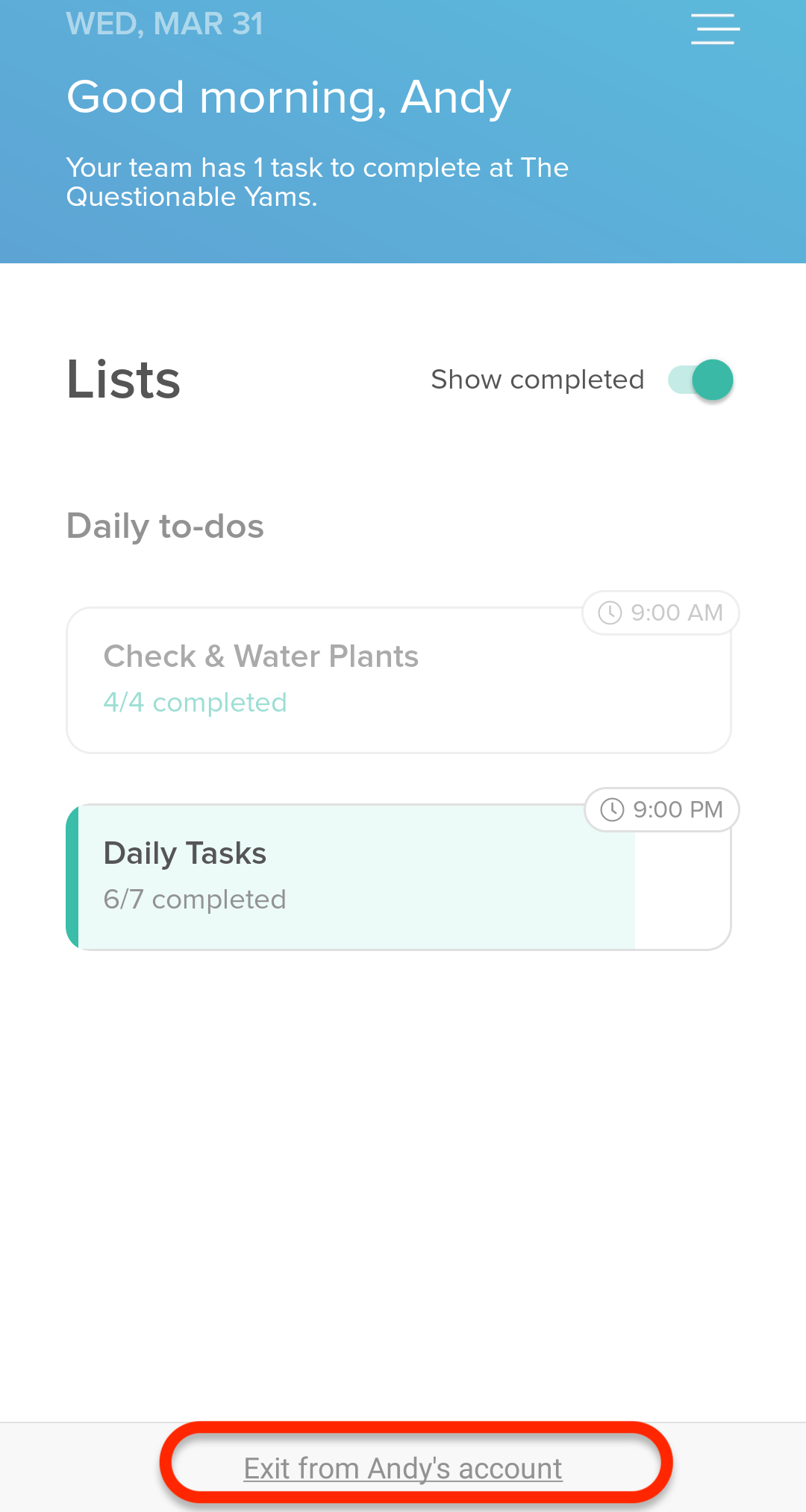 ---
Tagging Employees to Tasks
If you have a specific employee in mind for a task, you can tag them to it directly from the 7tasks and 7shifts mobile apps. Tagging your employees can increase your task completion rate by 135%!
⚠️ Managers/Assistant Managers require the 'Can manage tasks' manager permission to tag employees within 7tasks.
1. Open your task list, where you'll see a three-dotted icon next to your task. Tap on this, then tap on 'Tag employee.'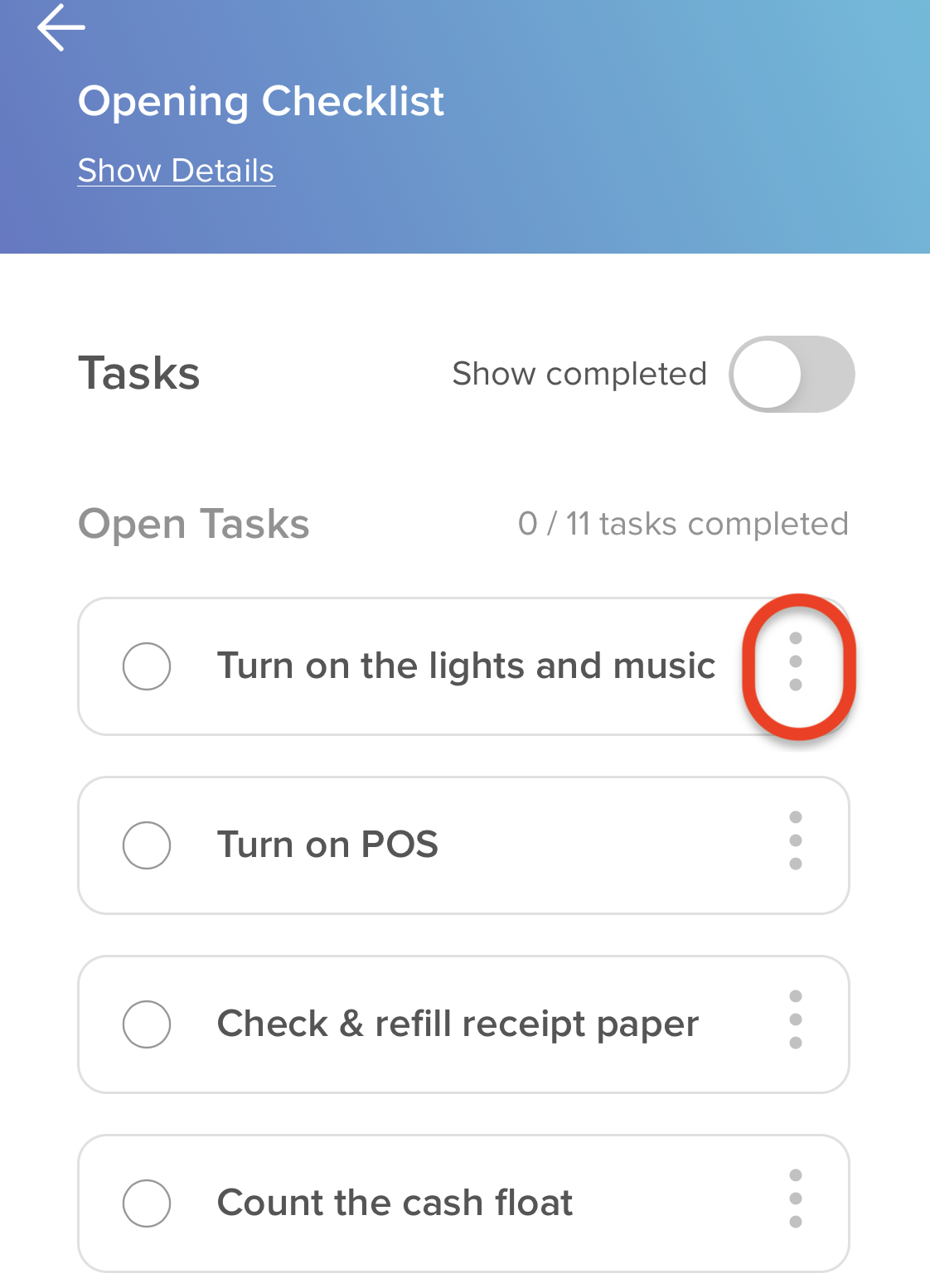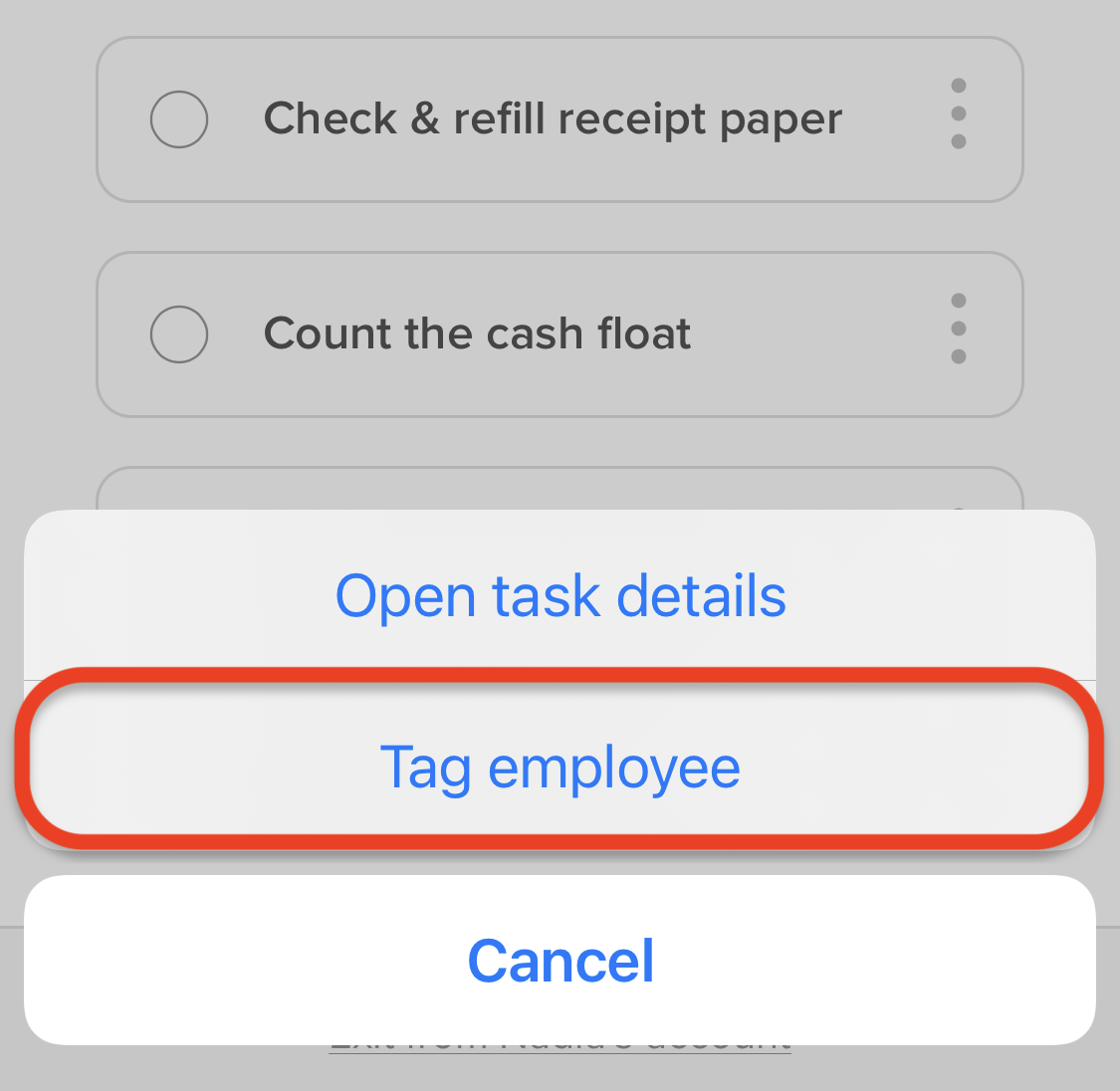 2. Alternatively, if you are looking at the details for a single task, you can tap on the 'Tag employee' icon at the top of the page.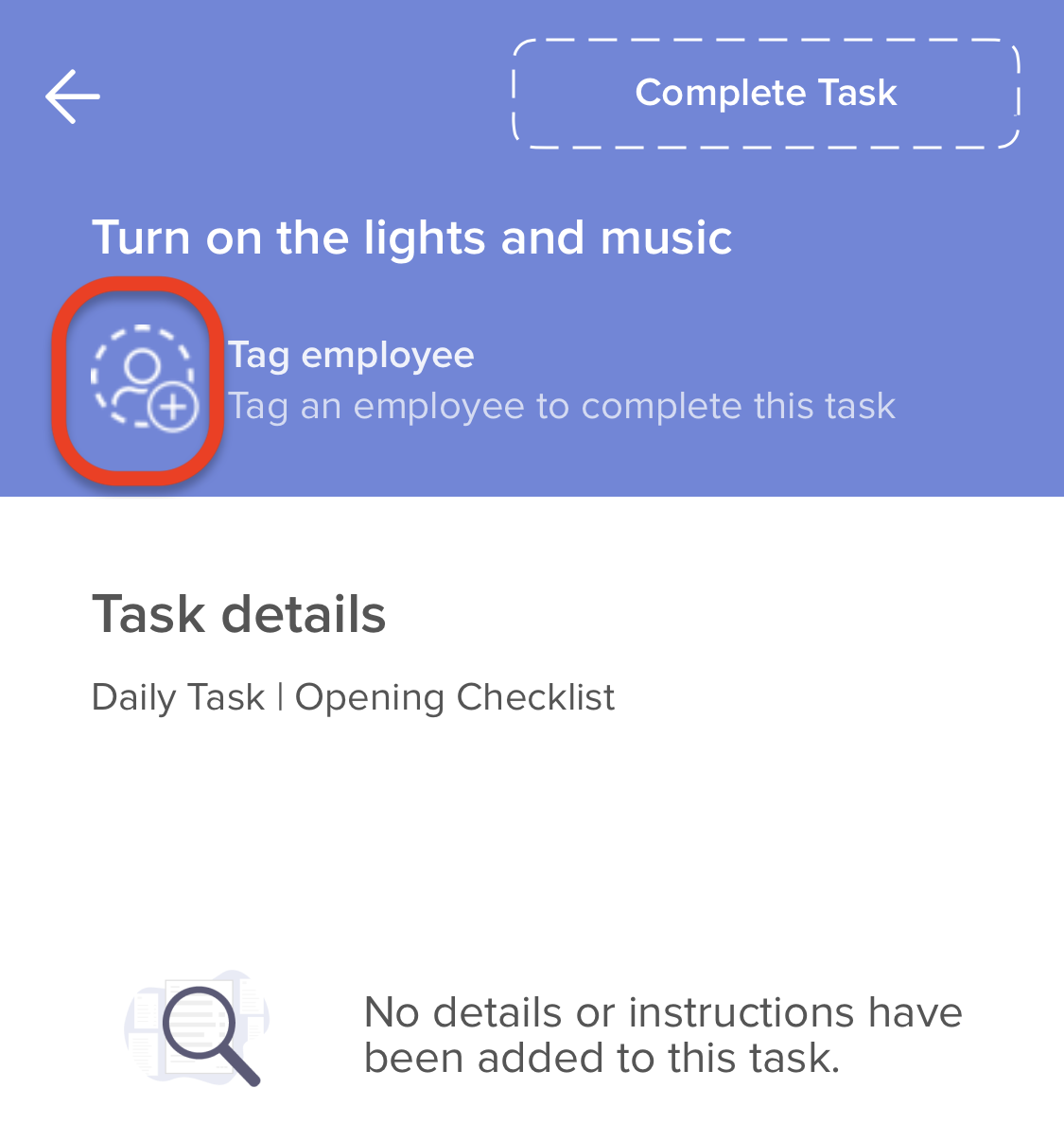 3. Next, you will see a list of employees scheduled to work that day, the times they are scheduled for, and the Role they are scheduled under.
Tap on the name of the Employee you wish to tag to this task.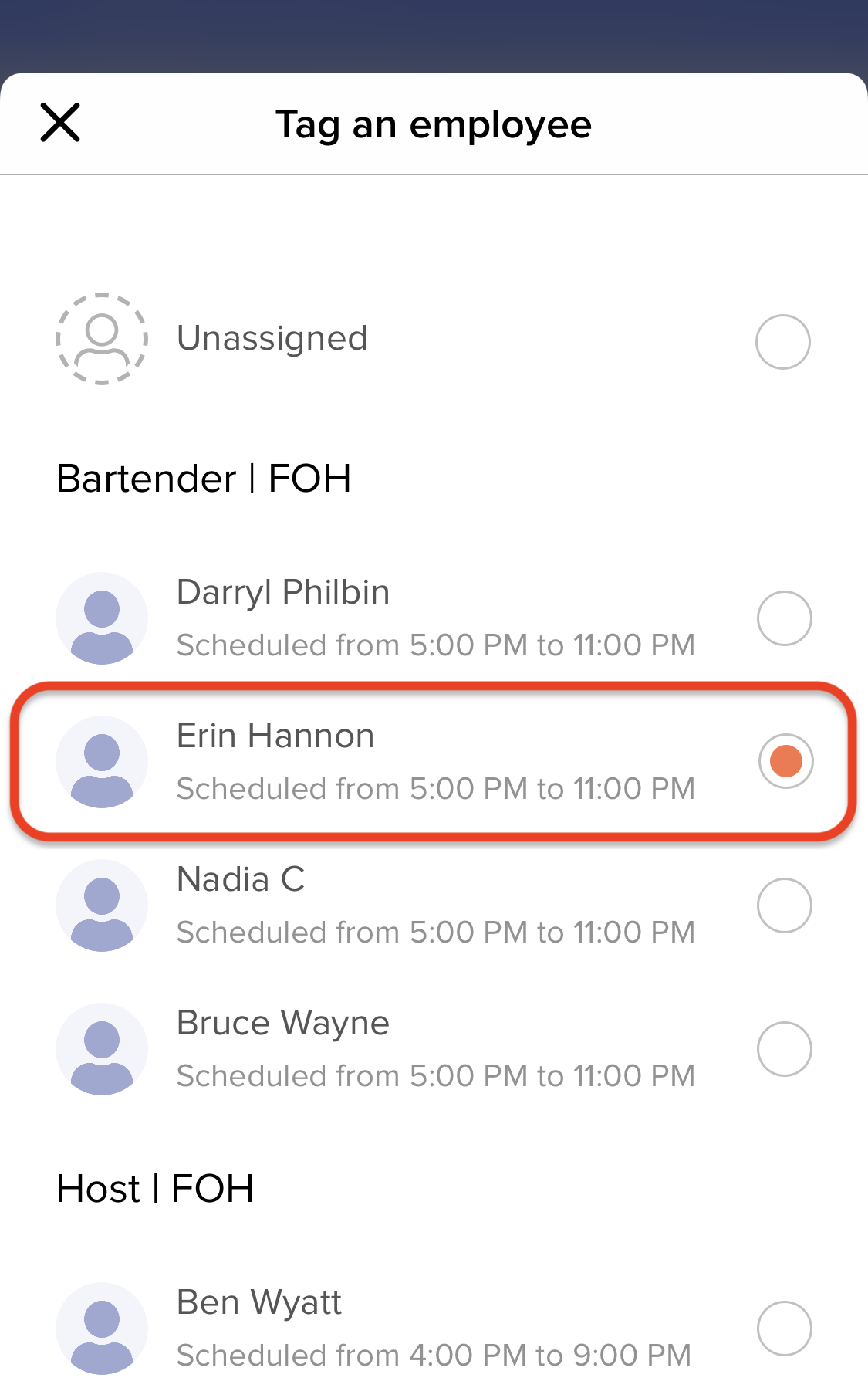 4. From there you'll see the tag applied to the selected task. When the employee opens 7tasks, they will also see that they have been tagged to this task.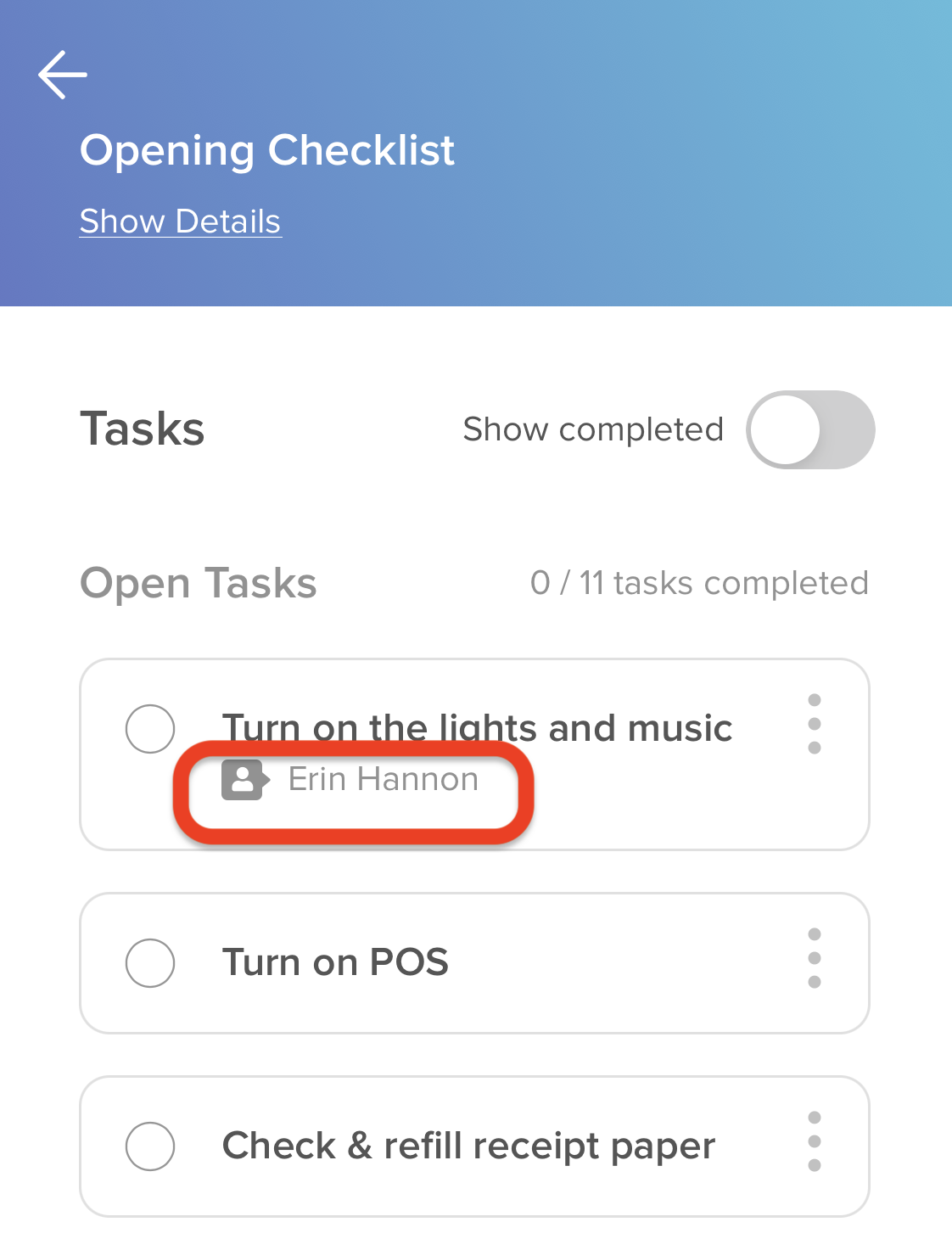 If you want to change who is tagged to a task:
1. While viewing the task list or the details of a task, tap on the tag option.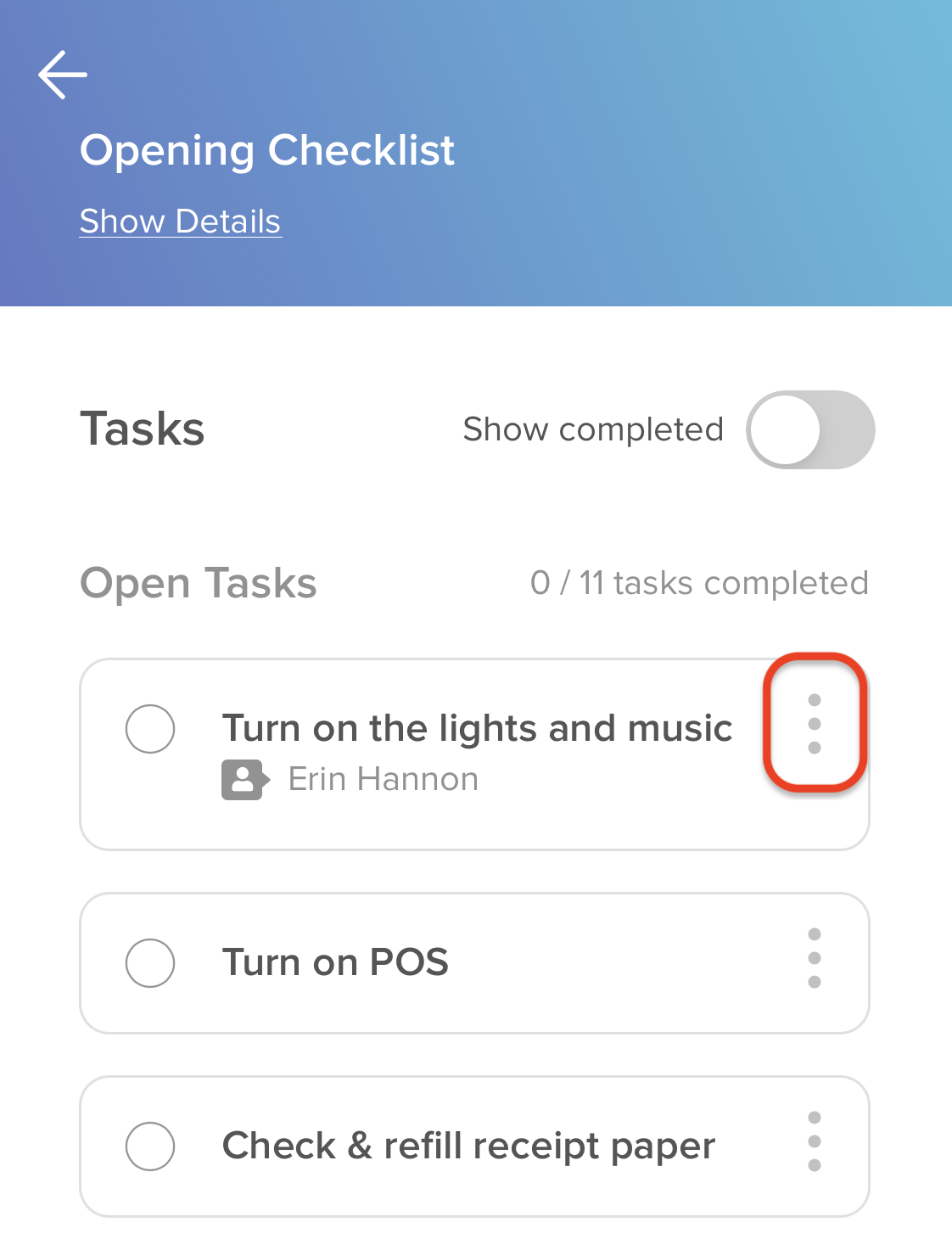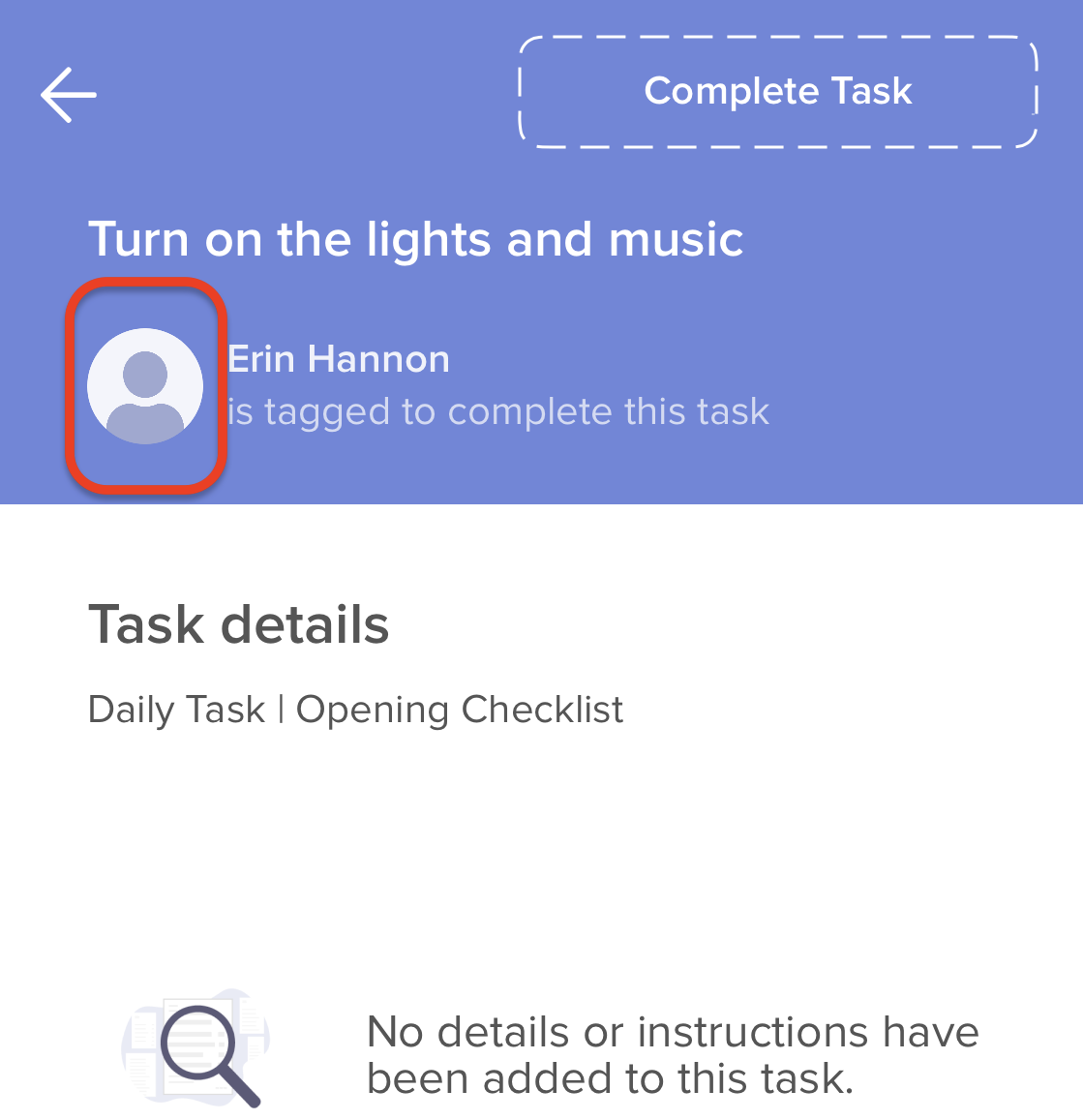 2. Then, tap on 'Change tag.'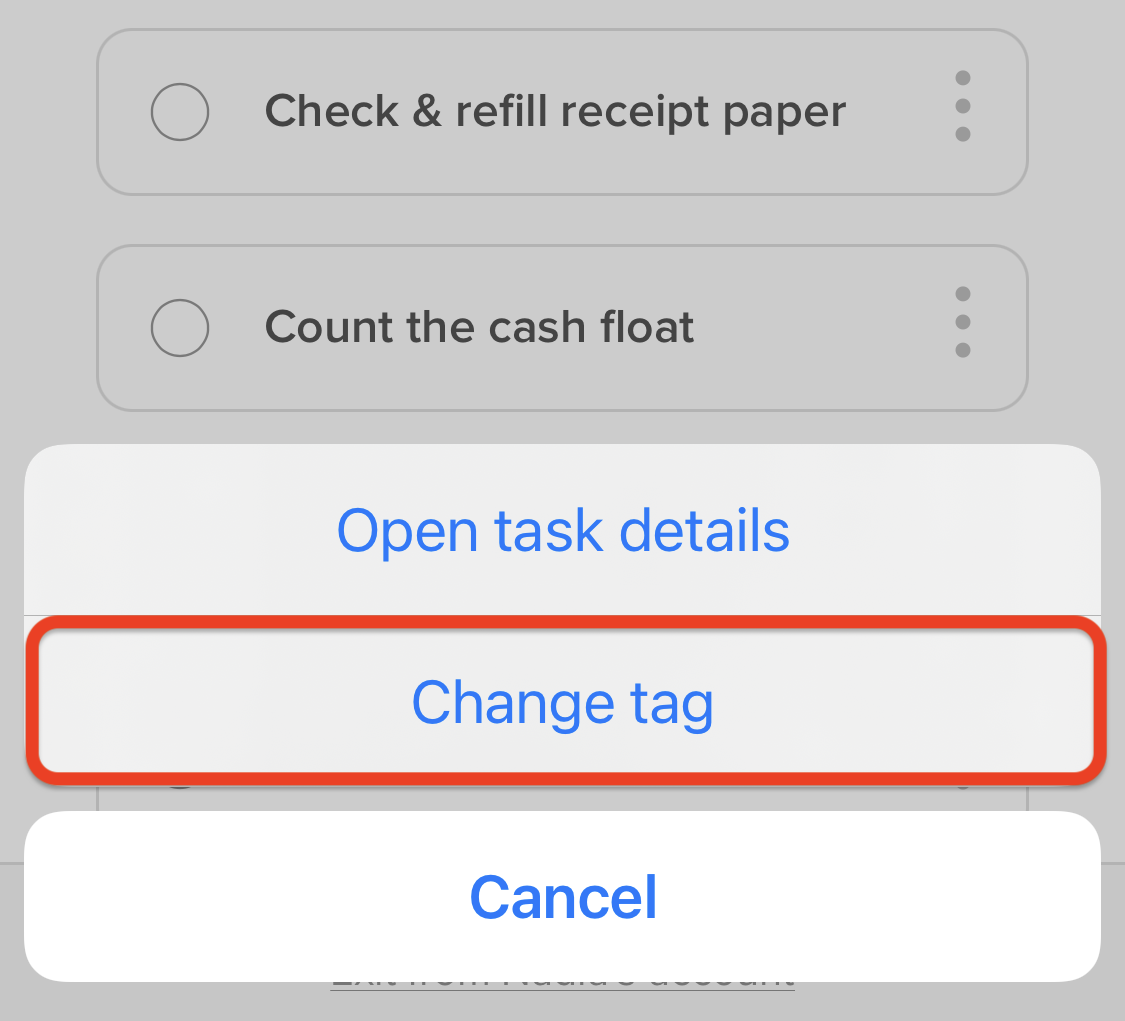 3. From there you can then select another employee or select 'Unassigned' if you no longer want anyone to be tagged to the task.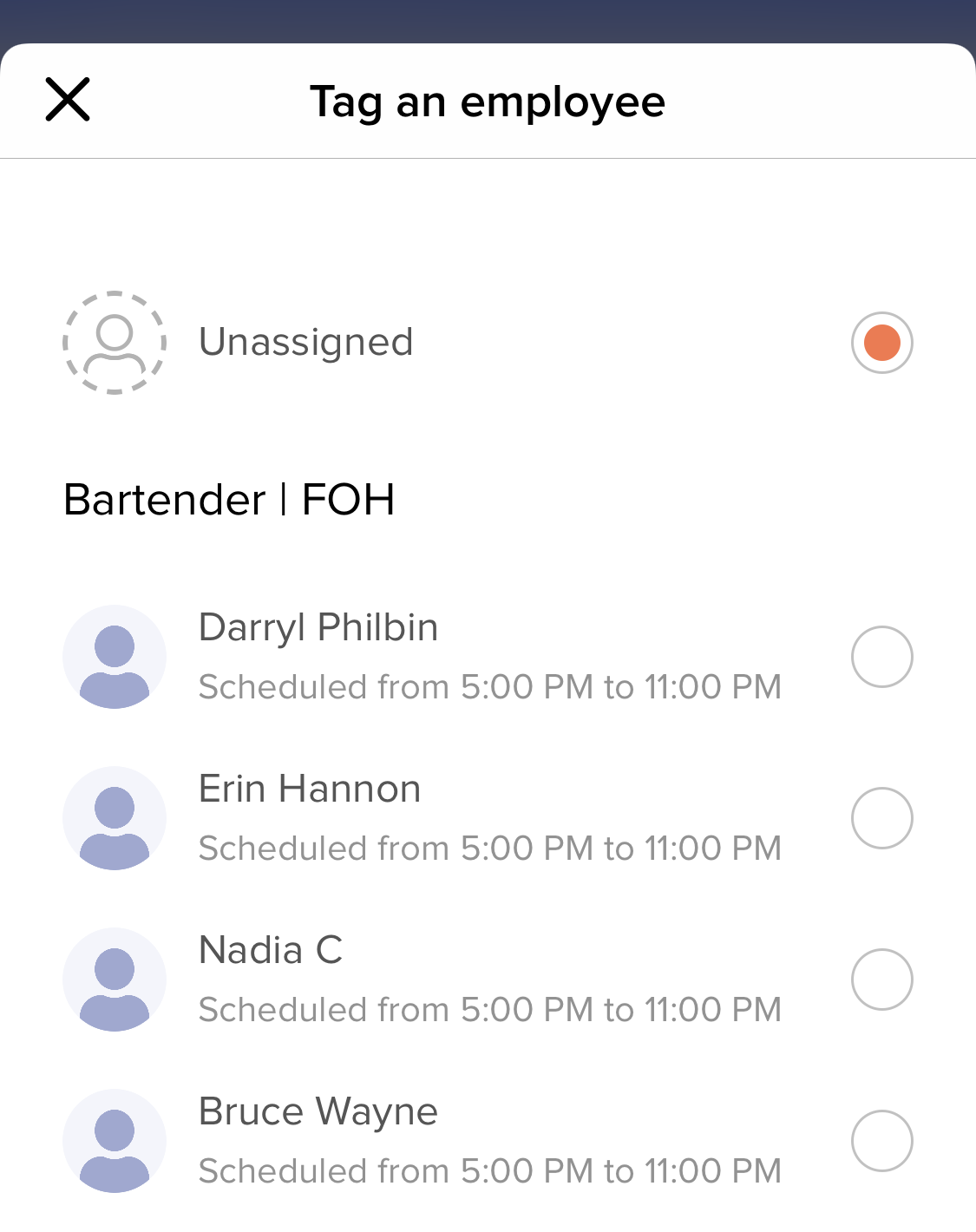 After this, your tag will immediately be updated.
⚠️ Please Note:
If the Employee swaps shifts or gives up a shift in the Shift Pool, this will not also transfer the task. The person originally tagged will be removed and the task will be automatically available to the Locations, Departments, or Roles with access to the list for that task.
Employees will be available to tag based on their Location and the timeframe of the task. In order to be tagged to a task, Employees must have published shifts within the Time Frame (Daily / Specific days of the week / Weekly / Monthly). The exception will be for One-time (non-repeating) tasks.

For example, only an employee scheduled to work on the current day can be tagged to complete a daily task.
---
Task Activity
Are you currently signed in on a desktop? Click here instead to see the 7tasks activity and progress from the web app.
1. Within the 7tasks app, you can see the most recent activity for a task. To access this, tap on the three-dotted icon just to the right of the task you wish to view.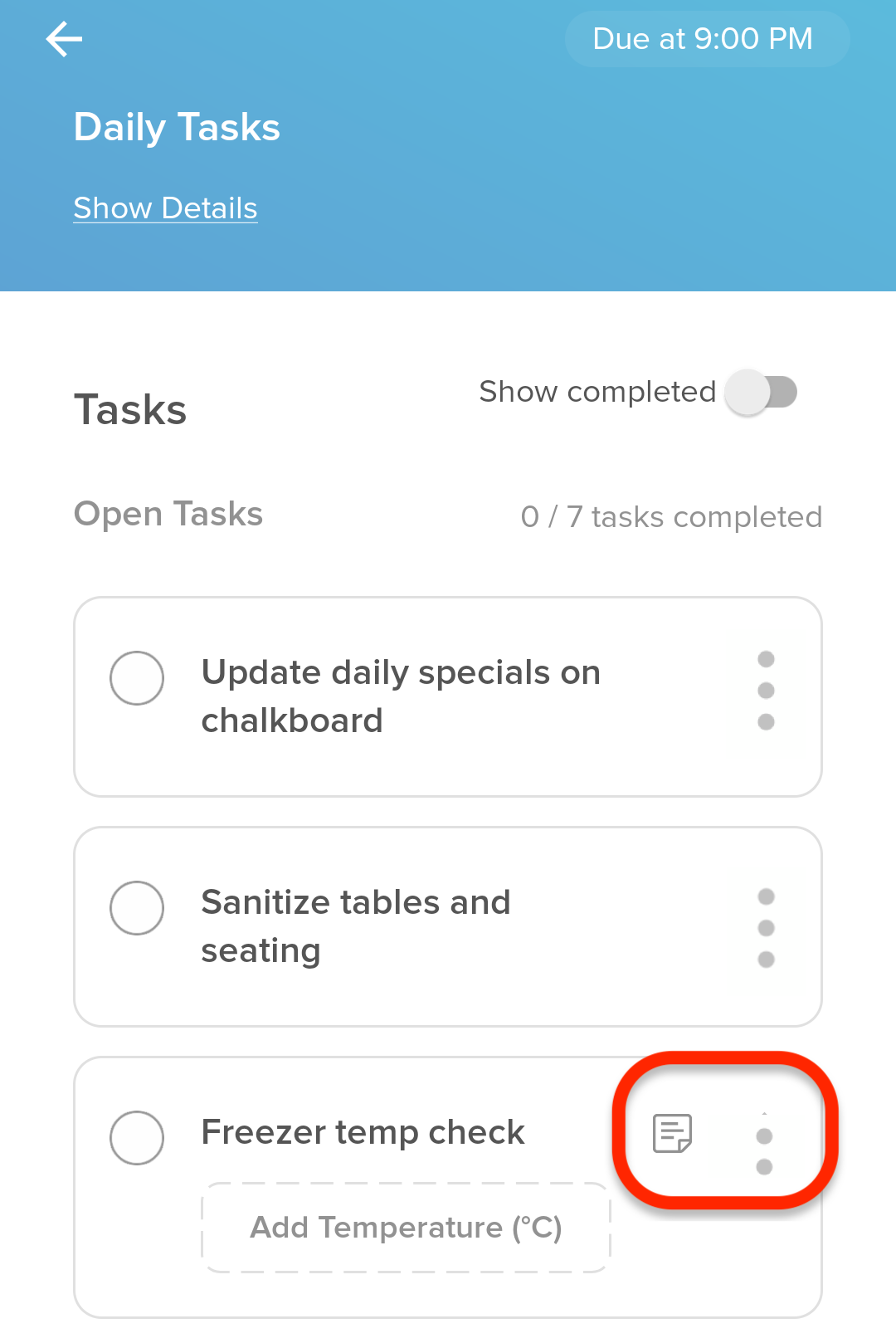 2. Within the task details, you'll see a section below with the most recent activity related to that task.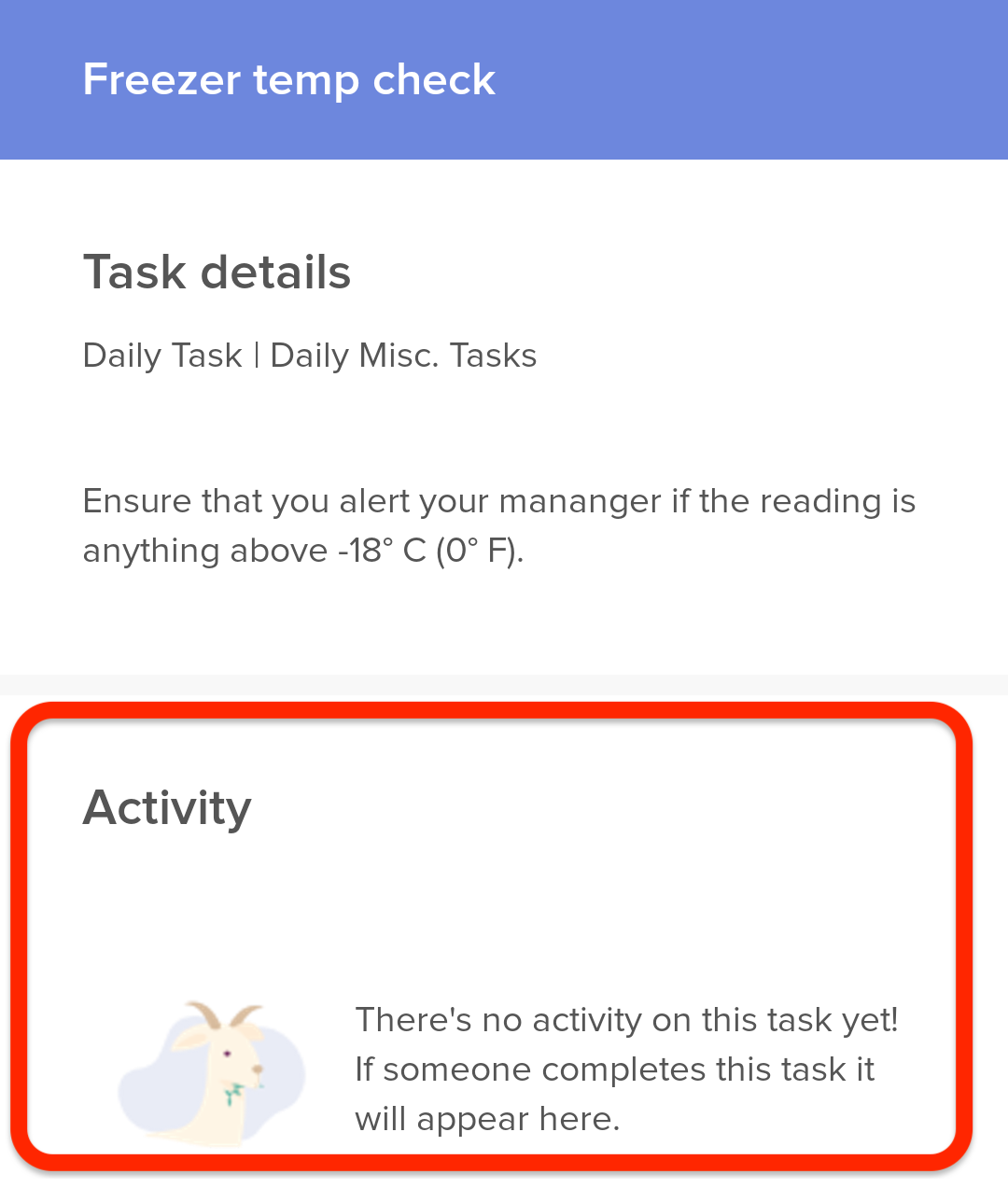 3. Once a task is completed, you will see the name of the employee and the time they completed the task.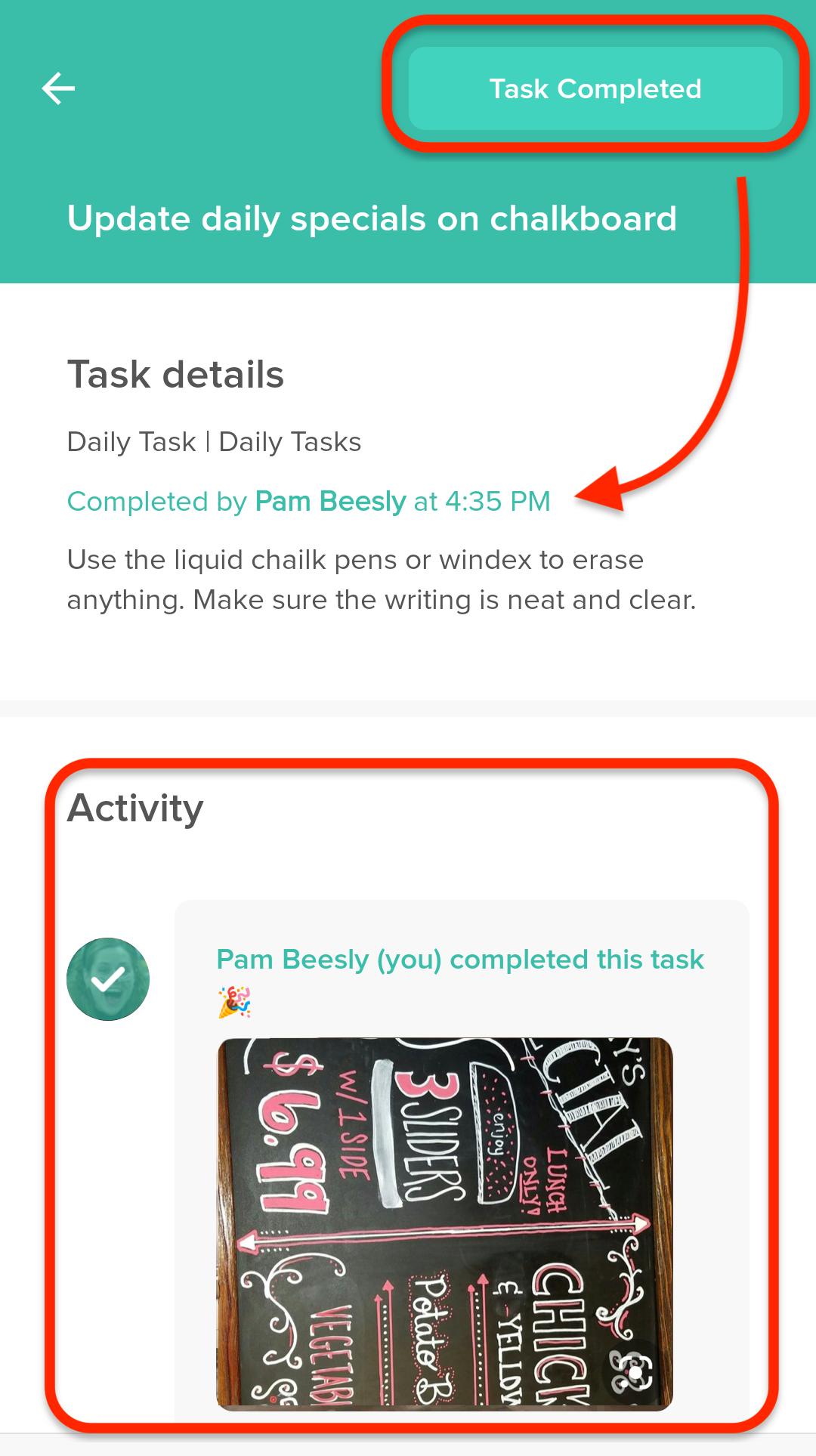 If a photo entry was made, tap on the image to view it in more detail.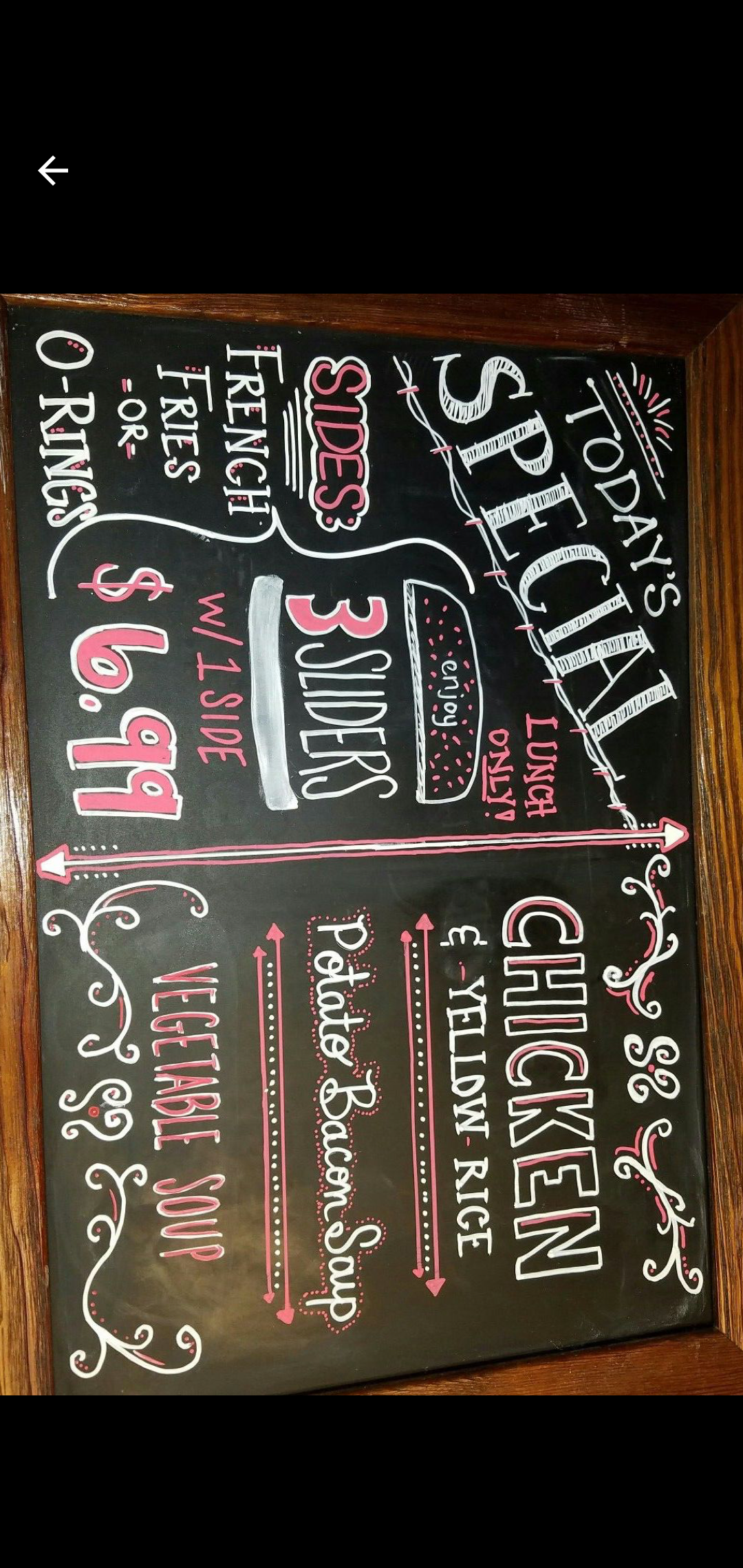 ❗️When an employee reopens a task and makes a new entry, only the most recent entry will be recorded under the task's activity. At that point, the original completion record or image will have been overwritten.
Overdue Tasks
⚠️ Please note, any tasks that are overdue past a 2-hour time frame will no longer be visible.
---
Check out the 7tasks app in action