If you are using 7tasks, you can run a detailed report of task completion across multiple Locations for a customizable date range. This data can be analyzed further to spot the most efficient locations and employees and identify areas for improvement.
⚠️ Managers and Assistant Managers will only be able to access reports for the Locations their user profile is assigned to. They will also require both of the following
Manager Permissions
:
Can run reports
Can manage tasks
1. To run the Tasks report, head to Reports > Tasks.
2. Next, select the date range and your Location(s). You can select one, some, or all of your Locations.
3. Then, click on Get report.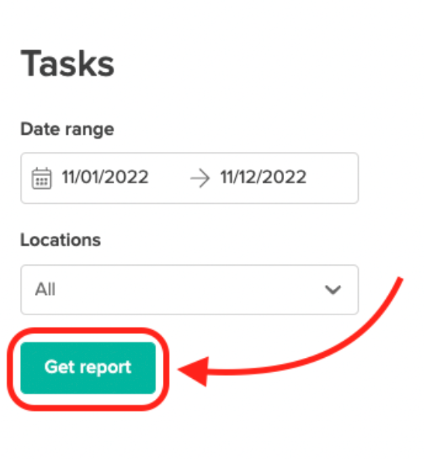 ⚠️ Please note that task data is only available since January 1, 2022 and the date range cannot exceed 30 days.

4. The Tasks report will then immediately download as a CSV file. Once downloaded, you can filter the data, turn it into a pivot table, or import it into an external database for analysis.

The CSV file includes the following information:
Start Date
Start Time
Due Date
Due Time
Time Frame End
Timezone
Location
Task List
List Recurrence
Task
Task Type
Completion Status
Task Assignment (Department)
Task Assignment (Role)
Task Assignment (Employee)
Task Tagged (Employee)
Completed By
Time Completed