You can enable Overtime Alerts to ensure that Admins and Managers receive real-time mobile push alerts when employees enter daily overtime, weekly overtime, or are at risk of weekly overtime.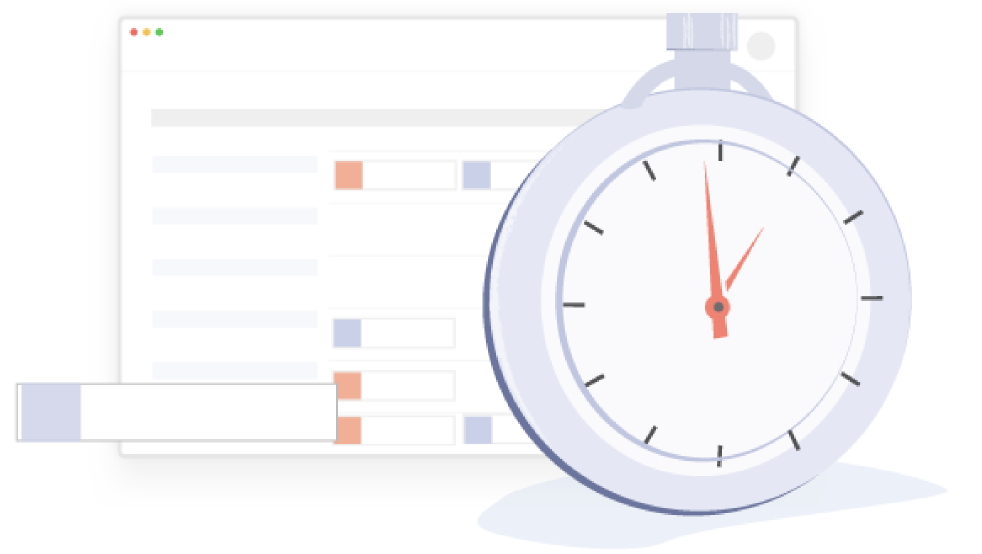 ⚠️ To use this feature you will need:

1. To have an active labor POS integration or be using 7punches for time clocking.
2. To have Time Clocking enabled in your account (found at the top menu under 'Time Clocking.' 
⚠️ Access to this feature may require an upgrade from your current plan.
⚠️ Real-time alerts for this feature are not supported with Heartland Restaurant, Lightspeed, and Upserve POS at this time.
---
Enabling Overtime Alerts
Once you have the prerequisites mentioned above, follow these steps below to enable Overtime Alerts:

1. As an Admin, head to Company Settings > Labor & Compliance.
If you haven't done so already, you'll need to first check the box next to Overtime and set your daily and weekly overtime values.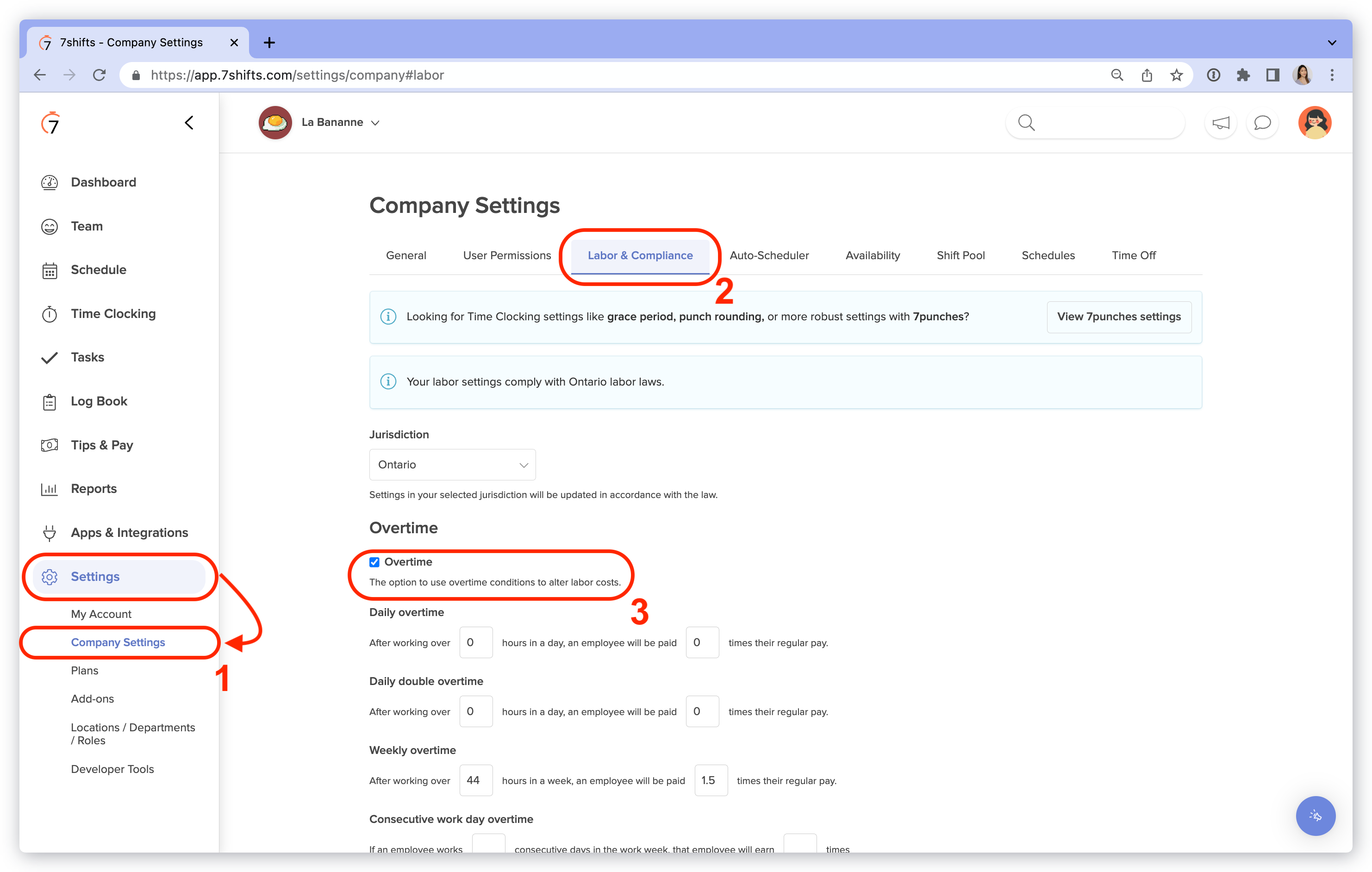 2. Scroll down and check the box next to Overtime Alerts.     
3. In the drop-down, select an 'Alert Buffer' to ensure you're notified about Weekly Overtime prior to the employee reaching overtime.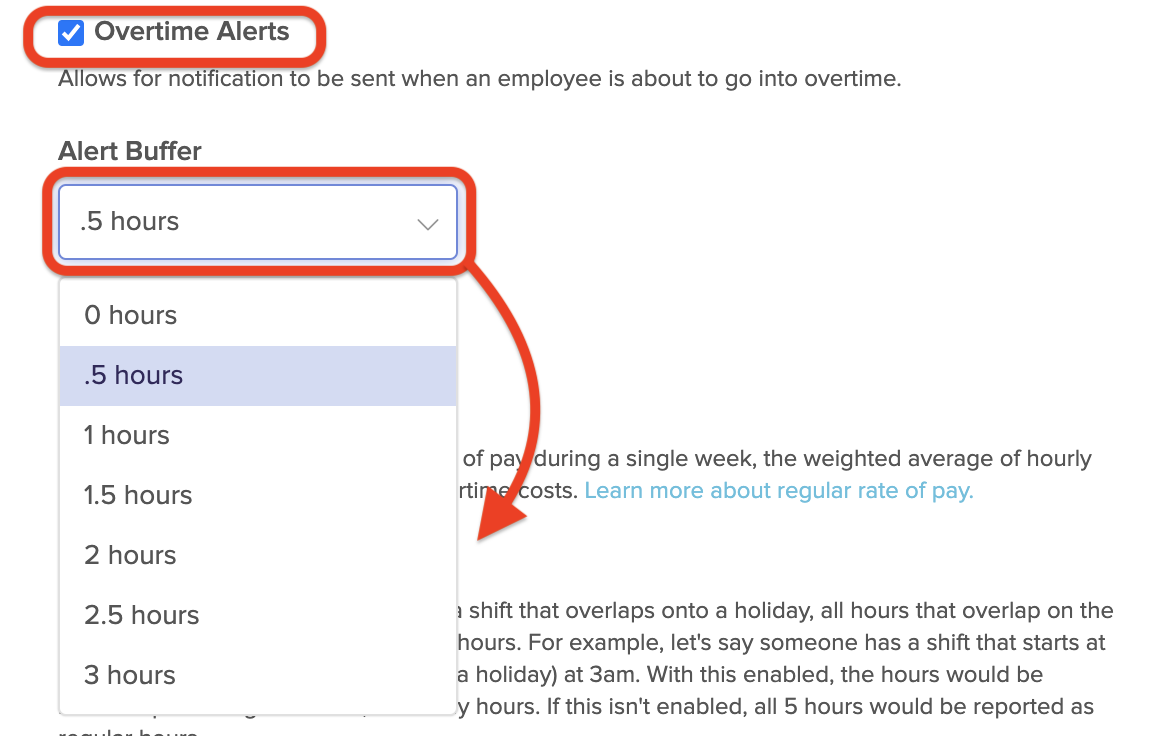 4. Remember to scroll to the bottom of the page and click 'Save.'    
5. Be sure to update your personal notification settings under Settings > My Account > Notifications.




Once Overtime Alerts are set, You and your managers will receive push notifications on their phones when an employee enters into Overtime or is at risk. Ensuring your team is aware of the potential overtime.
Admins and Managers will receive alert notifications as pictured below: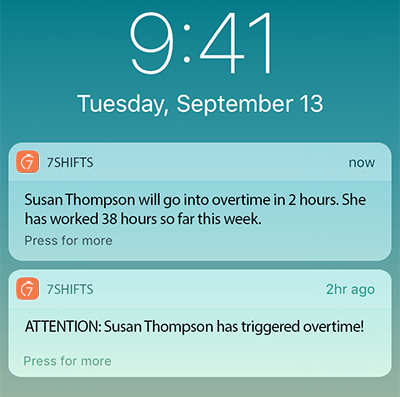 ⚠️ Managers and Assistant Managers will only receive these alerts for employees assigned to the same Locations and Departments that they are assigned to. Managers and Assistant Managers must also have the "appear on schedule" setting enabled for these Departments in order to receive these notifications.
⚠️ At risk warnings will come up anytime an employee punches in to ensure their current working manager is aware of the potential inflated cost.



A weekly at-risk Overtime alert is calculated by:   

'Actual hours' worked + 'Scheduled Hours' for the remainder of the week > Weekly Overtime Hours setting.
⚠️ Please note, an Employee's Overtime hours will be calculated by their scheduled and worked hours across all Locations within the account.
Want to learn more about labor compliance?  Click here for information regarding Custom Breaks.