The Manager Log Book is a secure communication tool that can only be accessed by Admins, Managers and Assistant Managers within the account.
⚠️ Managers and Assistant Managers will only be able to access the Manager Log Book for the Locations they are assigned to.

Employees do not have access to the Manager Log Book.
📱 Click here to learn about using the Manager Log Book on the mobile app.
---
Accessing the Manager Log Book
1. To access the Manager Log Book, head to the 'Log Book' tab in the left navigation bar.
 You can also select the date and a specific Location to view if you are assigned to more than one Location.

2. When making a post, simply enter in the details for the category, and click on 'Add Entry' to post it.
An attachment can be included with an entry and team members can post additional comments to any of the entries made.
⚠️ Please note:


You will need to click 'Add Entry' immediately after making an entry in each category to post it.

 Ensure you post your message before leaving the Manager Log Book Page. Drafts of your entries cannot be saved.

The file maximum for attachments is 2MB, and video formats are not supported at this time.

Your Admin can create new categories. If you think you need additional categories, please reach out to your Admin.
3. To remove/delete a post, click on the Trash icon. Remember, this action cannot be undone.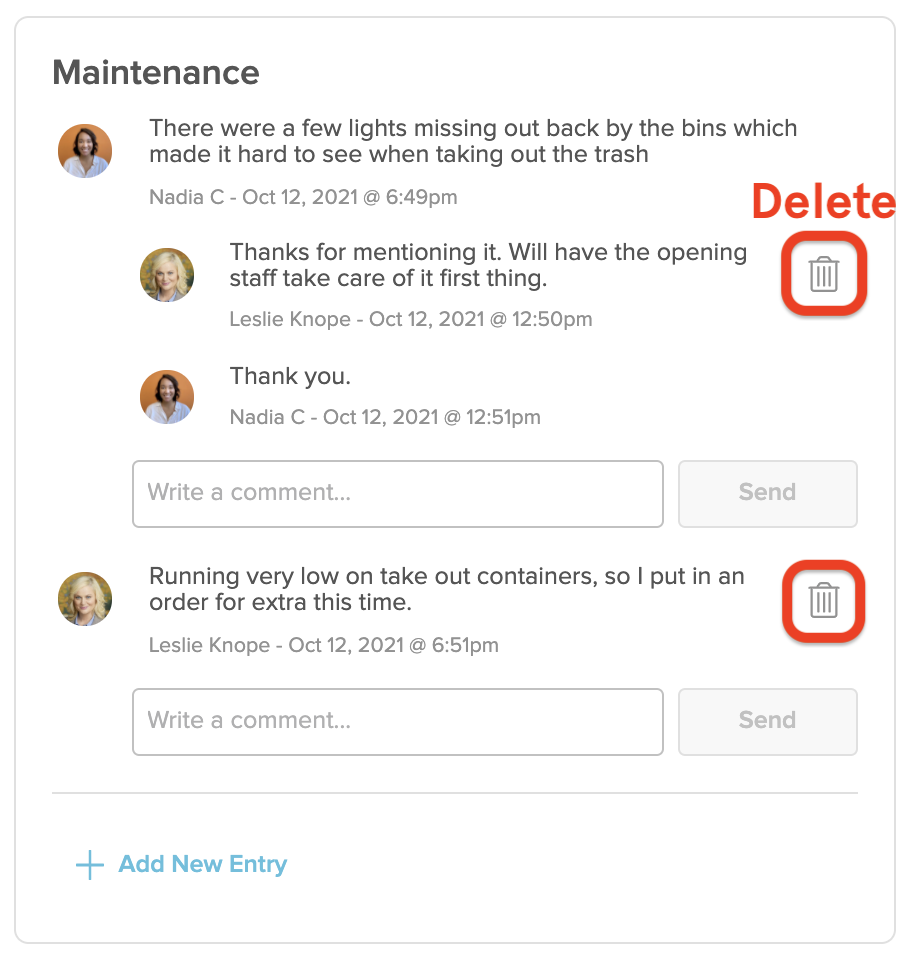 ❗️If deleting a Log Book post, please also note:


Only posts for the present day can be removed. Posts for past or future days cannot be deleted. 

Employee Performance Log posts cannot be deleted.

Admins can remove posts made by themselves or any other user type.

By default, Manager/Assistant Managers can remove their own posts, but require the Manager Permission 'Can delete logbook posts' in order to remove posts by other users. 

Even with the 'Can delete logbook posts' permission, Managers or Assistant Managers can only remove posts made by a user that is lower than them in the user type Levels of Hierarchy. 

( Example: A Manager can delete the post of an Assistant Manager, but an Assistant Manager cannot delete the post of a Manager or Admin.)
---
Employee Performance Log
Performance Log notes entered from the Manager Log Book will also add the entry to the Employee's user profile.


---
 Actuals Widget
With an active POS integration or 7punches for time clocking, you will see a dashboard of each Location's performance.
The following will be displayed above your custom categories:
Total Sales - Daily Actual Sales will be pulled from your POS.
Total Labor - Labor costs will be pulled in for those using 7punches, or who have an Actual Labor integration with a POS. 
Labor % - The actual labor % is calculated by taking your actual labor costs / actual sales.
Weather - You'll need to have your city entered under your Location settings to see this.
Average Shift Score - If you are using Shift Feedback, you will see the average score for the day here. Click on 'View Shift Feedback' to see all Employee ratings and comments.
⚠️Only Managers/Assistant Managers with the 'Can manage schedules' permission will be able to view this Dashboard/Widget within the Manager Log Book.
---
Sending the Manager Log Book Summary
You can send out an email summary at the end of the day which will go to all Admins, Managers, and Assistant Managers assigned to the Location. To do this, click on the 'Send email summary' button.
Your daily summary can be manually emailed or you can choose a time for it to automatically send each evening. If using the automatic option, the time the summary is sent needs to be set up for each Location separately.
(Manual)
(Automatic)
Here's an example of what the email summary may look like: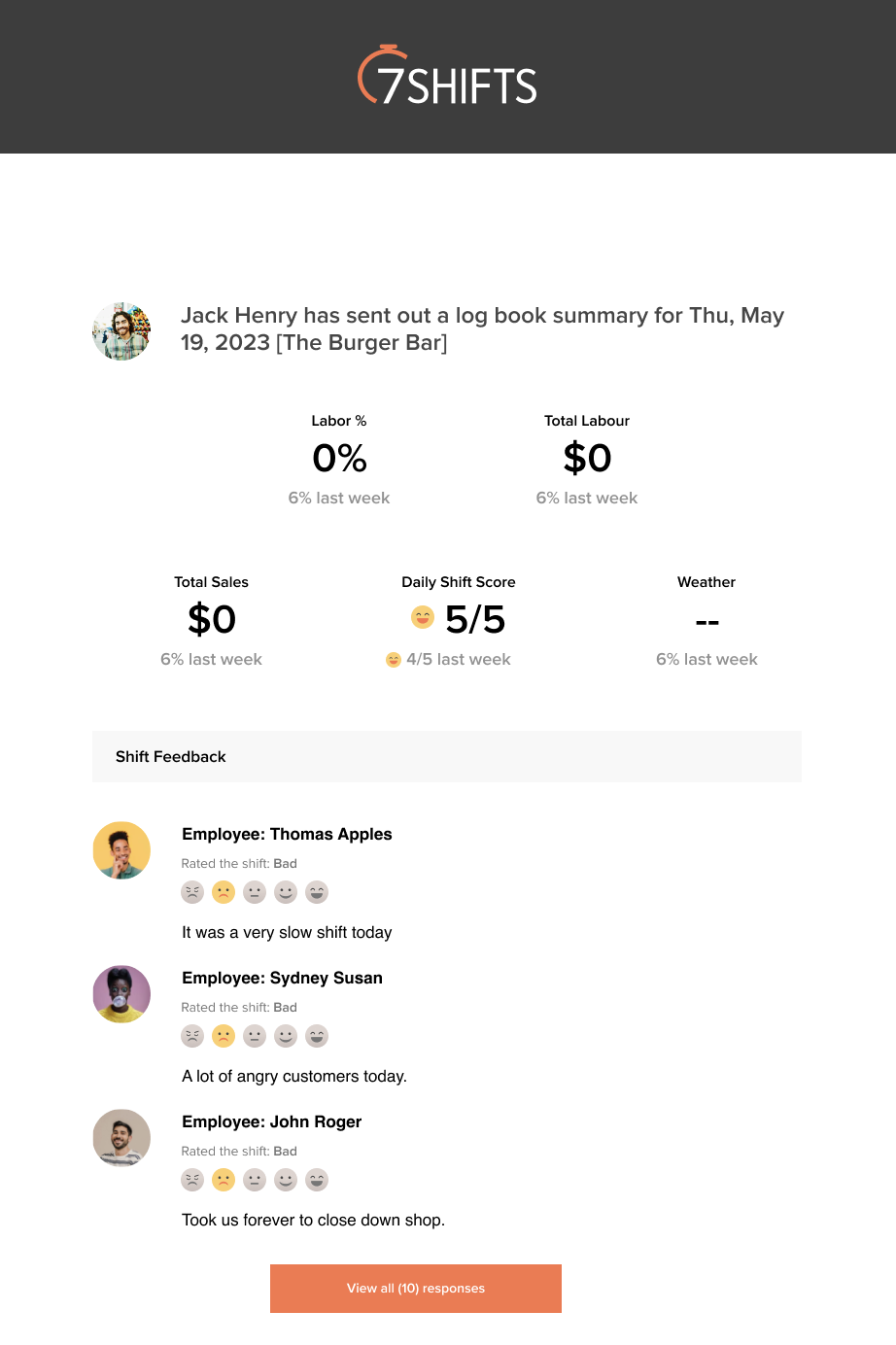 ⚠️Please note:


If there are required categories that were not filled out yet, the summary email will not automatically send.
The email summary will not automatically send if there are no entries on that day.
If the time is set to 12 am - 6 am, it will auto send the previous day's Log Book entries.
If the time is set 7 am - 11 pm, it will auto send the current day's Log Book entries, instead of the previous day's entries.
❗️If a user changes the 'Auto-send Daily' option to the 'Manually Send Email' option, then clicks on the 'Save' button, this action will make the manual option the new preference for this Location. This means the auto-send is disabled and will no longer automatically send.

To correct this, simply re-select the auto-send option again and the set time for the Location.
---
Searching Post History
You can view previous posts easily by using the Log Book's search tool.
1. To get started, head to Log Book > Search.

2. Before clicking on 'Search', you can use any of the filtering options to narrow down your results.