Delaget is a data aggregating platform that integrates with a number of POS partners. You can integrate your POS through Delaget to pull your actual sales data into 7shifts.
⚠️ The integration with Delaget allows you to bring in your sales data into 7shifts if you are using one of the following POS systems:
Aloha POS - Delaget
ARMS (NCR) POS
Infor SmartSeries POS
⚠️ Access to this feature may require an upgrade from your current plan.
---
Adding the Integration
⚠️ The integration process for Delaget systems may take from 4 to 8 weeks to complete.
If you are using one of the POS systems listed above, and wish to connect to 7shifts via Delaget, please follow the guide below: 
Please complete the Data Authorization and Locations forms and submit them to marketplace@delaget.com. You can find the details for these forms on Delaget's Partner Center as well.
An Admin of the 7shifts account would need to reach out to the Support team to authorize the integration to 7shifts. Start a chat

with our Support team by clicking on the blue icon located at the bottom right corner of your screen.
From there, the Delaget support team will provide further instructions and you will be notified by the 7shifts support team once the integration has been connected to your 7shifts account. 
After the POS integration has been connected, your integration and settings will be accessible within your 7shifts account under:

1. In the left navigation bar, head to Apps & Integrations: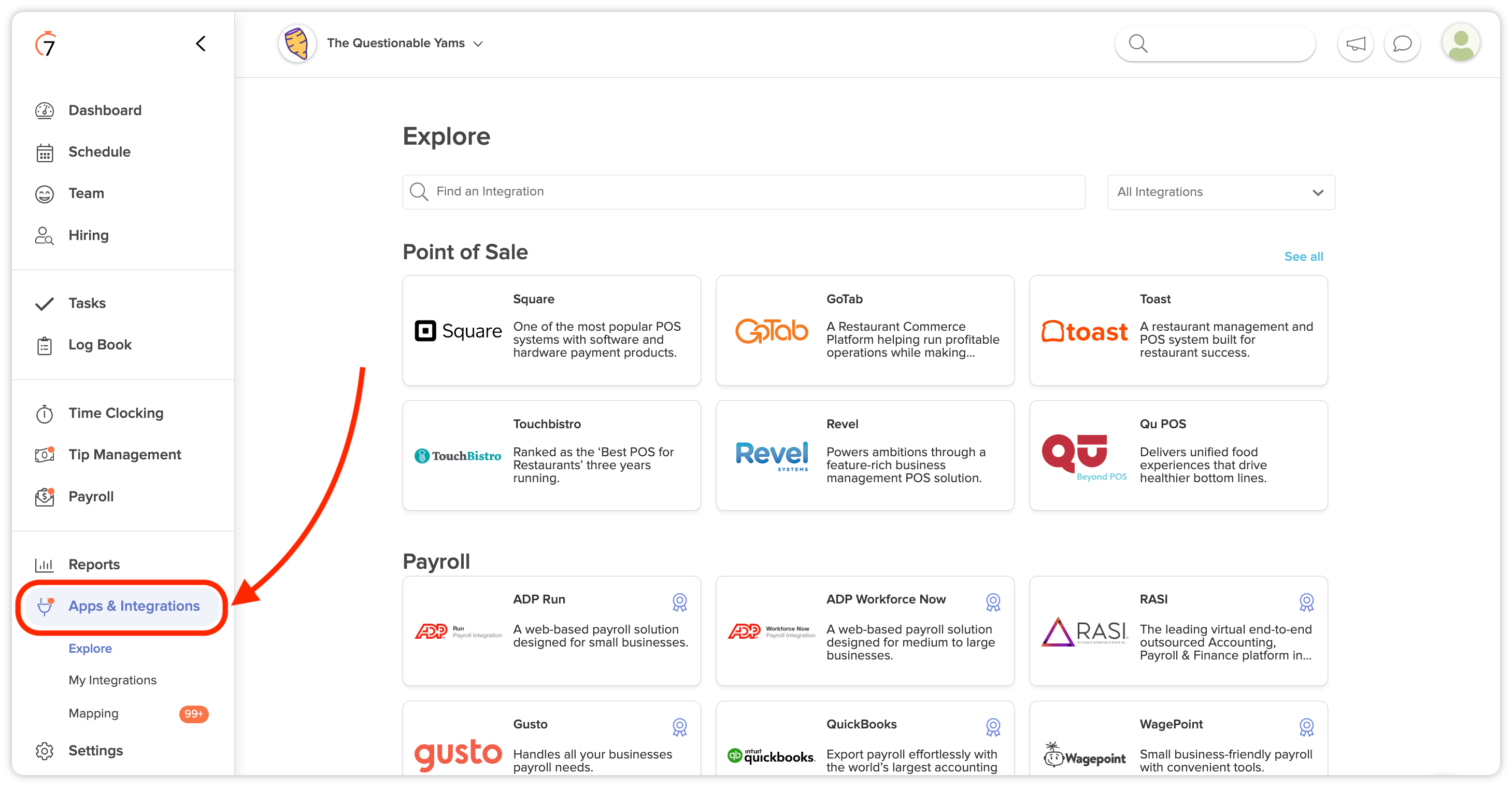 2. Select My Integrations and click on your POS.
3.
Click on
Settings
next to the Location(s). For example:

Actual Sales & Forecasting
Once your integration has been activated, your real-time sales data will be enabled by default. We will backfill 90 days of previous sales, if available. 7shifts will also use those Actual Sales values to populate Projected Sales, allowing you to create schedules based on those projections. These will become more accurate over time as more data is available.
Sales data from your POS will sync to 7shifts once per day, and at the end of the business day.
7shifts will begin pulling in your sales data into the Dashboard, Manager Log Book, Actuals Report, and the Labor Budget Tool.
Dashboard:
Click here to learn more about the Dashboard.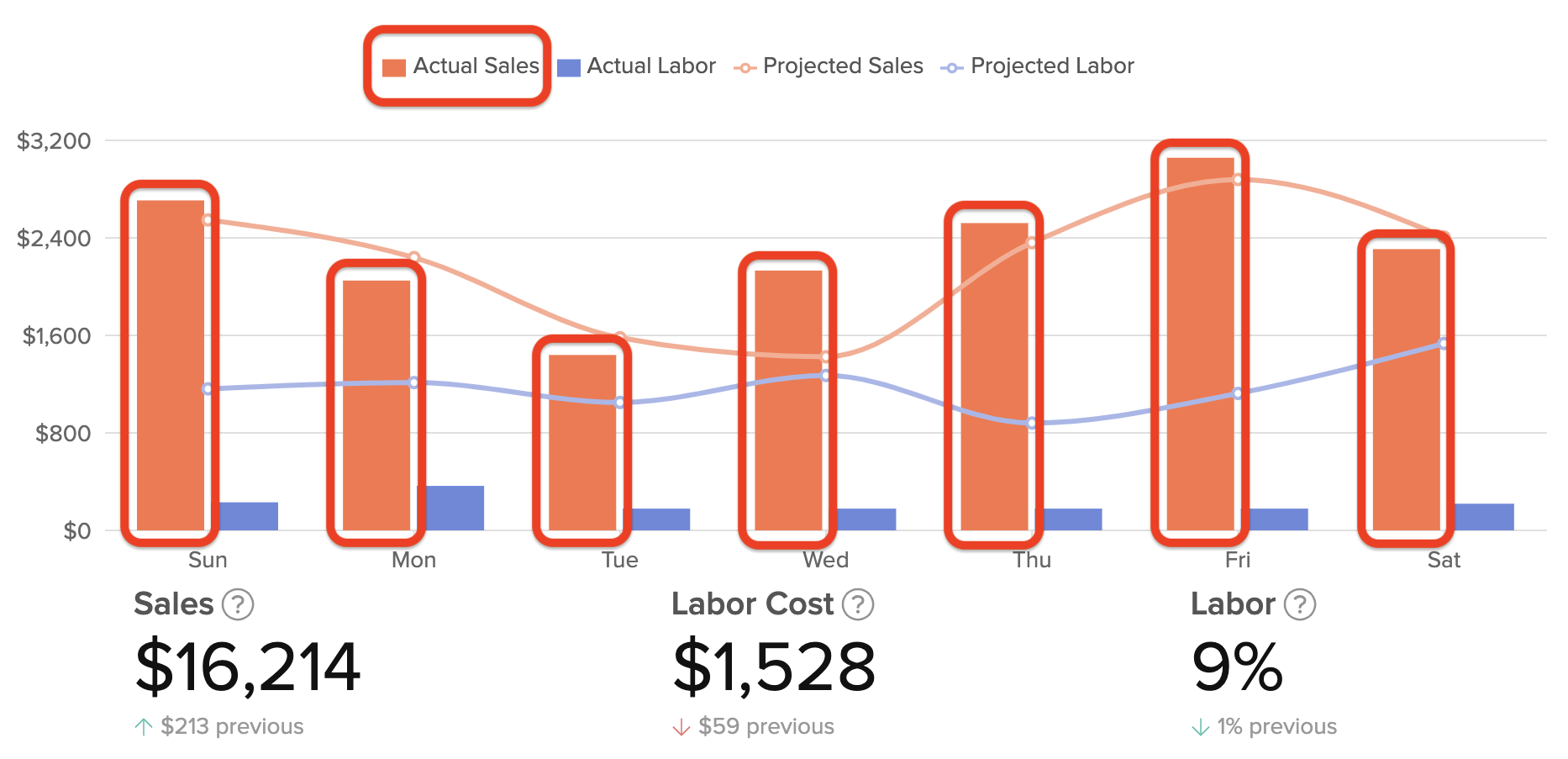 Manager Log Book:
Click here to learn more about the Manager Log Book.

Actuals Report:
Click here to learn more about the Actuals Report.
Labor Budget Tool:
Click here to learn more about the Labor Budget Tool.
Projected Sales
Now when you go to build schedules for future weeks, 7shifts will automatically look at past historical sales and insert your sales projections for you. This allows for more accurate scheduling if you're wanting to stay on budget and within your labor targets.

Actual Sales
The Actual Sales will initially be empty for the current or future days until sales start rolling in. Once the sales numbers have been pulled into 7shifts, they will be shown appropriately under those specific days.