(For Admins and Managers)
Ready to get started with 7shifts Payroll? This Quick Start Guide outlines the setup details, onboarding process, and how payroll works. 
In a few simple clicks, you'll be on your way to paying your employees accurately and on time without issue! If you have more questions, our team is here on standby to help answer any questions you may have.
---
---
6 Steps to Get Started

---
Key Features

One single source of Truth for Data.
Consolidate your business operations, including labor exceptions, wage and salary, tip pooling, tip payouts, payroll, onboarding, and more!
By using a single platform for data storage, you'll enhance efficiency and accuracy while reducing manual data entry and editing.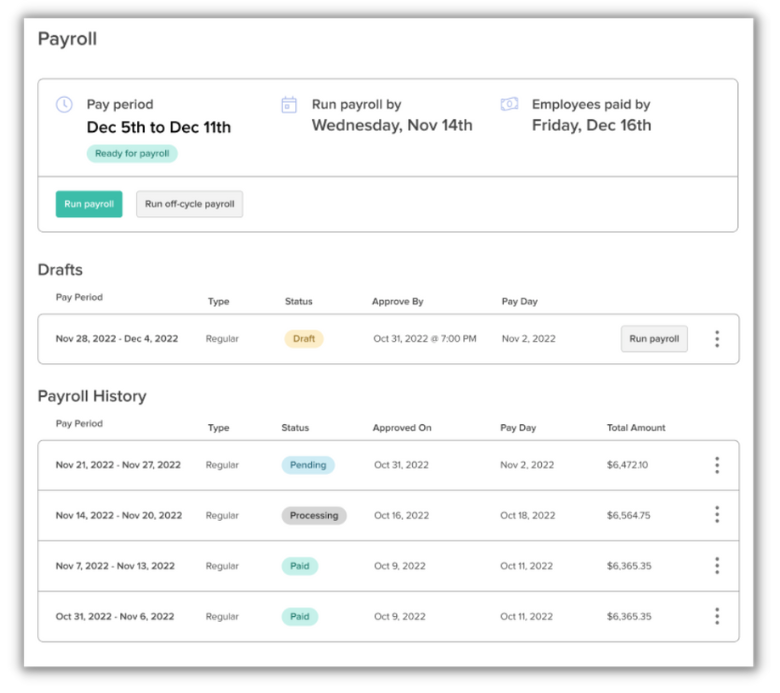 Automatic Payroll Calculations.
We handle all pre-payroll preparations and meticulously monitor calculations for precision. Data transfers from onboarding, time punching, and payroll is now streamlined. And, we'll help you stay informed and compliant with labor laws and regulations.
Seamless Employee Onboarding. 
Your employees can onboard directly from their mobile app in little to no time! Employee Onboarding is a paperless solution to help you securely collect and store tax forms, and send important company documents to new hires. You can prepare for your employee's first day in the same app where you manage your schedule, allowing you to stay organized and eliminate paperwork. Automating the process, allows you and your management team to move faster to accomplish more on your checklist.
Monthly Billing.
Most solutions currently offer payroll services on per-cycle pricing. At 7shifts, we keep our pricing structure simple and give you payroll on a monthly billing cycle - not by the amount of payroll cycles you run. Pricing is transparent and there are no hidden fees. See and manage your billing directly in-app!
Real-Time Reporting with Payroll History
Crafted for restaurant owners and operators, reports will keep you on top of the current status of created and submitted payroll runs. Plus, download payroll journals and summaries at your convenience.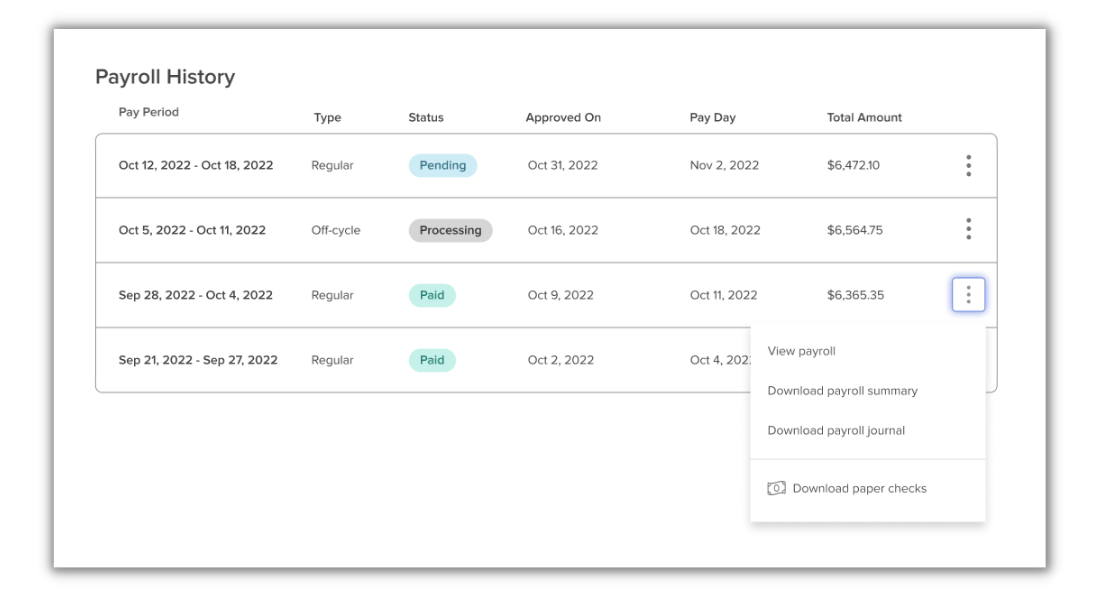 ---
Why Teams Love 7shifts Payroll  (and why you will too!)



Team management and Payroll in One Place. Manage employee records (including time-clocking, attendance, payroll, and more) directly in the 7shifts app.


Built to Solve Restaurant-specific Challenges. 7shifts' Payroll is designed to address obstacles like tips, compliance, union fees, onboarding, and turnover.


Easy Employee Onboarding and Pay. Make your employees' lives easier with quick online access, and a single place for them to onboard and understand their pay. Paystubs and all documents are organized directly within an employee's profile.


Ongoing support for complex & individual situations.  Have questions? We're here to help! Our amazing Implementation team will be with you every step of the way, loading historical data and helping you settle in with 7shifts Payroll.


---
FAQs

Q: What are the requirements to use Payroll?
A: To be eligible for Payroll...
Your restaurant must operate in the U.S.
Accounts with Locations that share the same FEIN, and bank account.
At this time, we do not support:
Automatic calculations for Tipped Minimum Wage. 
Automatic calculations for PTO/STO.
1099/Contractor support.
Money transfers and tracking for IRA/401K/Workers Comp.
Accounts using multiple bank accounts to pay employees.


Q: Is Employee Onboarding included with Payroll?
A: Yes! Once Payroll has been enabled for your Account, you will automatically gain access to Employee Onboarding. Got more questions about your existing plan? Click on the little blue icon at the bottom right to start a chat with our team.


Q: Does 7shifts sell hardware for payroll?
A: No, 7shifts does not sell any hardware. However, you may be able to use your existing hardware for payroll! For instance, with paper checks, we recommend that paper checks are printed on the top one-third of the page with the bottom two-thirds reserved for the paystub. We support the DLT104 check format. This format is the check-on-top custom check stock format that is widely available from check printing vendors including Staples and Office Depot.
 
Q: How do I access my Employee's paystubs?
A: In the left navigation bar, head to Team > click into an employee profile > select the Wages and payment tab > scroll to section Paystubs: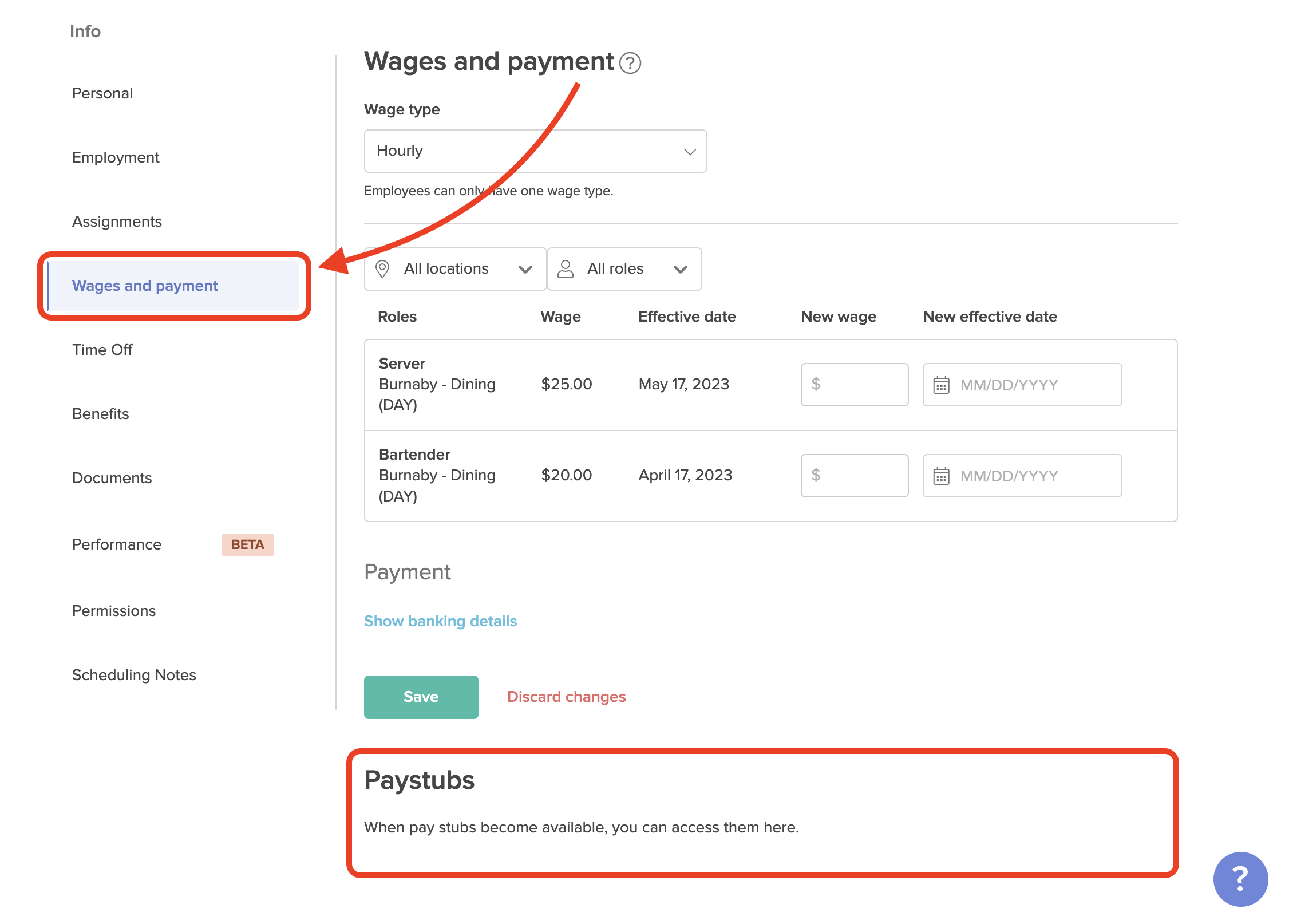 Employees can access their own paystubs on the web or mobile app (feel free to send them this handy article!).


Check out our FAQs section for more information about Payroll!