This article will assist you in identifying and resolving problems encountered while uploading PDFs or other types of documents. An error message typically appears due to incorrect formatting or when the document fails the verification process. Although the error message could mean several things, it is often one of the following reasons: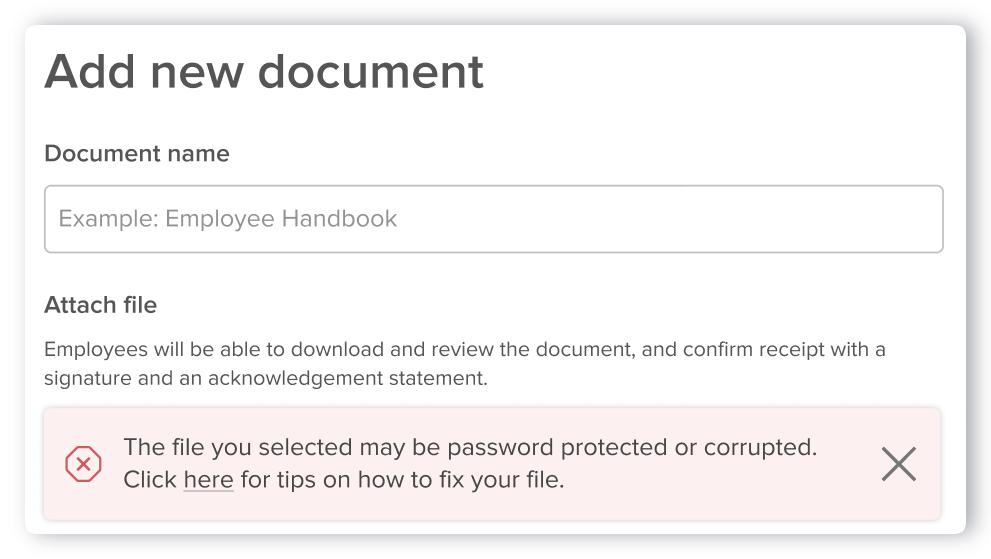 ---
If you are attempting to upload a document that is password protected or encrypted, please note that 7shifts does not support these files and it cannot be processed.
To upload a file with password protection, remove the security setting before uploading the file.
These documents are sealed with a password so they cannot be modified. To resolve this error, you can try using a program tool to unlock your password-protected file.
---
Verify that you can open the file.
To test this out, open the file to ensure that it opens in good standing. If not, reach out to the original sender to validate the file.
If the file doesn't open, you can also try opening a similar file that contains the same file type and attempt to upload it. If the other file opens and uploads without any issues, it is possible that the original file you were attempting to open is damaged. It would be best to reach out to the original sender of the file and validate the file.
In the event that you encounter an error message while uploading both files, you can follow the next steps to troubleshoot your browser.

---
Clear your browser's cache.
There may be some data running in the background that is interfering with 7shift's performance. This process may log you out, so you'll just need to have your password handy.

For example, you can follow these steps to clear your cache in Chrome:
On your computer, open Chrome.
At the top right, click More .
Click

More tools

Clear browsing data.
At the top, choose a time range. To delete everything, select

All time.
Next to "Cookies and other site data" and "Cached images and files" check the boxes.
Click

Clear data.
From here, please quit/close the browser fully, re-open the browser, and upload your file again.