When reviewing your timesheets, verify and attest your final working hours directly within the mobile app. If you identify any time punches that aren't as expected, flag them with your manager and request a secondary review.
⚠️ Prerequisites
⚠️ Employee Approval of Time Punches is only available on the mobile app.
⚠️ It is only possible to dispute a punch once the Pay Period has been closed by a manager. Please reach out to them if you had more questions about this.
---
Dispute a Punch
Log in to the mobile app.


Click on the More menu

☰

icon at the bottom right of your screen.


Tap on My Timesheets. 

Pay periods that require your revision will show a red indicator (Action Required) here:




Select a pay period. 

Timesheets that require your revision will have a red indicator (Action Required) next to them:




Click on the Review Timesheet button:




 On the Timesheet Review page, view all your shifts worked and tap into them  to expand their details:



We'll also let you know which punches have been edited by a manager:



Status icons:




Finalize your working hours using the Approve All,  Approve, or Deny buttons:






To dispute a punch, tap on the Dispute button:




In the pop-up window, add more details about the reason you're disputing this punch. These comments will be visible to your manager:




Tap Dispute > Ok.



⚠️ You can always approve a disputed punch. Approving a punch will overwrite the disputed punch.

Your manager will receive the dispute and if edits are made, you'll receive a notification for which you can repeat these steps to approve/deny the new edits. 
---
Notifications
Once your manager receives and edits the disputed punch, you'll receive a notification on your mobile device. SImilarily, you'll receive the same notification if a punch is added or deleted by your manager: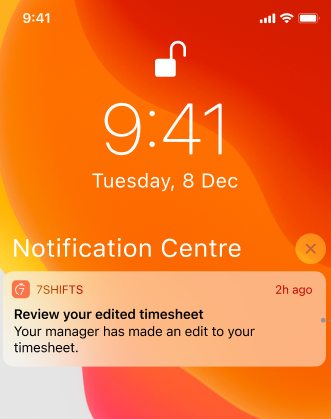 And within your Notification Center: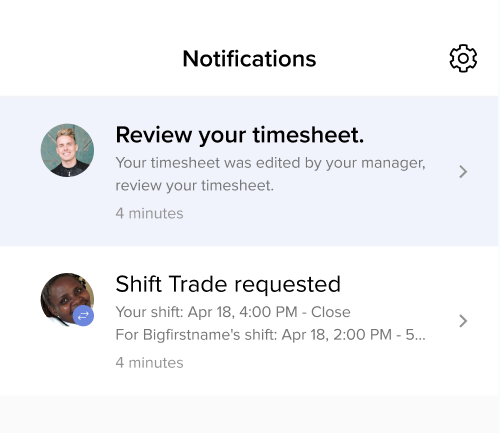 As the end-of-pay-period approaches, you'll receive a notification to remind you to review any timesheets and punches: