Being able to communicate quickly and effectively with your workforce is critical. At 7shifts, we've centralized communication to help you keep everyone on the same page, no matter where they are. All of these tools are available on web and the mobile app.
Here are the tools you have at your disposal to send messages to your workforce:
⚠️ We also offer the Manager Log Book, which is a secure communication tool that can only be accessed by Admins, Managers, and Assistant Managers. Learn more here.
---
Messaging
This is where you can start a 1-on-1 chat with someone, or a group chat. To access Messaging, click on the chat bubble at the top right.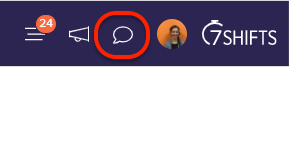 You'll notice you have three tabs:
1. Recents: shows you all recent conversations.


2. Groups: each Location, Department, and Role in your account has its own Messaging group. For example, if you only want to communicate something to your Servers, you can post it under the Server group. You can include attachments and staff can post their own messages or reply to others.
⚠️ Use Roster Talk if you want to group message your team that is scheduled for today, tomorrow, or a specific day. Click here to go to Roster Talk.
3.
People:
this allows you to send a message to one person directly.
If you want to start a group chat with several people, click on the 'new message' icon at the top right.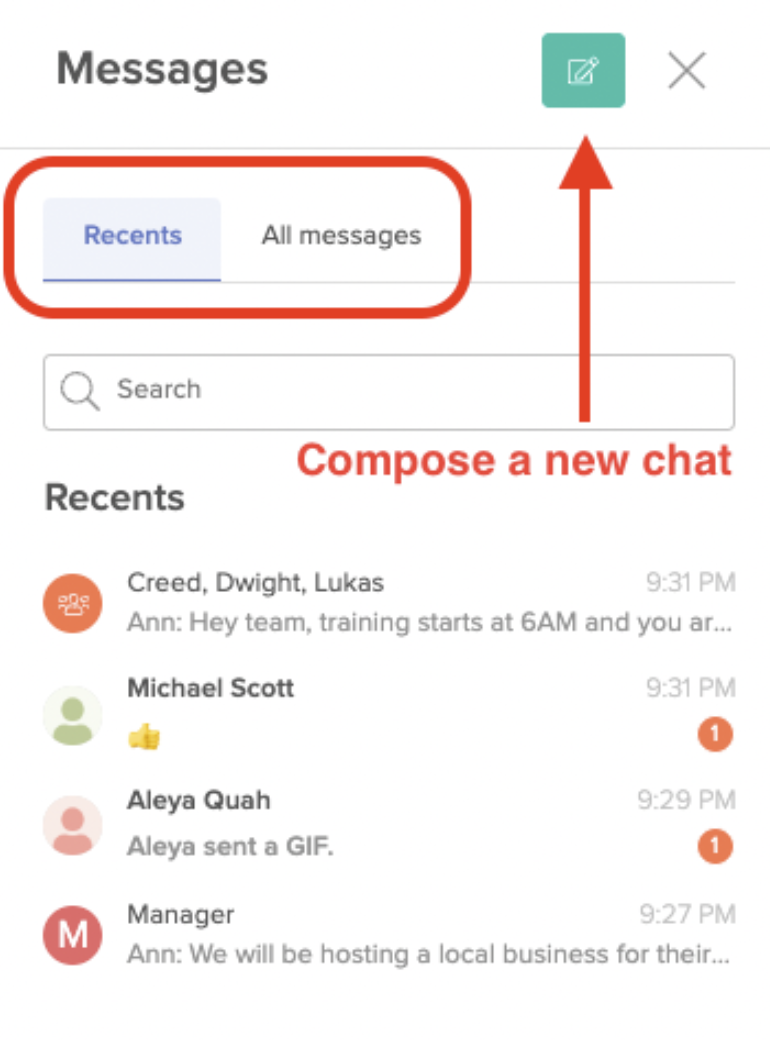 Effectively convey your message by starting a conversation and choosing from a range of actions:
How to send an emoji, GIF, or an attachment
At the bottom of your message box, you will see three icons:
To send an emoji or a GIF, click on the
or
, and use the search bar to type in a keyword related to the emoji/GIF you would like to send:


To attach a file, click on the paperclip icon to attach and send multiple files at once (up to 100mb):


How to send Reactions
To add a reaction,
hover over a message, click on the '
Add reaction'
icon, and select an icon from the preset menu:
If someone has added a reaction, you can tap on it to add the same one yourself: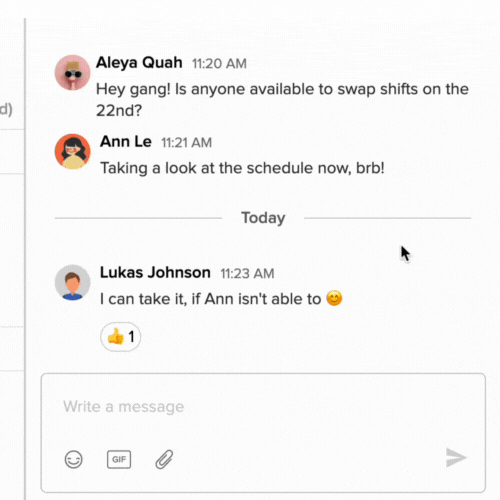 You're able to view all the users who reacted to a message by hovering over a message and clicking on '
See All':

To remove your reaction
, click on the reaction and it will disappear from the message: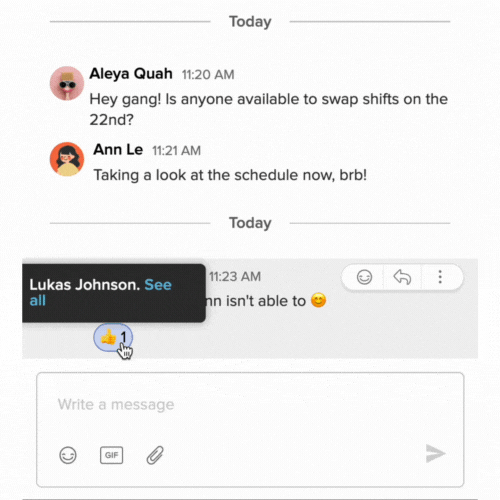 How to Reply to a message
To Reply to a message,
hover over the message, click on the
'Reply'
icon, begin typing your response, and click
to send it: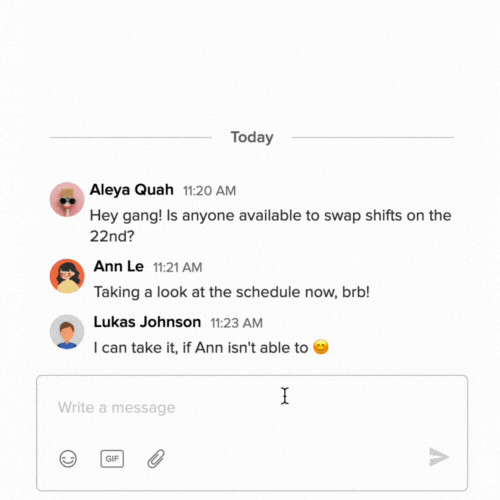 As you write your message, you can enter a new line by pressing
Shift + Return (Mac),
or
Shift + Enter (Windows)
on your keyboard.
How to Delete a message
Messages that are deleted will be replaced with: "This message was deleted."




To delete a message, hover over a message, click on the
ellipsis icon, select 'Delete', and click on 'Delete' again to confirm this change:
⚠️It is only possible to delete a message from a user-level type below you (i.e: an Admin can delete the message of a Manager, not vice versa).
---
Announcements
1. To send a one-way message blast to your workforce where you aren't wanting to start a conversation, you will want to use Announcements, which is the megaphone icon right beside the Messaging icon.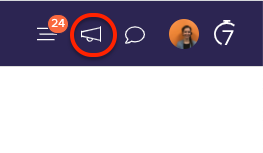 2. Click the 'green pencil' icon, to begin writing a new Announcement.


⚠️ Only Admins, Managers, and Assistant Managers will be able to compose and send Announcements. Employees will have read access only.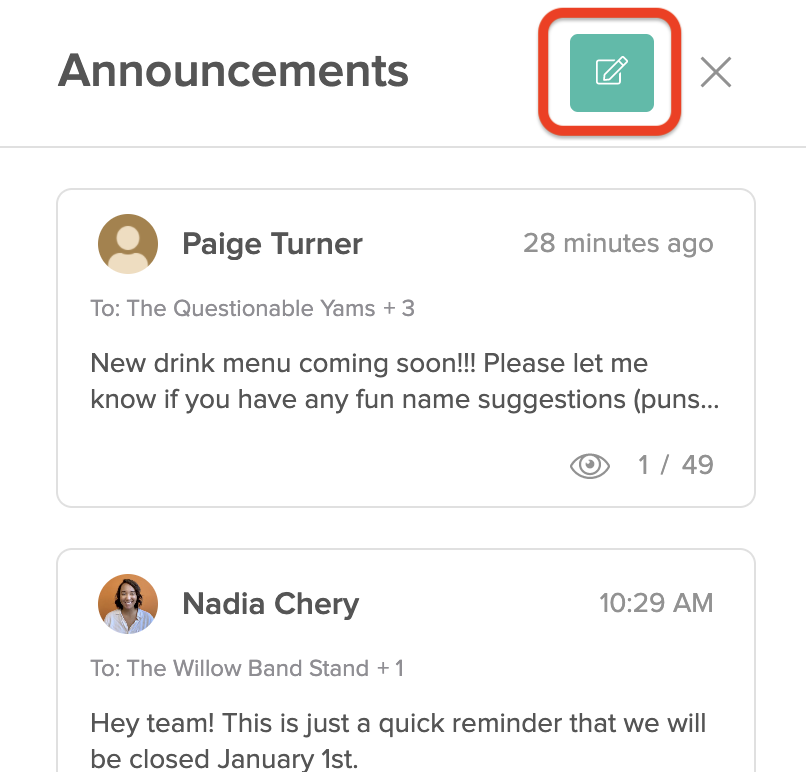 3. From here, you'll be able to select who you want to send the Announcement to. Search or scroll down to select which Locations, Departments, and Roles the Announcement will be for, then click on 'Go.'


⚠️ Use Roster Talk if you want to send the Announcement to your team that is scheduled for today, tomorrow, or a specific day. Click here to go to Roster Talk.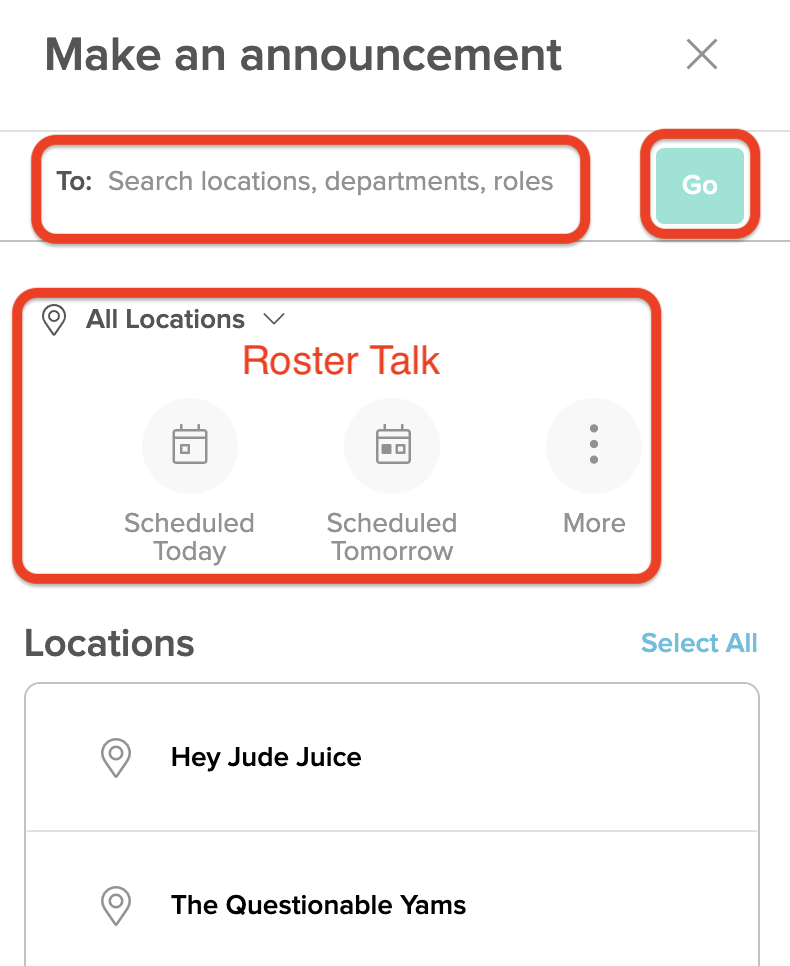 4. Enter your desired message.
To include additional files/attachments, drag and drop the file into the text box or click on the 'paperclip' icon. You can upload up to 3 attachments of various file types (eg: photos, doc, pdf, mp3, mp4, wav, mov).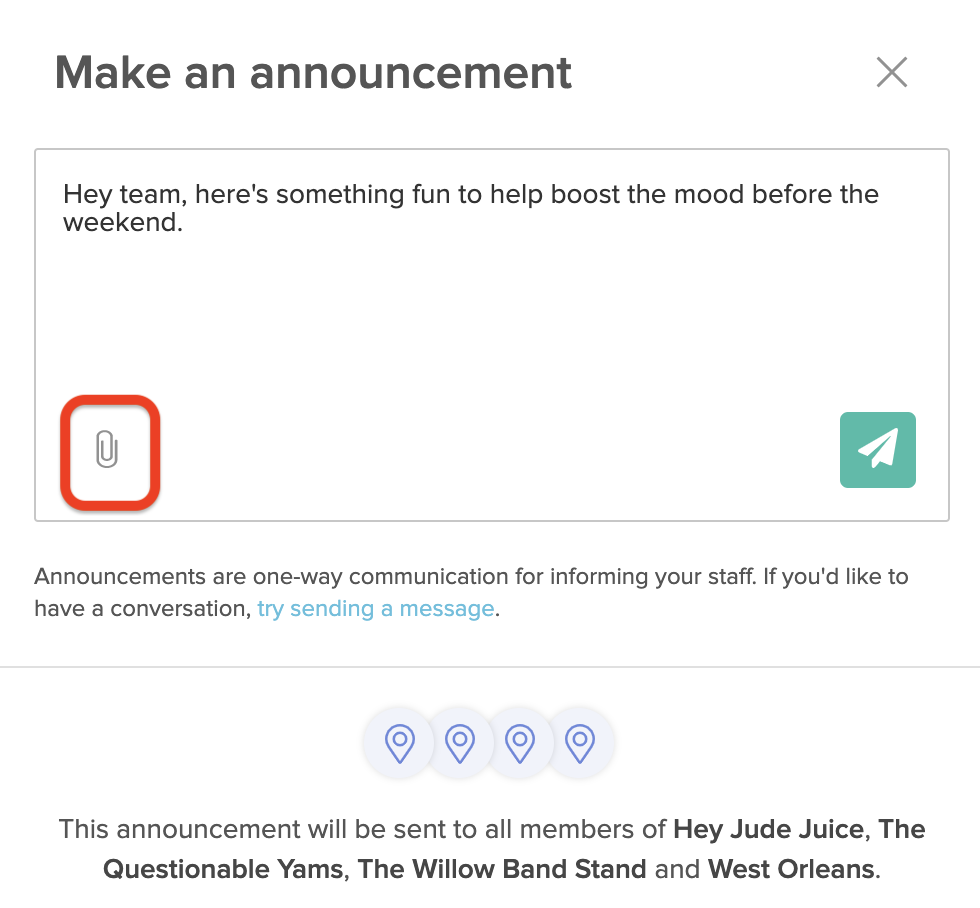 Depending on the file size, you may momentarily see a progress bar as your attachments upload.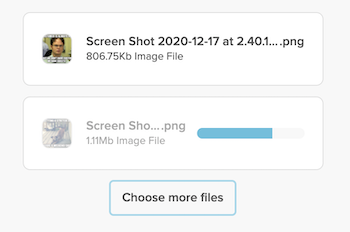 ⚠️ Please Note:
The maximum size for attachments is 500 MB/per file and for announcements only.
Currently, exe and dmg file types are not supported.
Uploading attachments from the mobile app is not available at this time.
❗️If you exit out of the Announcement draft screen, the post will be lost including any files that were still uploading.
You can remove any attachments before you post by hovering over the file and clicking the 'trash can' icon.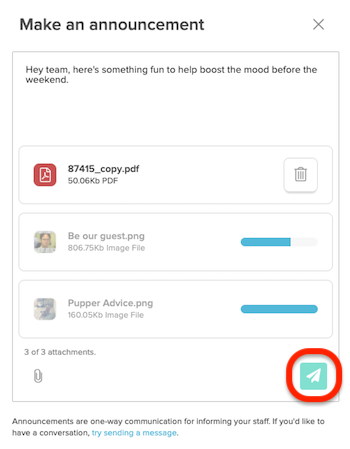 5. When you're ready, click the 'green paper plane' icon to send.


6. Once you click submit, your announcement is immediately delivered. You and your employees can now reference past announcements on the web and mobile app.


⚠️ Employees will be notified via email or SMS/push notification, based on the notification settings they've specified in their account.
You can also reference past announcements and who they were delivered to by going to the Activity Log (hover over your profile picture > Activity Log).
The Activity Log page will give you a breakdown of key activities taking place within your 7shifts company account.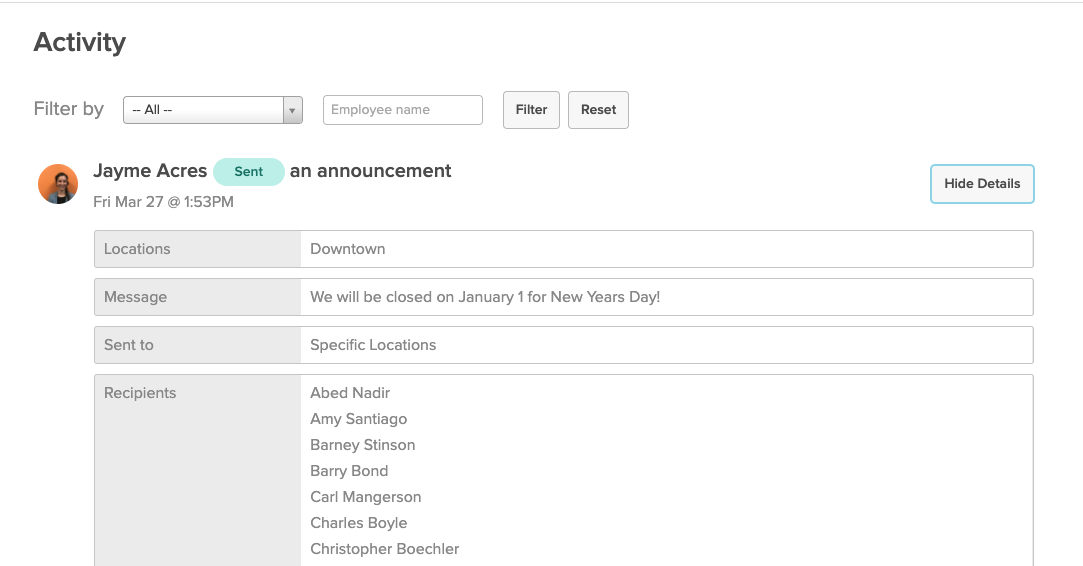 ---
Read Receipts
⚠️ Read Receipts is available on the Entrée plan and higher.
When an Announcement is sent, you can see how many of the recipients have viewed it in the bottom right corner.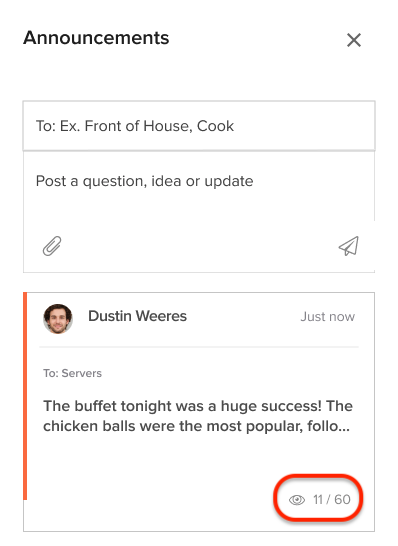 1. Hover over this number to see who has most recently viewed the Announcement.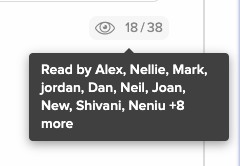 2. Click on this number to see the names of who has viewed the Announcement, and the date of viewing.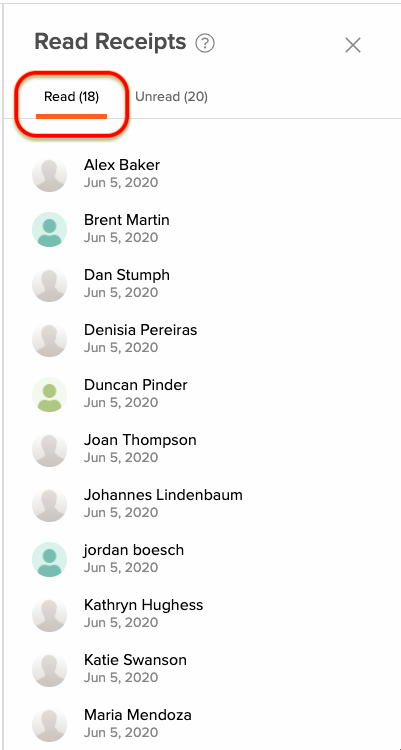 3. Click on the 'Unread' tab to see the names of those who have not yet viewed. Click on the chat icon next to a name to send a message as a reminder to one employee, or re-send the notification to all employees in the 'Unread' list using the button at the bottom.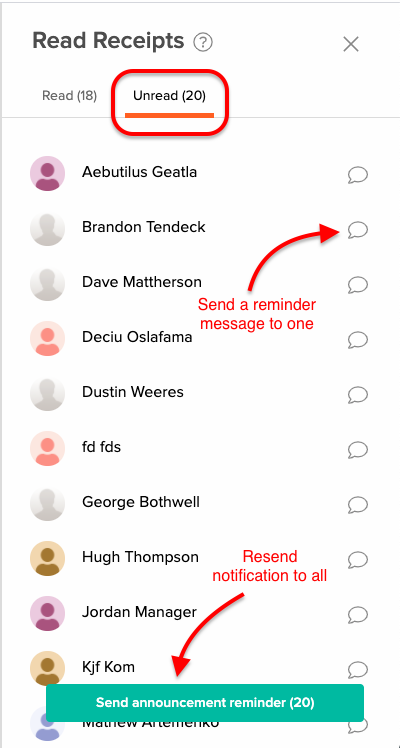 ---
Deleting an Announcement
You can delete an announcement from the web app by completing the following:
1. Select the announcement then click on the three dots in the top right corner.
2. Click 'Delete.'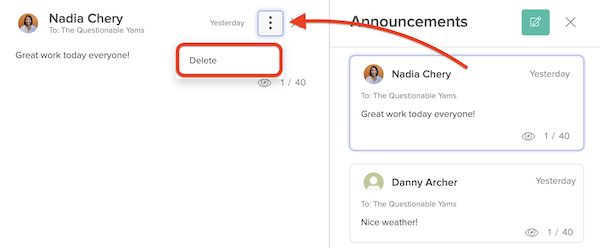 ⚠️ Once an announcement notification is sent via email, it is not able to be deleted / retracted. However, you can delete the announcement from appearing in the app.
---
Roster Talk
Roster Talk is available for both Messaging and Announcement features. You can now create group messages and announcements for all employees working a specific day.


1. Click on the 'Compose' icon to get started.


2. You can specify by Location, Department, and Role. You can then choose which timeframe to target.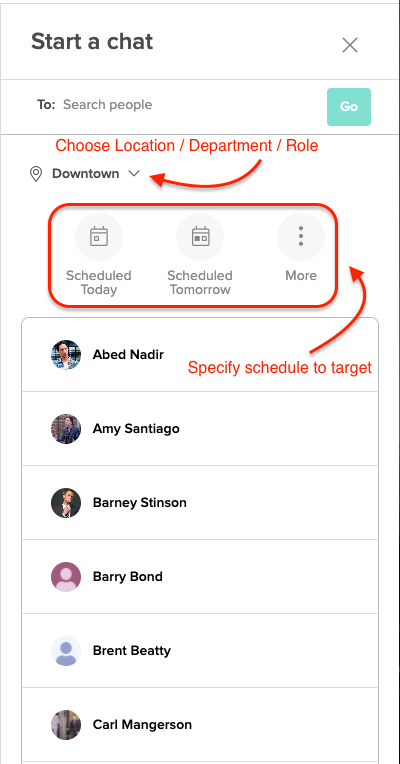 3. The 'More' tab contains these schedule choices.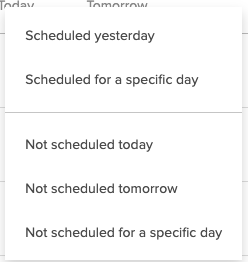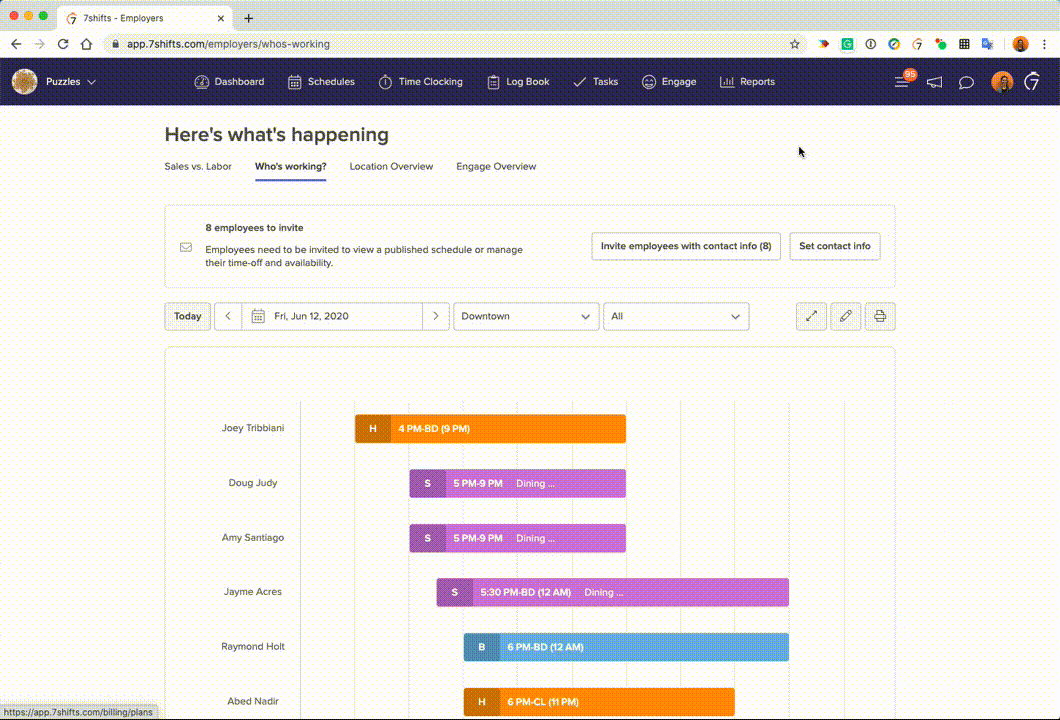 ⚠️ Tips for Roster Talk:
'Today' is considered a shift that falls within any Hours of Operation for the Location. Click Here for info on how to set or change your Hours of Operation.
Only employees with published shifts will be included in the chat / announcement; unpublished shifts will not be recognized in the Roster Talk targets.
If an Admin is set to 'Appear as employee' in their account, and is NOT scheduled, they will be included in any 'Not Scheduled' Roster Talk chats / announcements.
---
SMS / Push / Email notifications
By default, your employees are informed about changes in 7shifts that affect them via SMS/push notification and email:
Messages and Announcements
When you publish / re-publish a schedule
When you approve or decline a Time Off request
When you approve or deny an Availability request
When you approve or decline a shift change, both employees who requested the change will be notified
If an employee is trying to give away their shift, other employees who are qualified to work that shift will be notified
⚠️ SMS notifications are only available on the Entrée plan and higher.