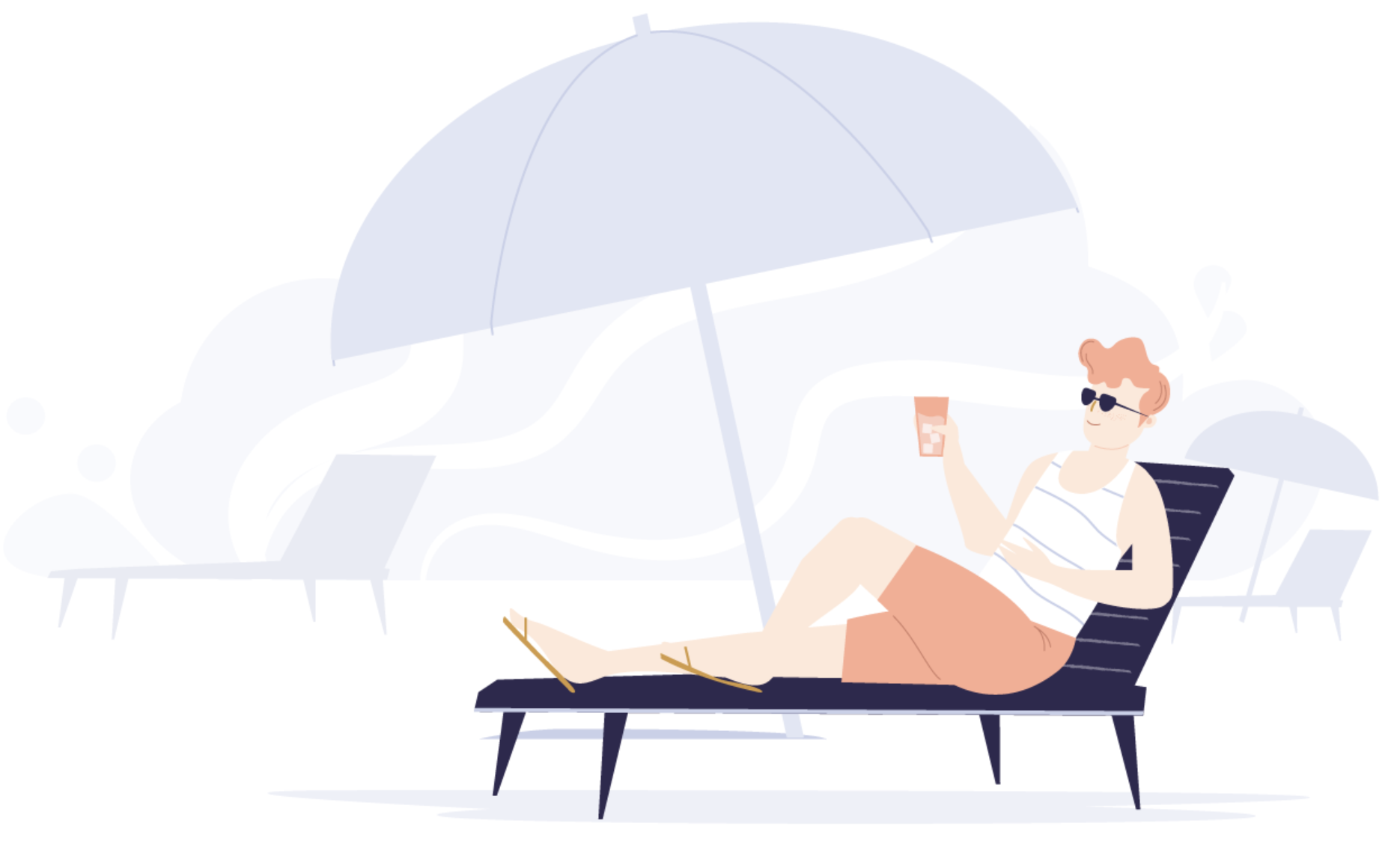 ⚠️Unpaid Time Off. At this time, users who are paid a salary and request unpaid time off will not be reflected in labour reporting. To account for this in the meantime, you may wish to to do the following during their requested unpaid time off: (1) deactivate them, or (2) remove their wage from their user profile.  After their time off is complete, you may return their profile settings to their original state.

Running Payroll? Please remove them before running payroll.
⚠️ Admins can manage the Time Off settings for the account under Settings > Company Settings > Time Off.
 📱 Using the mobile app? Click here to see how reviewing Time Off requests works from the mobile app.
---
Time Off vs. Availability 
Time Off - is where employees will ask their manager if there are specific days they need off or absolutely can't work. Time Off is usually used on a case-by-case basis.
Availability - is used for employees to communicate to managers what time of day, or which days of the week, that they typically can't work because of a conflict with school, another job, or another activity. Using Availability, employees can communicate their preferred schedule. Learn more about Availability here.
---
How to view, approve, and deny Time Off requests
Employees will submit a Time Off request if they need to book vacation days or have days that they absolutely cannot work. All of an Employee's Time Off requests must be approved by their Admin, Manager, or Assistant Manager before they're finalized.
⚠️ Please note that Manager or Assistant Manager users can only access requests from other users that are assigned the same Locations and Departments they are assigned to.

Manager or Assistant Manager users will also require one or both of the following Manager Permissions:


Can approve/decline employee time off requests
Can approve their own time off
Here's how reviewing Time Off requests works from the web app:
1. Employees request Time Off via the mobile app or via the web app at app.7shifts.com. 
2. As a Manager, you are notified via mobile SMS/push and email that a request is waiting for your approval.

Time Off is located under Schedule > Time Off: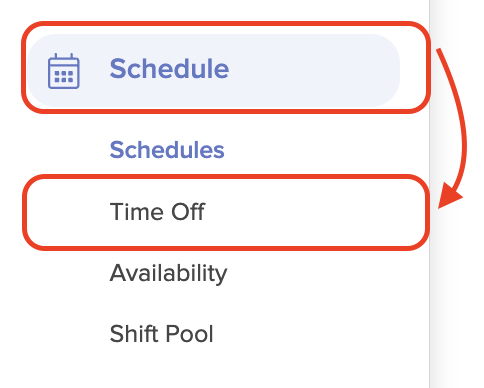 3. The Time Off page will show you all Time Off requests. You can navigate using the tabs on the left:

Requests
Calendar
Blocked Days

4. Requests:

Under the 'Requests' tab, requests are shown in order of date submitted by default. However, you can use the filtering and sorting options shown below.

To approve or deny a request, click on the 'Pending' dropdown beside it. 

If this Time Off request conflicts with previously approved Time Off requests, you can see all of them by clicking on the 'Conflicts' button.

To edit a Time Off request, click on the date highlighted in blue. You can also click on the three-dotted icon to delete it. 

5. Calendar:

In order to view all requests for the month and identify potential conflicts, click on the 'Calendar' tab. This will show your team's requests in a monthly view.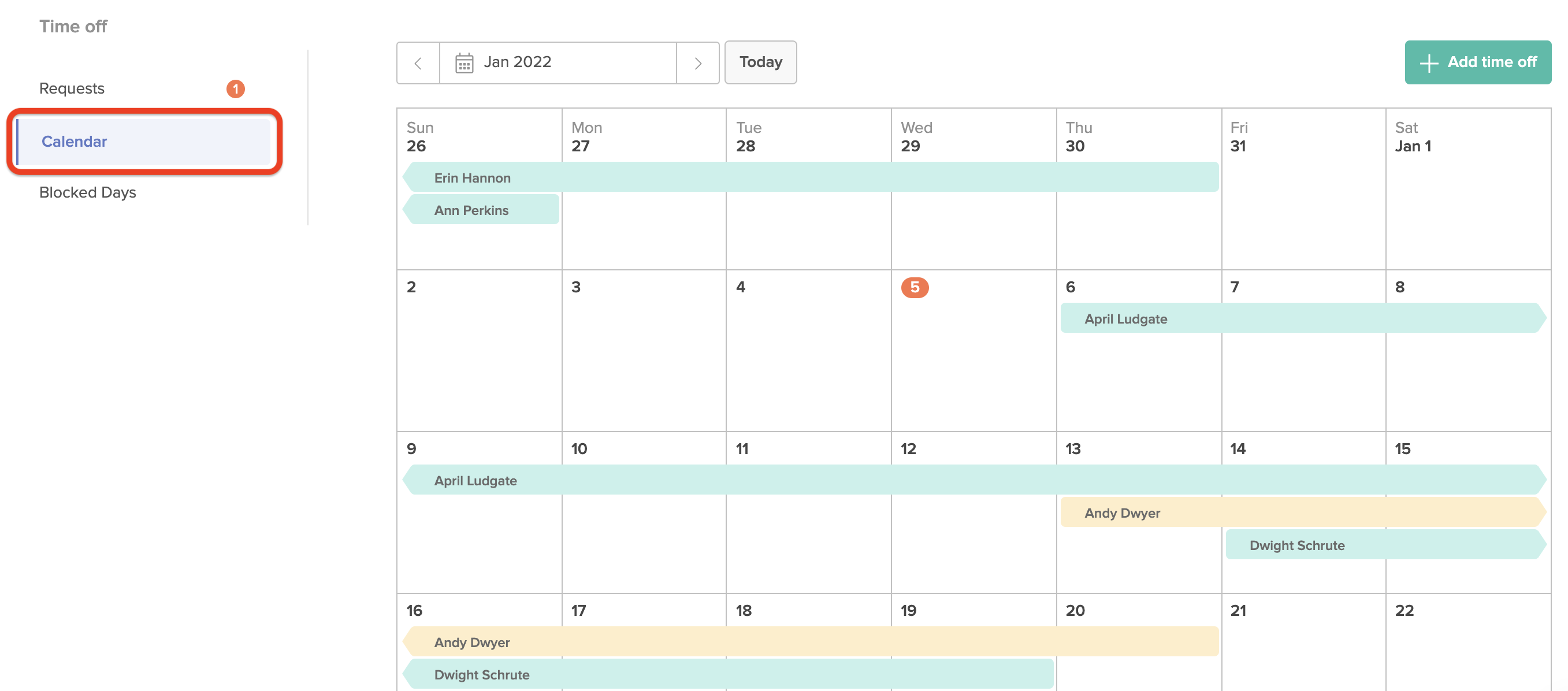 Approved Time Off requests will appear in green
Pending Time Off requests will appear in yellow
Declined Time Off requests will NOT appear on this page
Hover over a specific Time Off request to see any comments for it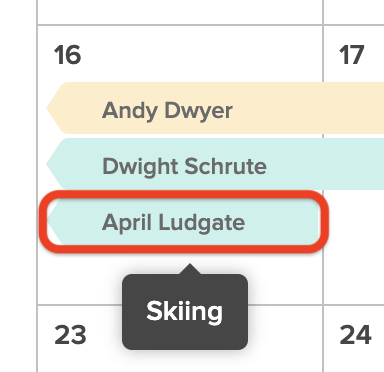 6. Blocked Days:

If there is a day that you cannot afford to have anyone take off, you can block the day off by going to the 'Blocked Days' tab. 

7. Whether the Manager approves or declines the day(s) off, the Employee is notified by email or mobile SMS/push.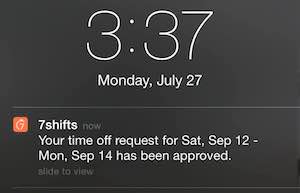 8. If the Time Off is approved, it is plotted directly onto the Schedule. You can hover over the day to view any comments about the request.

---
Viewing Pending Time Off on the Schedules Page
On the Schedules page, Time Off requests that are not yet approved or denied will show as 'Pending Time Off.'

1. Hover over the space to view the request details.

2. Click on the shift space to view, approve, or deny the request.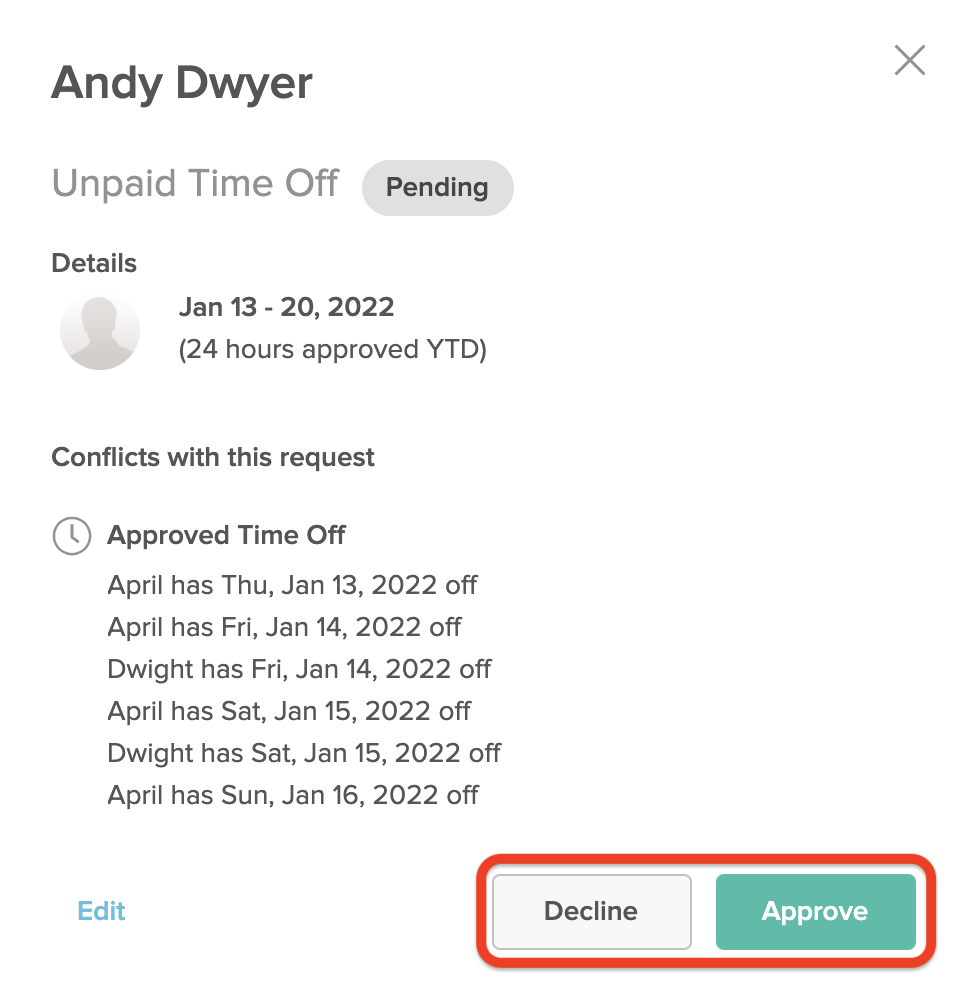 3. Whether you choose to 'Approve' or 'Decline' it, you will be able to leave a comment which will be included when the approval/denial notification is sent to the employee.