⚠️ Prerequisites
⚠️ Admins can set up, access and run Payroll.

⚠️ Admins can only access Payroll on the web app.

⚠️  Payroll is available for:
Accounts located in the U.S. (except for California , Arizona, or Alaska at this time).
Accounts with 1 Location.
⚠️ Currently, we do not support:
Automatic calculations for Tipped Minimum Wage. 
Automatic calculations for PTO/STO.
1099/Contractor support.
Money transfers and tracking for IRA/401K/Workers Comp.
Accounts using multiple bank accounts to pay employees.
---
Payroll History
Track the progress of submitted payroll with real-time progress insights. Each line item in Payroll History is a payroll that was created and submitted - whether it has been paid out or not. Click on them to get more details!

From the Payroll page:
Login to the web app as an Admin.


Head to Payroll, in the left navigation bar.


On the Payroll dashboard > scroll to Payroll History:



For each Pay Period, you can note the:


Pay Period dates
Type of payroll cycle (regular or off-cycle)
Date of approval
Payday
Total Paid Amount



Click on the More Options    icon:





Choose to View payroll, Download payroll summary, Download payroll journal, or Download paper checks.

This option is visible if it meets the following requirements: the pay period is in Processing or Paid, and has Paper checks as at least one of the employee's payment methods.




From the Reports page:
In the left navigation bar, head to Reports > Payroll.



Use the dropdown menu to select the Report Type: 




Set your date range:




Click Download CSV. The reports will populate the payroll data for all users that fit the criteria chosen.
---
View Payroll
Viewing payroll will differ depending on their status (pending, processing, or paid). Here are examples of what you can expect to see for each payroll status:


Pending Payroll
Pending status icon
Reopen and Edit Payroll button: reopen and make any edits up until the approval deadline date
Use the tabs to view Pay Breakdown, Taxes, Benefits, and Post Deductions


Processing Payroll
Processing status icon
This payroll is view-only and no further edits can be made
Use the tabs to view Pay Breakdown, Taxes, Benefits, and Post Deductions


Paid Payroll
Paid status icon
This payroll is view-only and no further edits can be made
Use the tabs to view Pay Breakdown, Taxes, Benefits, and Post Deductions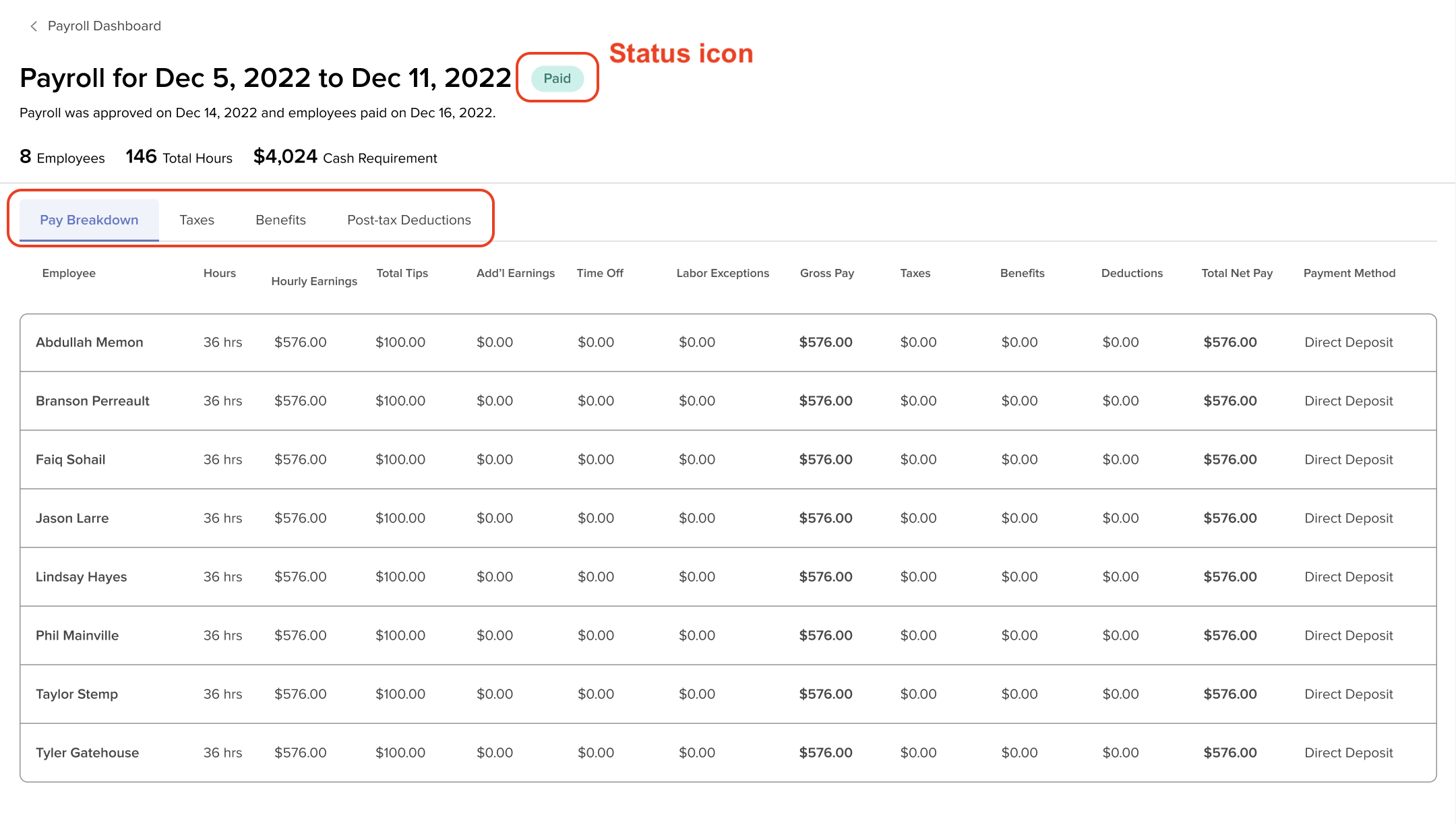 ---
Paystubs
Once Employees have been paid out, they can always review and download their paystubs on the web or mobile app. Feel free to send them this handy article that will walk them through this process:
7shifts Payroll: How can Employees view their Pay Stubs?

As an Admin, you can view and download paystubs by heading to Team > search and click on the employee's profile > select the Wages and payment tab > see section Paystubs: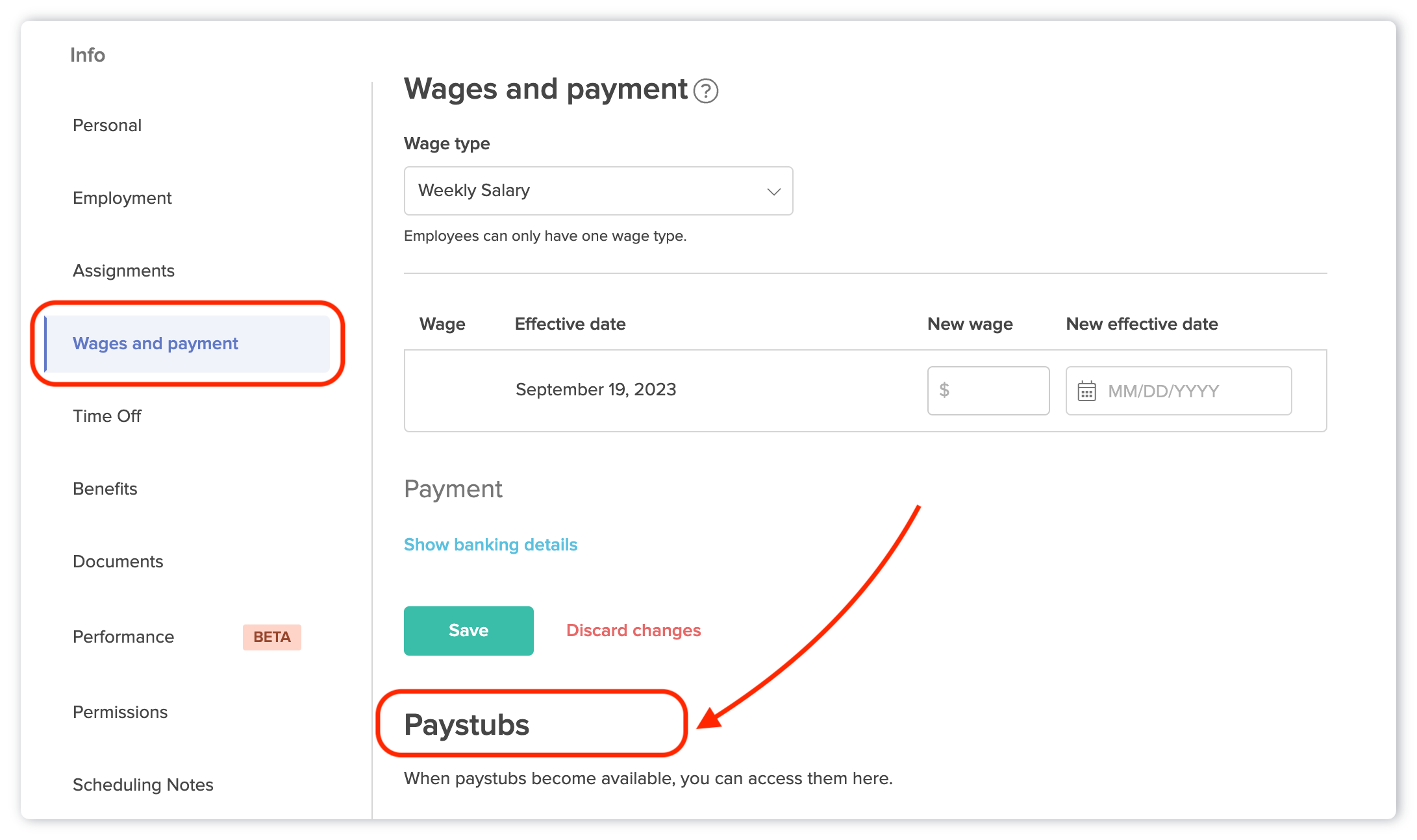 You can expect paystubs to look similar to: