2-step Verification is a security measure that enhances the protection of your 7shifts account. By adding an additional layer of security, you'll be asked to authenticate your Tip Payouts request (once, within 15 minutes) by SMS text message.
By adding an extra layer of security to your 7shifts account, you challenge unauthorized individuals from gaining access to your account and reduce the risk of cyber theft.
⚠️ Prerequisites
⚠️ A valid phone number is required to set up 2-step Verification.



⚠️ Admins can disable 2-step verification for other user levels (except for other Admins). This process requires that the Admin verify themselves.
---
Enable 2-step Verification
Login to the web app at app.7shifts.com.



Hover over your profile photo at the top right > select My Account (or, head to Settings > My Account):






Enable 2-step Verification:




Follow the on-screen prompts and enter your phone number:





Click Continue.


Enter the code that was sent to your phone.


Please take note of the 10 recovery codes that appear, and keep them somewhere secure. These codes can be used to log you in should you lose access to your phone. Once a code has been used, it cannot be used again and is no longer valid.

Need new codes? You can always head to My Account > View backup codes > Generate new codes. Once you have your new codes, the existing codes you had before will become invalid.
Success! You have now set up 2-step Verification.
---
Instances Prompting 2-step Verification
Once 2-step Verification has been set up, you'll be required to enter the verification code that is sent to your phone or enter a recovery code. You can expect verification to take place when:
When sending a payment batch with Tip Payouts (Managers with permissions and Admins-only).
When editing the float amount with Tip Payouts (Admins-only).
When unlinking a bank account with Tip Payouts (Admins-only).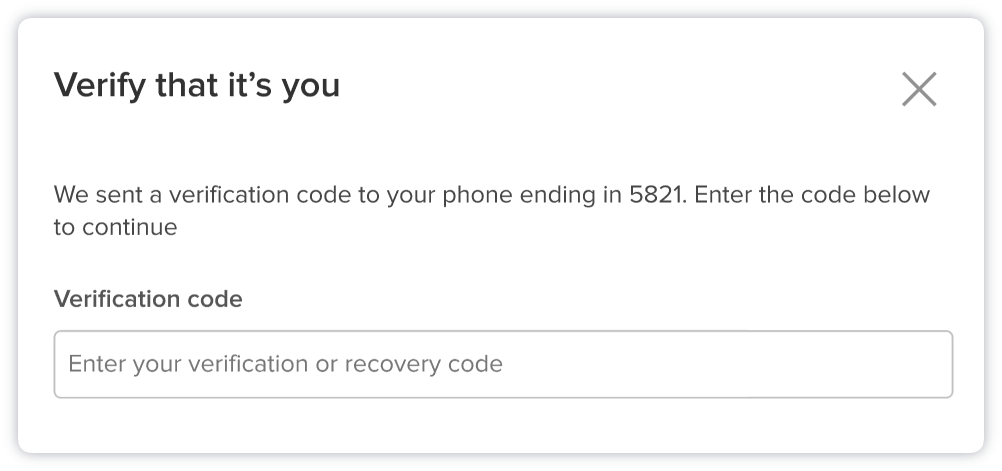 ---